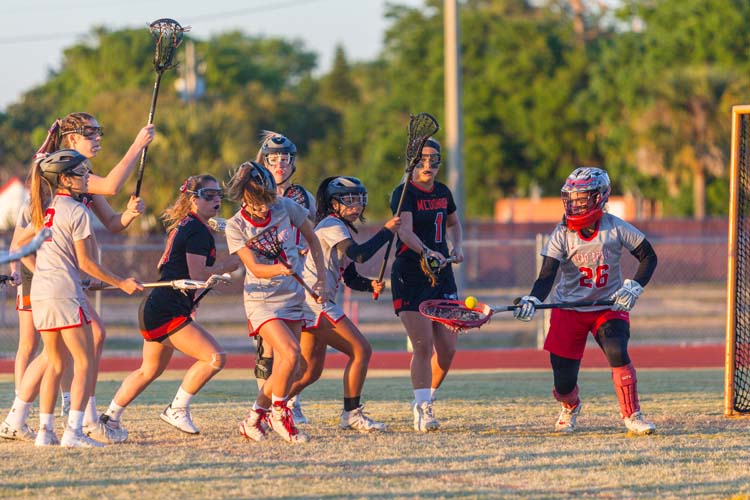 The Vero Beach High girls lacrosse team ran into an annual buzz saw last week in the form of McDonogh High from Owings Mills, Maryland. The humbling 16-3 defeat started a mini three-game skid and sent Vero on a three-game road trip at 8-3.
Head coach Shannon Dean called it the gauntlet. From March 9 through March 16, the Fighting Indians faced four teams from out-of-state, and one from out-of-country. The planning for this busy scramble started last summer.
"Coaches from high schools call and say they are coming down to Florida at a certain time and we work it out," Dean explained. Apparently they all come down at about the same time. As a consequence, Citrus Bowl audiences with fans from near and far were treated to games on four successive evenings.
Vero Beach has become a popular spring training site for high school lacrosse teams looking for our type of weather, and the visitors give Dean an idea of how his girls stack up against some of the best. It should not go unnoticed that the local economy benefits in no small measure as a result.
"I'm at the point in my career where we like to play out-of-state teams," Dean said, "I think the parents and players love it. The players enjoy it because it's a different game. They play against young women from another state (or Canadian province) who are usually really good.
"You don't travel unless you are good. You're not going to spend the money to bring your team to Florida from Texas, California, Maryland or Canada unless you are really good. You are not going to bring your team down here to get beat 50-0.
"So we already know that if teams are traveling, they are feeling good about themselves. We obviously have been a perennial powerhouse down here for the past 10 to 15 years, so when teams come down to Vero Beach they know that win, lose or draw, they are going to get a quality game."
For the record, Vero had one brief spurt to try to make it a game vs. McDonogh. After falling behind 6-0, Raegan Gibbons and Gabby Sposato scored to light a spark, but it was quickly extinguished. The deficit grew to 9-2 by the intermission. Lily Linehan accounted for the other goal.
This is nothing new because McDonogh never loses – to anyone. The Eagles have been the No. 1 team in the nation for a decade. VBHS has hosted them six times in the past seven years. The closest the home team came was 12-8 in 2014.
Vero came through the five-game out-of-state gauntlet at 2-3. St. John's of Texas and Hill Academy from Canada were defeated 15-2 and 9-4, respectively. After McDonogh, Navato of California squeaked by Vero, 11-10. Last Friday night, St. Paul's School for Girls from Maryland prevailed 11-7.
Those games were de facto exhibitions, and although the competitive aspect is entirely serious, the No. 1 task at hand resumes at this point. It is now a matter of climbing back to the mountaintop. After 10 straight state championships, missing out the past two years does not sit well.
"After the early exit last year in the state quarterfinals I think we were all a little disappointed," Dean said. "That wasn't even close to what the goals and the standards are with this program. Not even close.
"We realized the bottom line was that what we were doing was not working anymore. Let's be honest here, it was a very successful season. We were in the elite eight, the state quarterfinals. However, for us that is not even close to being good enough. That did not meet our expectations and we were very disappointed.
"When we got knocked out we took a good long look at where we were at with our program. That included the coaches, the players, the parents, and what we do in the off-season. We got together and made some changes that we felt were needed.
"We have always been innovative here. We take the initiative to be at the forefront, whether it be strategy, drills or anything dealing with lacrosse. We always wanted to be the first, and it just felt like we got complacent. That's human nature. We got into a little rut. I will even speak for myself, a coaching rut.
"So we made some changes, but obviously there is still an underlying way to do things the right way. We realized that we have to go back to some things that were successful, but we also have to be innovative."
Dean has experience galore to assist in the process. Twelve of the 22 girls on the roster are seniors, and in the eyes of a coach building upon a legend, it's fair to say – state championship or bust.