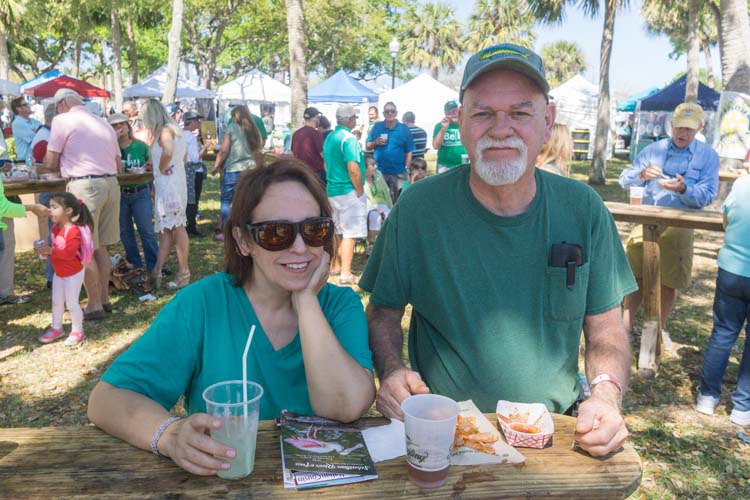 The ShrimpFest & Craft Brew Hullabaloo last weekend was a jumbo success. The third annual event, a collaborative presentation by the Rotary Club of Sebastian and the Exchange Club of Fellsmere, was moved this year to Riverview Park in Sebastian from its previous location on the grounds of the Historic Fellsmere School.
The three-day crustaceous festival was filled with music, food and family fun in support of north county youth sports and nonprofit organizations. About 300 volunteers helped to serve roughly 4,000 pounds of Florida shrimp to an estimated 15,000 hungry people, according to event chair Marc Gingras.
Five local restaurants cast their nets wide, vying to earn the coveted Golden Shrimp Award. The Chubby Mullet Bar & Grill served up pickled shrimp; the Old Fish House Bar & Grill treated festival-goers to fried shrimp cocktails; Squid Lips proffered peel & eat shrimp; Woody's Bar-B-Q made shrimp salad rolls; and the Tiki Bar & Grill, which took home the trophy for their sautéed buttered garlic shrimp.
In addition, the Rotary club tossed shrimp scampi pizzas into a brick oven and, for those wanting to nibble on something other than shrimp, food trucks provided a variety of alternatives.
A Craft Beer Tasting Garden was the perfect stopover for those wanting to wet their whistle, offering ale aficionados a sampling of suds from more than 20 Florida craft brewers, including local favorites American Icon Brewery, Orchid Island, Pareidolia Brewing and Walking Tree Brewery.
Nearly 90 vendors filled the park, hawking artwork, crafts, jewelry, homemade soaps and educational exhibits. Face painting, games and a clown offered distractions for the children, while a motorcycle show on Saturday and car show on Sunday attracted an older set.
Patsy and Marshall McCammack said they were on their way out to lunch when they stumbled across the festival and decided to stop by, and were glad they did. Both declared that the fried shrimp they polished off was scrumptious, adding that they couldn't think of a better way to spend a Saturday afternoon.
Through deeds and actions, the Rotary Club of Sebastian and the Exchange Club of Fellsmere serve individuals in need.
"We are a group of people who have a heart for and are looking out for people who need help; who are less fortunate than us and maybe aren't in a position to help themselves," explained Kim Jones, Rotary Club of Sebastian president.
Proceeds from the event will benefit north county youth organizations: Sebastian River Girls Basketball, Sebastian River Interact Club, Sebastian River Wrestling, Sebastian Sharks Youth Football & Cheerleading, Treasure Coast Rugby, and Boys and Girls Clubs of Sebastian and Fellsmere.
Photos by: Gordon Radford
Click HERE to see more or buy photos