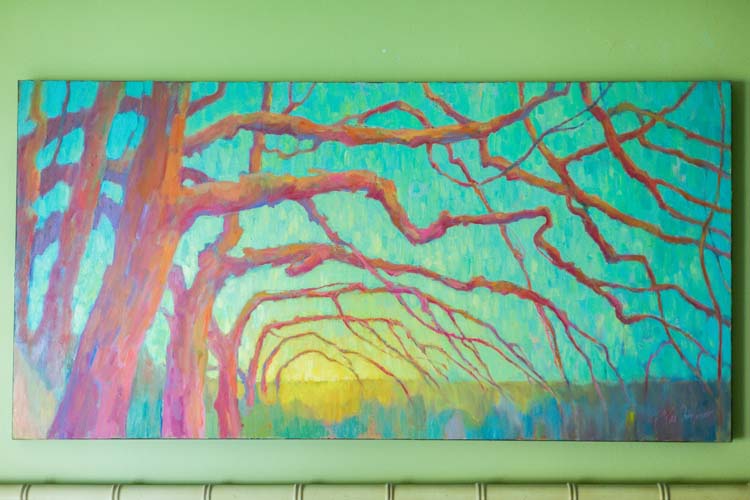 "As an artist, my work and life are one. I believe that working with intention is a mind-spring for creating art and that this same philosophy applies to life," says Pamela Pike Gordinier. "My goal is to create honest art and live an authentic life; a life worth living."
An award-winning artist, Gordinier's works are in the collections of several Fortune 500 companies, and she has been an elected member of the Connecticut Academy of Fine Arts, Copley Society of Boston, Mystic Museum of Arts and the Connecticut Watercolor Society.
She is married to Dr. Glenn Gordinier, an avid year-round surfer off the coast of Rhode Island and author of the book "Surfing Cold Water: A New Englander's Off-Season Obsession." When not surfing, he is a professor of Maritime History for the Maritime Studies Program of Williams College and Mystic Seaport, and is the Robert G. Albion Historian at Mystic Seaport.
Despite her husband's affinity for cold water, she says "thinking about creating and teaching art in a warmer climate during the winter months held a great deal of appeal."
Vero Beach was also home to many of her students from Connecticut and Rhode Island, so the couple decided to settle here for part of the year, now happily dividing their time between Vero and Stonington, Conn.
Gordinier says that while she works in all mediums, "my work is about ideas. And then I wait for the smile or a look of confusion."
Her work recently received both reactions at this year's Art on the Island 3-Dimensional Fine Art Exhibition at the Marsh Island Clubhouse. At the 2016 judged exhibition, she won first place in the mixed medium category.
Her February piece asked the question, "What are you seeking?" Using the chart of the Brooklyn waterfront and referencing "A Tree Grows in Brooklyn," she used the branches to represent the strength and hope embodied in the human spirit. Every leaf on the tree is a reprint of an actual personal submitted to the New York Book Review in bygone years.
Included in the humorous mix were doozies such as 'Portly, Handsome Man, 81 summers, some hair and teeth, ample supply blue pills; seeking 90+ foxy cougar, to snuggle under afghan, swap podiatry, colonoscopy, & dental stories …' and 'Worn-Out Husband, friend to his wife's nerves & father to five silly daughters for a quarter century, seeks wealthy, titled, childless widow of an un-entailed estate for long walks across ha-ha's.'
"My art begins with an intention, a question that interests me; either person, universal or timeless," says Gordinier. "I believe that, like art, if we live with intention then we live an authentic life; a live worth living."
Of her creative process she explains, "I think of creating art as a medium of communication; a passage of ideas that elicits self-reflection. Creating art that is accessible to the viewer is important to me so that the viewer becomes a participant."
Over the years, Gordinier has had several one-woman exhibitions that utilized questions to create her vision. For an exhibition last June at the Lyman Allyn Art Museum in New London, Conn., she worked with a community organization to create an installation of paintings, poetry, music, video and dance that stressed hope for survivors of domestic violence and asked the question, "What do you Hope?"
Gordinier explains that her inspiration for the exhibit had been derived from the image of Vero Beach men walking in red stilettos at a benefit for SafeSpace, which assists victims of domestic violence. As with all her exhibits, her interest is in bringing positive outcomes and awareness to an issue.
Color is a constant source of expression for Gordinier, who uses it to create an emotional response in her figurative works, such as in her "Colorful Woman Series," and often in many of her landscape pieces as well.
Gordinier teaches at her studio in Stonington as well as locally at the Vero Beach Museum of Art. She will present workshops there on the exhibit "Shadow and Light: The Etchings of Martin Lewis" from 10 a.m. to 1 p.m., April 13-14, asking the question, "If you paint the shadow, can the image appear?"
Her work will also be featured in April at the Beneduce Realty gallery on 14th Avenue in Downtown Vero Beach. The opening reception is Friday, April 6 during First Friday Gallery Stroll.
Article by: Jane Beattie, Correspondent