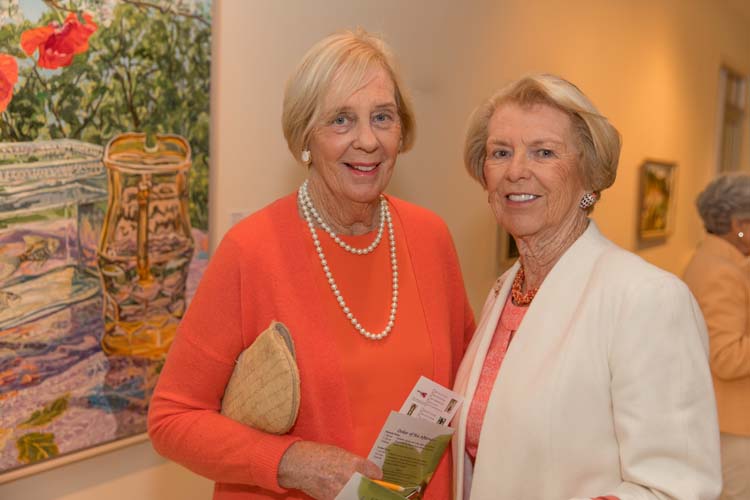 A sold-out crowd of 500 anthophiles scrutinized one stunning arrangement after another at the Vero Beach Museum of Art's annual Art in Bloom Luncheon, which this year featured Brazilian-born floral artist Ronaldo Maia, owner of Ronaldo Maia Flowers on Park Avenue in New York City.
"We're just two good friends who like playing with flowers. It's such a happy occasion; people look forward to it every year," said Ann Webber, exhibition co-chair with Lee LaPointe. "We have more arrangements than we've ever had before. We have 16 arrangements and the caliber just gets better every year. The interpretations have been excessively fine."
"People respond so well because of the quality of the exhibits. It is an art form," added LaPointe.
Participation in the exhibition is by invitation, with designers challenged to create floral arrangements inspired by art selected from pieces in the museum's permanent collection and special exhibitions. Guests contemplated the interpretive pairings before casting their votes for favorites in each of five categories.
"I love seeing how many wonderful ideas come from people's minds," said Michele Witt, who returns each year, drawn to the creativity.
"The arrangements stand alone as art, but the art itself is the jumping off point," said designer Barb Kaytes. "It's challenging, but at least it gives you the parameters to work within or to bust out of."
After viewing the gorgeous arrangements, guests settled in for a luncheon co-chaired by Susan Bouma, Dottie Currie and Dhuanne Tansill, and catered by Elizabeth D. Kennedy and Co., dining in two seatings to accommodate everyone, at tables set with a luscious lemon décor.
Called "the most innovative of the super flower designers" by the New York Times, Maia charmed attendees as he peppered them with tidbits of floral wisdom, such as: clean water, the stem must always touch the bottom, leaves should never be inside the water, and follow the handle.
"For me, arrangement is a marriage between vases and flowers. Living with flowers, you learn what they need. You must love them before they love you back," shared Maia, admonishing everyone to not show off. "Add flowers to your home for your peace of mind and joy. Live with them and they'll live with you; you'll be happy."
This year's designers were Ann Boyd, Midge Dunn, Liz Farnsworth, Inge Holland, Ann Jones, Barbara Kaytes, Lee LaPointe, Suzanne Mallory, Betty McCarthy, Sharie Mortimer, Nancy Murray, Helena Pearson, Susan Pyles, Pinkie Roe, Elaine Sigler, Ann Webber, Arun Wijetilleke and Nancy Wolcott.
Winning entries and artwork interpreted: Best in Show: Liz Farnsworth and Susan Pyles, "Bath Apollo I" by  Robert Natkin; Best Interpretation: Ann Boyd, "Pepper Pot from Campbell Soup I" by Andy Warhol; Best Use of Color: Arun Wijetilleke, "Untitled" by Conrad Marca-Relli; Best Use of Texture: Pinkie Roe, "Untitled (landscape)" by Jacques Enguerrad Gourge; and Curator's Choice Award: Lee LaPointe, "Sport Fishing, Mazatlan, Mexico" by Paul Outerbridge.
Photos by: Denise Ritchie
Click HERE to see more or buy photos