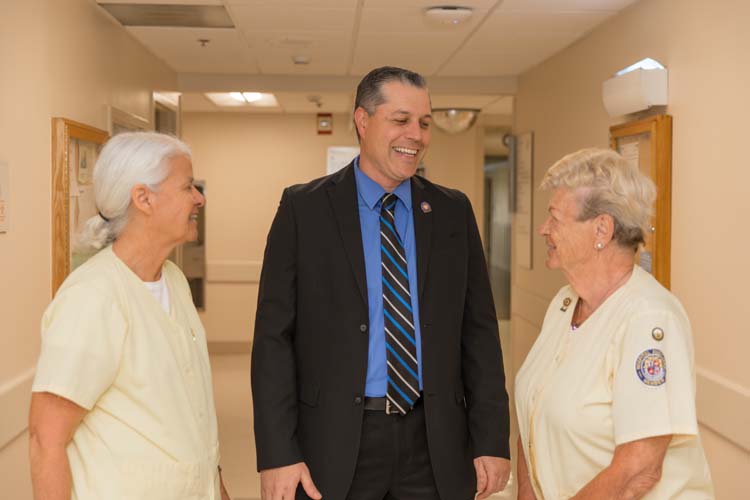 Tennessee, not Florida, is known as "the Volunteer State," but at the Sebastian River Medical Center, Anthony Gabriel, Shirley Harris and Rose Marie Breinlinger are hoping people from all over the Treasure Coast will flip that script.
Sebastian River Medical Center needs volunteers. And it needs them now.
Anthony Gabriel, who runs volunteer services at the hospital as well as its patient advocacy program, says "there's an ongoing need for volunteers to support the hospital."
Shirley Harris, of the volunteer auxiliary, makes a more impassioned plea.
"We just need volunteers desperately."
She points out that while the hospital has gotten busier and busier over the years, the ranks of people willing to serve as volunteers to assist patients and keep things running smoothly have diminished. "We have 150 volunteers now [but] … we would like to have between 230 and 250.
Meanwhile, Rose Marie Breinlinger, a spry octogenarian who is president of the hospital's auxiliary, is quick to add that age is no obstacle to volunteering.
According to all of three, "snowbirds" currently make up about 20 percent of the Sebastian facility's volunteer base and when those folks head home to their northern roosts, the situation will only get worse unless a new crop of volunteers sprouts up.
So how does a hospital recruit between 80 and 100 new volunteers?
Well, for starters, says Gabriel, there's "the Florida Student Scholarship Grant program known as Bright Futures, a lottery-funded scholarship program for in-state students with a record of high academic achievement that requires community service for participation."
To meet the service requirement of the grant, students must identify a social problem in their community, develop a plan for personal involvement in addressing that problem – such as volunteering at a hospital – and then submit documentation of the experience that verifies the hours they put in. To date, the program has helped fund nearly 800,000 Florida students as they pursue a college education, and Gabriel says "we have lots of student volunteers who want to take part in that."
Regardless of age, one thing Gabriel, Harris and Breinlinger emphasize is that the hospital isn't asking for a 40-hour work week from its volunteers. Far from it.
One tenth that time would do just fine.
"What we're looking for is a minimum of four hours a week," says Gabriel, "and we're flexible and understanding to your schedule."
Again, that's four – and not 40 – hours a week.
Here on the Treasure Coast, with its large population of visitors and retirees from up north, some hospital patients don't have family or friends in the area, and that can make overcoming an illness or recovering from a surgery a very lonely experience.
Multiple studies have shown that just having a volunteer come in and talk with patients or bring them a magazine or fluff a pillow can make a significant difference in how the patient feels and in their recovery.
Whether a volunteer is a student or a retiree, Gabriel continues, "we try to match them and their skills and talents" to the best job for them.
That might be the gift shop, customer service, interaction with patients, driving a golf cart in the parking lot to bring patients to the front doors, library services, helping in the surgical waiting room or the front desk, or any one of a hundred other places where a helping hand is needed.
So, whether you're eagerly looking forward to your 17th birthday or fondly looking back at your 80th, one thing volunteers don't have to worry is taking on tasks they're not trained to do.
Research by the Corporation for National and Community Service claims "volunteers have lower mortality rates and greater functional ability later in life than people who don't volunteer." And while Gabriel might agree with that, he simply states that there are "a lot of opportunities for volunteers to not only to feel good about what they do but also to make a difference in someone else's life."
For information on volunteering at the Sebastian River Medical Center, call Anthony Gabriel at 772-589-3186, extension 5011.