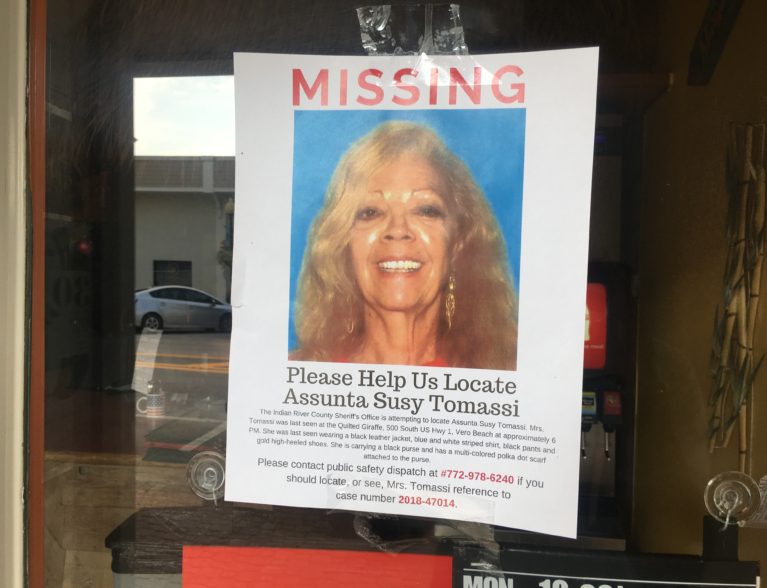 INDIAN RIVER COUNTY — The search for a missing Vero Beach woman is now in its fourth day and has already spanned much of the east coast.
"Our detectives have followed up on leads as far north as North Carolina and as far south as Miami," said Sheriff Deryl Loar. "We conducted an exhaustive search throughout the weekend and into this week from her last known point far into St. Lucie County. Much like her family and friends, we are anxious and concerned for Mrs. Tomassi's well-being. We know that many family members, friends, and the public have shown an interest in searching for Susy. We would encourage you to be careful searching for her."
On Friday, March 16, at approximately 5 p.m., Assunta "Susy" Tomassi departed the Quilted Giraffe restaurant on foot towards the South Vero Square Parking lot. Detectives continue to comb surveillance video in the area for any sign of the missing woman. An extensive ground search was conducted of the Oslo Preserve and surrounding areas by air, sea, and on ATV.
"Anyone participating in a search party is encouraged to use caution including reflective vests on the side of roadways and protective clothing," the Sheriff's Office said. "Please ensure that others know your location and are working in pairs."
An extensive ground search was conducted of the Oslo Preserve and surrounding areas by air, sea, and on ATV.
If anyone searching finds anything they believe may be related to this case, please contact the Indian River County Sheriff's Office at 772-978-6240 in reference to case 2018-47014.
---
March 19 – 5:59 p.m.
INDIAN RIVER COUNTY — Deputies continue to search for a missing woman with dementia who was last seen Friday walking through the South Vero Square shopping mall in south county, authorities said.
Throughout the weekend, deputies used patrol and K-9 units, a helicopter, SWAT team, agricultural and marine units and ATV's to search for Assunta "Susy" Tomassi, of St. Lucie County. This is the fourth day that officials have searched for the woman.
Details on any new leads were not available.
"Based on surveillance video obtained from businesses in South Vero Square, we know that at 5:41 p.m., Mrs. Tomassi was walking south through the South Vero Square Plaza. We also believe that she did not enter the Family Dollar store or walk past Publix," said Sheriff Deryl Loar in a statement. "It is possible that she may have accepted a ride or exited the plaza another way."
About 5 p.m. Friday, Assunta Tomassi was outside of the Quilted Giraffe, a restaurant owned by her and her husband, Patrick Tomassi, deputies said. The business is located south of Vero Beach and north of St Lucie County.
Assunta Tomassi told her husband she was going to go outside to read a book or smoke, which is common for her, deputies said. The woman also constantly walks to South Vero Square plaza, where she is known to visit the Family Dollar store.
Deputies said Assunta Tomassi has wandered off before, but her husband has always been able to find her. Patrick Tomassi told authorities he realized his wife was missing about 6 p.m. and began looking for her.
Deputies obtained surveillance video from Wildwood Antique Mall inside the plaza. The footage captures Assunta Tomassi pass the shop at 5:41 p.m.
The same video also shows Patrick Tomassi walk in the store about 40 minutes later looking for his wife, deputies said. The husband continued to search the stores in the plaza and combed the path toward their Fort Pierce home until 6:48 p.m. Then, he called the Sheriff's Office.
Deputies responded immediately and searched different areas, including Old Dixie Highway and U.S. 1 up to the path to the couple's home, but the woman still has not been found. They also searched the wooded area at the Oslo Preserve.
Anyone in the area with surveillance footage should review the video from Friday evening to see if they might have captured any evidence related to the case, deputies said.
"We are asking the public to think back to Friday night. Anyone who may have been in the South Vero Square Plaza at 5:41 p.m. who may have witnessed Mrs. Tomassi walking is encouraged to contact us," Sheriff Deryl Loar said in a statement. "We are hoping to identify where she may have gone."
Anyone with information about the case should contact sheriff's Detective Michael Dilks at 772-978-6120.