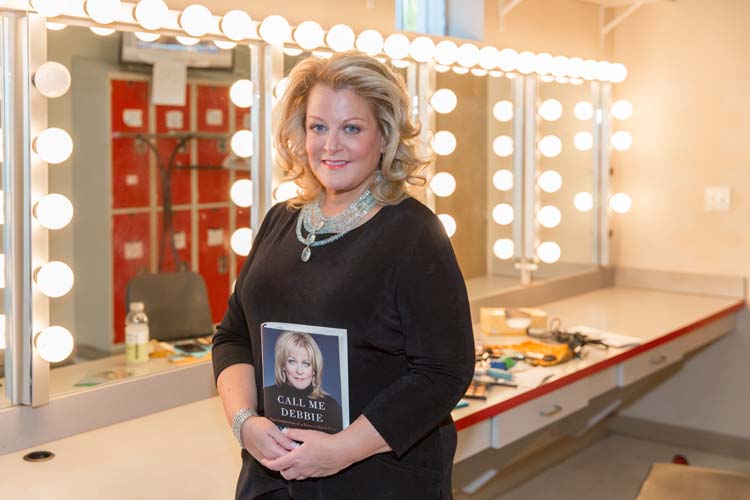 Vero Beach Opera's adopted diva Deborah Voigt is living out her favorite role – the girl of the Golden West.
Voigt, who grew up in southern California and trained at Cal State Fullerton, has left New York – and sold her condo here – to settle into her new home in Marin County. Now in her second year in academia at the San Francisco Conservatory of Music, her hand-picked contingent of opera students swells to 18 this fall. With far more effort than she imagined it would take, Voigt coaches her young singers one-on-one, three times a week in a studio the Conservatory has built especially for her.
Despite that full load, Voigt is still able to carve out time to give a concert in Vero Beach next Wednesday, March 21. And she will stay on to host the second Deborah Voigt International Vocal Competition that Thursday through Saturday.
Not that she isn't still performing elsewhere as well. In the past year, Voigt has given master classes and recitals across the U.S. She also toured California and Colorado with the Danish National Symphony Orchestra and Fabio Luisi, with the first concert in Copenhagen.
A week away from her Vero concert, Voigt's schedule has her in Abu Dhabi, giving a concert with a Lebanese tenor at the ultra-luxurious $3 billion Emirates Palace hotel as part of the Abu Dhabi Festival.
Generally, though, travel has diminished, she says, as the performance side of her long career as one of the greatest sopranos in opera begins to subside.
"It's bittersweet," Voigt said last week, reached on her cellphone as she made her 45-minute morning commute to work from her home in San Rafael across the Golden Gate Bridge.
"I miss flying all over the world and singing all the leading ladies. On the other hand, I've done that a very long time. It's nice to be settled and have a home and concentrate on these kids."
And that concentration has proved intense.
"To be honest, I was travelling almost every weekend last year and it was absolutely exhausting."
At least she will not be going to Abu Dhabi alone: her new boyfriend, Joseph Tambornino, a businessman and classically trained Juilliard pianist she met online, will be with her. The way she tells it, when they met, her relief that he looked like his dating profile photo was exceeded only by his revelation that he had once shared a stage with her. He was singing in the chorus of San Francisco Opera in the mid-1990s when Voigt performed in Wagner's "Tannhäuser."
With that, "he had my attention," she said, laughing.
Voigt says her Vero concert will be "mostly lighter fare," including some English classical art songs, some Bernstein, and a couple of "saucy" cabaret pieces.
"I just hope they're not too saucy for Abu Dhabi," she said.
Voigt will be flying in a long-time accompanist and opera coach, Mary Pinto, to play for her concert here.
"She's one of my very best girlfriends. We always have a lot of chuckles."
With more than $20,000 in prize money, the competition fulfills a fervent wish of Voigt's, both in and out of academia: to encourage young singers in their pursuit of a career in opera.
"It's a lot of fun to hear these young singers and have the opportunity to award them some money, which they desperately need," she says.
With 30 entrants publicly competing on Thursday afternoon and evening, half will be selected to sing again Friday afternoon. Saturday night, the half-dozen finalists will face off in concert format beginning at 7 p.m. All take place in the Vero Beach High School Performing Arts Center.
Voigt's competitions have been much smaller scale than those of tenor Marcello Giordani, another Met star who sought solace in Vero in the middle of a busy season. His vocal competitions were staged here for three years, with the last in 2015. The 80-plus competitors were scored in a point system by a five-person panel of judges. Voigt and her two fellow judges use a less formal method that is more Voigt's style – conversation and consensus.
The prizes include a $10,000 first prize provided by the Kleinschmidt Family Foundation; Nell and Robert Kleinschmidt have a home in Riomar. The second prize, $5,000, is sponsored by Windsor, the high-end community on the north barrier island.
The third price, $3,000, is donated by the Sergio Franchi Music Foundation, named for the Italian-American opera singer turned pop star, whose widow, Eva Franchi, is one of the judges in the upcoming competition and a friend of Vero Beach Opera directors Joan and Roman Ortega-Cowan.
Another judge is Matthew Principe, associate producer of the Metropolitan Opera radio broadcasts, as well as the Met Live in HD productions broadcast in theaters around the world. Those broadcasts have provided a new and highly visible role for Voigt; she is a frequent host, introducing the operas and speaking on camera with their stars at intermission. Two weeks ago, she returned to New York in the middle of a nor'easter to do a fund-raiser for the radio broadcasts.
Voigt's connection to Vero Beach began even before Vero Beach Opera. She bought a condo on Hutchinson Island in 2000. "Uncle Sam said you should live somewhere with no income tax. That's why I moved to Florida," she says.
Three years later, word had reached the local NPR affiliate that a Met diva had moved to town. She was invited to the studios to record a segment and arrived to find two local opera aficionados, the Ortega-Cowans. "I could see they were doing a sort of is-that-who-I-think-it-is thing," she recalls.
The relationship the three formed that day has grown even though Voigt ended up selling the condo in 2012 after a heavy travel schedule kept her from coming down to Florida.
"I came down to recuperate after I had my knees replaced, and it occurred to me that I was only spending two weeks a year in Florida," she recalls. "So I uprooted and moved to Manhattan."
When her Met schedule slowed down, she moved out of the city to Fort Lee, N.J., and commuted.
"Then this offer came up at San Francisco, and I thought, well, it's time. I was beginning to grow weary of the schedule I've maintained for 25 to 30 years. Travel had become a nightmare. I'd want to cry just going to the airport."
In the past few years, Voigt has pursued other creative outlets. In 2015, she published a tell-all memoir, "Call Me Debbie: True Confessions of a Down-to-Earth Diva," about her strict Baptist upbringing and her years combatting food and alcohol addiction. Her size famously caused her to be fired from a role at London's Royal Opera House for not fitting into a certain little black dress; she has since slimmed down with the help of gastric bypass surgery. She also joined A.A. The book also details her stunning successes in the opera world – including singing with Placido Domingo and Luciano Pavarotti.
And in 2011, working with playwright Terrence McNally and others, she created a 75-minute one-woman show called "Voigt Lessons," which she premiered at Cooperstown, N.Y.'s Glimmerglass Festival, and still performs.
All the while, she has remained deeply connected to Vero Beach Opera. She now serves as the organization's artistic advisor, and has based her foundation here since 2007.
Voigt's concert is at 7 p.m. Wednesday, March 21 at the Vero Beach High School Performing Arts Center. Tickets range from $15 to $50 and are available on the Vero Beach Opera website. A full schedule of the competition is also on the site, www.verobeachopera.org.