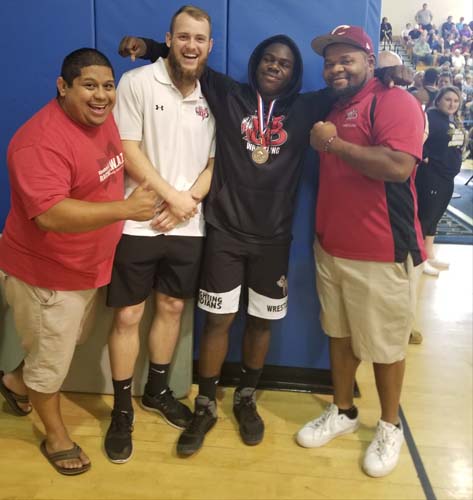 The Vero Beach High wrestling season ended earlier this month when the Fighting Indians' lone representative was eliminated from the state tournament at Silver Spurs Arena in Kissimmee. The fact that sophomore Bakari Mosley qualified for states in only his second year with the team revealed how quickly an individual can thrive on this close-knit, family-oriented team.
Mosely's achievement was actually a pleasant surprise for head coach Chris Zuniga. His regular-season record of 29-6 set the stage for a second place showing at districts in the 195-pound weight class. In the regional tournament Mosley placed third and punched his ticket to states.
"He lost two in a row at states and was eliminated," Zuniga said. "We were hopeful that he could make a run at the state tournament. He was one of our most consistent wrestlers all season. He is only a sophomore, so the goal next year is to get on the podium and place at states.
"When he came to us last year he was a very raw, but athletic talent. He had a moderately successful season but we figured it would take him four years to get really good. But honestly, when this year came around he made vast improvements both technically and mentally.
"I think his biggest advantage is his work ethic. He still has a lot to learn. He doesn't have that much experience, but he makes up for it with toughness and a lot of heart. He's here every day, he works hard, he asks questions, and he's very coachable. He tries his best to improve and that is what got him to this stage."
Successes far outweighed disappointments for this team over the course of the season. Senior Janet Toscano, the only female on the team, earned a medal for fourth place at 195 in the girls state tournament. The guys had eight wrestlers place fourth or better at the district meet and advance to regionals. Junior Nathan Gagnon won the district championship at 126. Freshman Jacob Pryor Jr. was second at 120. Junior Billy Laziman, the only state representative last year, was second at 285.
A big part of what makes this enterprise work is the connection to the past through family bloodlines. Several present-day wrestlers have perpetuated a tradition that began a generation ago. "There's a lot of legacy in here," Zuniga explained. "It's interesting to see the family ties – and I would like to see more. Everyone on the coaching staff wrestled at VBHS. That is rarely the case. We like to say that we are one big family."
For examples of the "All in the Family" construct, Jacob Pryor Sr. has son Jacob Jr. on the team this year and will introduce eighth-grade son Jaden to the varsity next year. Shawn Gagnon is Nathan's uncle. Freshman Tyler Ginn, another regional qualifier, is the son of Terrill Ginn. There are also a few more uncles and cousins to go around, but you get the picture.
"It's a great sport," Zuniga told us. "You learn a lot about yourself. You have to deal with adversity and learn how to pick yourself up." Zuniga offered "an extra-special congratulations to Nathan Gagnon, who won his second district championship." The 2018 state qualifier also had some thoughts to share.
"Man, making it to states is amazing," Mosely said. "This was my first time and for a sophomore I can't believe it. There were a lot of people there from all over Florida. It was a bigger experience at a bigger stadium. There were a lot of mats.
"The coaches pushed me hard, they pushed all of us hard. Coach Pryor pushes the technique and gives us a fast pace. He also pushes the heart and the mindset. He tries to put everything together and he made it work for me. This experience was unbelievable."