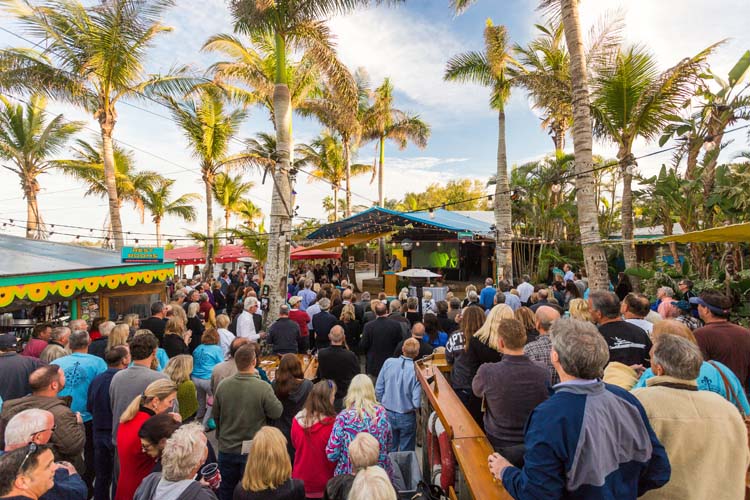 The Sandbar at Capt. Hiram's Resort on Sebastian's waterfront was jammed with family members, business associates and friends last week, all gathered to celebrate the work-hard, play-harder life of the historic establishment's founder and owner.
Drinks were being served. Hugs and handshakes were exchanged. The place was abuzz with conversation as people shared their memories of Thomas Hiram Collins, who, a dozen days earlier, had died unexpectedly in his island home, a month shy of his 70th birthday.
"My brother would've loved this," Collins' brother, John, said as his eyes scanned a crowd that turned a memorial service into a Friday afternoon happy hour, where a rum-and-coke – the departed owner's favorite drink – was selling for only $3 in his honor.
Certainly, Collins would have enjoyed the stories being told, covering everything from his early years in Baltimore and Ocean City, Md., to the entrepreneurial spirit he brought with him to Florida, to his knack for balancing work with fun.
There were far more smiles than tears as his friends reminisced about days on the water, nights on the town and trips abroad, which included an excursion to Europe last fall, when Collins and his buddies traveled to London, Monte Carlo and Paris.
According to one longtime friend who made the trans-Atlantic trip, Collins, while in France, made a point to visit Omaha Beach in Normandy where his great uncle, Hiram, lost his life during the D-Day invasion that altered the course of World War II.
Which was fitting: Not only did his parents give him the middle name, Hiram, but when Collins opened what was then a raw bar and marina in Sebastian in 1987, he paid homage to his uncle by naming it Capt. Hiram's.
"There's a photo of Tommy pointing to his uncle's name on the Wall of the Missing at the Normandy American Cemetery," said Terry "Tark" Arenson, an Old Orchid resident who accompanied Collins on the trip. "It meant a lot to him to go there and learn more about his uncle."
It was Arenson who shared one of the evening's more entertaining stories – about how he and Collins reunited after being out of touch for more than 20 years.
As Arenson tells it: They had first met in 1970 in Ocean City – where he worked as a hotel bartender and Collins operated a "beach stand," renting chairs, umbrellas and other accessories – and became friends.
"I saw him quite a bit, but when he moved to Florida in the late '70s, I lost track of him," Arenson said. "When I bought a home here in 1999, I had no idea he was here."
So how did he find him?
"I was out with friends one night, sitting in a restaurant, when this guy walks by me and he looks very familiar," Arenson said. "Suddenly, it hits me, and I say, 'Hey, Tommy! Tommy Collins!' The guy stops, turns around and says, 'Wrong Tom Collins.'
"I couldn't believe it," Arenson said. "What are the odds there'd be two guys with the same name, about the same age, who look alike, and they both live in Vero Beach?"
He soon learned that there were, in fact, two Tom Collins in Vero Beach – the other one owns a local insurance agency – and they did bear a remarkable resemblance, close enough to pass for brothers.
He also learned where he could reach his long, lost buddy, and the two men resumed their friendship, which continued until Collins' death on Feb. 24.
The story, however, doesn't end there: The other Tom Collins attended the memorial service, where he and Arenson met for the first time since that night in the restaurant and recalled their chance encounter.
"He still looks a lot like my Tommy," Arenson said of Tom Collins the insurance guy.
As fate would have it, Arenson went to visit his old buddy from Maryland the day his body was found.
"I had taken a friend over to see Tommy's house, because it was such a cool house near the river, but when I knocked on the door, there was no answer," Arenson explained.
"I had just gotten back home when another friend called and said, 'I think something's wrong with Tommy,' so I went back and tried every door and window, but they were all locked," he added. "That's when I called 911."
According to Collins' son, Will, it seems his father "passed in his sleep, without any pain or suffering."
While knowing his Collins didn't suffer might've softened the blow, Arenson said he was stunned to learn that his friend was gone.
"About a half-dozen of us were supposed to go out on the water the next day, so it was a complete shock," Arenson said, pausing briefly before adding, "To pass at 69 years of age is too short of a life, but he did more in those 69 years than most people would do if they lived to be 100.
"He had a great life."
That was the prevailing sentiment throughout the two-hour affair at the Sebastian landmark founded by Collins, which now includes a restaurant, marina and hotel.
There was also a recognition of what Collins, who had earned a reputation as a tough negotiator, meant to the Sebastian business community, where Capt. Hiram's is the city's largest private employer.
"Tom was huge," said Beth Mitchell, president of the Sebastian River Area Chamber of Commerce. "He was a very focused, very engaged individual who was always looking forward and had tremendous vision. In fact, he played a big part when the city went through its vision-plan process in the 1990s.
"And from a Chamber perspective," she added, "I can't tell you how many people show an interest in Sebastian because of Capt. Hiram's."
Scott McGuire, president of the Knight, McGuire & Associates civil engineering and land planning firm in Vero Beach, fondly recalled how Collins would try to convince him to accept "Captain's Cash" – currency good only at Capt. Hiram's – as payment for projects.
The gathering went quiet only for the eulogies, which were offered by Collins' brothers, Skip and John, and his son, Will, who in recent years took over the resort's operations.
In his eulogy, Collins' son spoke proudly about his father's forward-thinking work ethic and business success. He spoke warmly about his father's fun-loving nature and nostalgically about the times they shared.
He credited his father with grooming him not only to take over the family business, but also to make the most of life.
"He shared so much of himself with so many people," the younger Collins said, "but he shared the most of himself – and the best of himself – with me."
Those words brought heart-felt applause from the Sandbar crowd.
"Just look around this place," Arenson said. "Look at all these people. I've known the guy a long time and I never met anyone who knew Tommy and didn't like him."