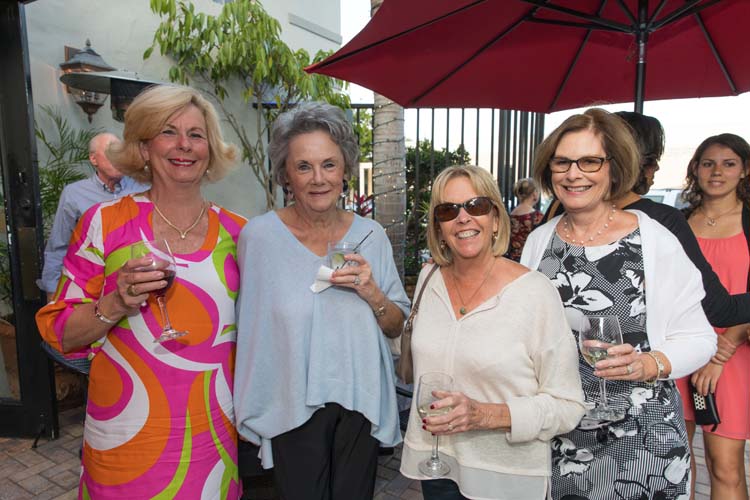 Gardeners left their overalls and hoes behind to mingle on the patio of Osceola Bistro last Tuesday evening at the sixth annual Spring Dinner to benefit the Shining Light Garden Foundation. Joel Bray planted a seed 10 years ago on a 10-acre plot of land in Winter Beach from which the nonprofit germinated, continuing its mission of "Feeding the hungry, one garden at a time."
"Joel started with three guys, a borrowed tractor and three shovels," recalled community liaison Greg Vafiades. "We've come a long way since then and we continue to grow."
As Bray and his dedicated army of volunteers tended and nurtured the garden, the plot of land doubled in size, increasing capacity and eventually adding a flower garden. Volunteers cut flowers weekly and create arrangements for the VNA Hospice House. At the dinner, every table bloomed with their floral centerpieces.
Dinner guests enjoyed a selection of items from a menu created by Osceola Bistro owner Chef Chris Bireley that included mixed Romaine lettuce freshly picked from the garden. Bireley is a longtime advocate of Shining Light and a proponent of farm-to-table dining.
Over the years Bray has varied the types of vegetables they've grown, always searching for produce with a high-quality nutritional value. This year they planted several kinds of Asian greens, including bok choy and kohlrabi.
"This stuff is so darn good for you, but getting people to switch to different things other then what they know is very difficult," shared Bray, adding that they depend on the groups who distribute the vegetables to educate the recipients.
To broaden their scope even further, Shining Light planted nearly 200 avocado and mango trees last year and will soon add lemons and limes to their orchard as well.
The all-volunteer nonprofit provides fresh vegetables to local food assistance programs at no charge so that those most in need can enjoy the fruits of Shining Light's labor.
"It's hard work," said Bray. "We grow it, harvest it and sanitize it, and have it in crates ready to go. We're picking it and they're getting it the same day. Each crop is better and better and we're growing more and more. We send out our very best and I just want to feed as many people as we can."
Proceeds from the Spring Dinner will be used to purchase seeds, farm equipment and necessary capital improvements.
For more information, visit shininglightgardenfoundation.com.       
Photos by: Denise Ritchie
Click HERE to see more or buy photos