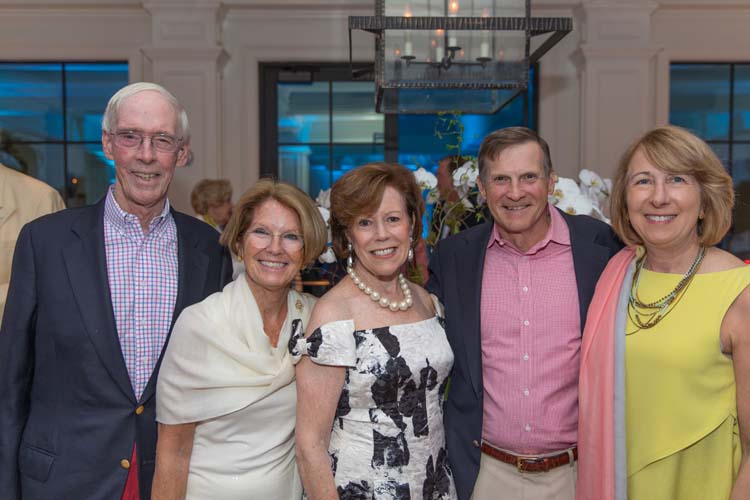 The John's Island Community Service League weighed anchor last Saturday evening, taking guests for a cruise on the high seas with a Makin' Waves Gala at the John's Island Golf Club. The committee, chaired by Karen Drury, fully delivered on its promise of first-class fun and frolic, in the process raising huge amounts to support the community through grants to local nonprofits and scholarships to the children of John's Island employees.
The mission of the JICSL is "transforming lives in Indian River County through leadership, collaboration and dedicated philanthropy," and to do that its members expect to once again award close to $1 million in the 2017-18 season.
The funding will be dispersed through a Grant Committee co-chaired by Louie Hoblitzell and Vicki Aspbury for annual grants to 36 nonprofit agencies for operating expenses and programs; through a Strategic Grant Committee chaired by Hope Woodhouse for off-cycle requests; through Contingent Funds allocated as needed by the JICSL Executive Committee; and through a Scholarship Committee chaired by Emilie Hinman for the children of John's Island employees.
"Everything is ship-shape," said Drury, as guests arrived at Pier 88, were greeted by ship captains Brian Kroh and David Colclough and embarked on the maiden voyage of the SS Makin' Waves.
Once aboard the luxury liner, the shipboard-chic crowd strolled through a promenade of pleasurable activities set up in rooms throughout the entire club; their every need seen to by efficient crew members. Guests could try their hands at the state-of-the-art casino, dine at Chef Farnsworth's first-class buffets, play glow-in-the-dark shipboard games, enjoy entertainment by the Atlantic City Boys, a Billy Joel-style piano player and roaming magicians, and dance the night away at the disco dance club.
Pat Thompson, JICSL president, modeled a stunning 1.14-carat diamond and platinum Schlumberger eternity ring donated by Tiffany & Co. Worth Avenue to elicit last-minute raffle tickets. Additional funds were raised through an online auction for a Kalos Golf River Cruise and a silent auction featuring a dive in the Bahamas for two aboard a Triton Submarine.
Photos by: Denise Ritchie
Click HERE to see more or buy photos