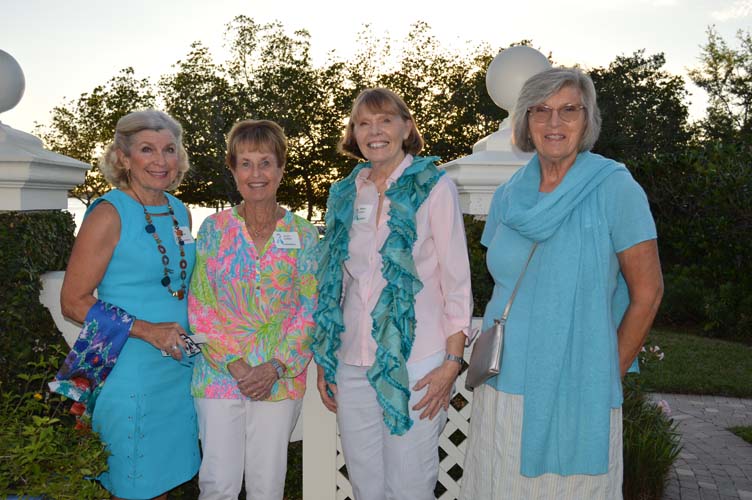 The Wackenhut estate was aglow with fairy lights last Monday evening as the women of the Orchid Island Golf & Beach Club gathered for their annual Connecting for Cancer Girls' Nite Out.
The annual cancer fundraiser was the brainchild of Nancy Cruce and Gerry Collins, who recognized that having fun and helping others don't have to be mutually exclusive. This grassroots effort has raised more than $75,000 since it began five years ago.
Guests gathered in the courtyard for hors d'oeuvres, sipping 'Pink Lady Cosmos' served via a breast cancer ribbon luge created by Dean Evans of Vero Ice Sculptures. Throughout the evening attendees toured the magnificent home and perused the wide variety of silent auction items, because "girls gotta shop."
"We had the biggest group ever this year. It was a magical evening," said Cruce, explaining that 100 percent of proceeds from the event benefit the Pay It Forward Patient Assistance Fund of the Indian River Medical Center Foundation, which provides much-needed financial assistance to local cancer patients. The fund has helped cover the costs of screenings, diagnostic procedures, surgery, medication and cancer treatments for more than 400 patients since it was created.
Not wanting to miss out on any of the fun, the men of Orchid created their own event, Boys' Nite Out, several years ago. This way the men also had something fun to do – this year, an evening of cocktails, a silent auction, dinner and the movie "Stalag 17" – while their wives were off enjoying their party.
"Orchid Island residents work to help the community, but so do the people of Vero Beach," said Cruce. "In addition to all of the fantastic auction items, J. McLaughlin at the Village Shops hosted a Sip & Shop, contributing 15 percent of all sales made last Wednesday afternoon."
Boa 'hugs' are another example of the outreach generated by residents of the Orchid Island community. Kathy Dunlop makes boas for people getting infusions and going through treatments, in colors representing the various different cancer ribbons.
"Many of us have had our lives affected by cancer," said Cruce. "The Orchid Island women have taken action. We recognized the ongoing battle of cancer patients and came together to help patients deal with the main killer of Indian River County residents."
Photos by: Stephanie LaBaff
Click HERE to see more or buy photos