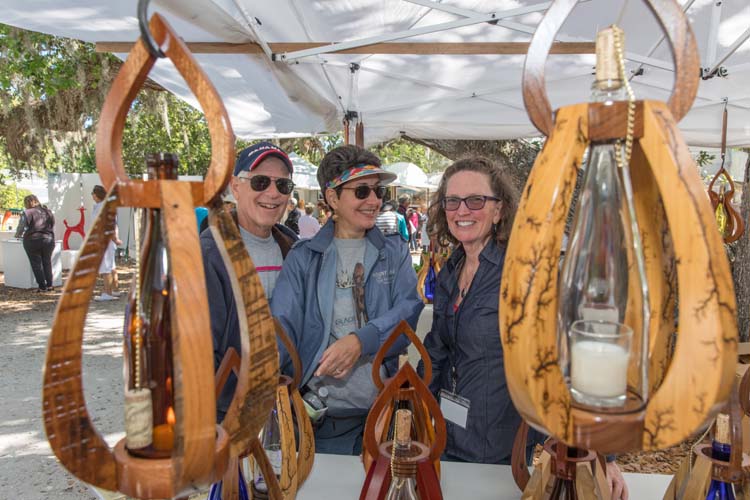 A tsunami of art lovers flooded Riverside Park last weekend during the 67th annual Under the Oaks Fine Arts and Crafts Show hosted by the Vero Beach Art Club, which has been promoting art through education and exhibitions since 1936. Proceeds from the annual three-day show enable the club to fund local scholarships and enrichment programs.
Event chair Sue Dinenno said that Under the Oaks was voted No. 2 in the nation by artists last year, adding "as a result of that, the very best of the best tried to get into our show."
She said competition for the juried show was steep, and VBAC members spent an entire day last December reviewing their applications.
The VBAC reserves 15 percent of the spaces for those talented club members who meet specific criteria, including volunteering, and must jury in as well. "It's no cakewalk to get in," said Dinenno.
Among the more than 220 artists exhibiting were works in acrylics, glass, graphics, pastels, jewelry, multimedia, oils, photography, pottery, printmaking, sculpture, watercolor and wood. Exhibitors spent the weekend explaining their processes to art enthusiasts, working on pieces, sketching ideas for future projects and, of course, selling.
Attendees spent a day or more musing over the vast array of creativity put forth with pen and paints on canvas and paper, and for those wanting a more tactile experience, sculptures of stone, wood and clay, along with handmade jewelry to tempt even the most discerning collectors.
Many of Friday's attendees were just window shopping, with plans to return over the weekend to make their actual purchases. As one couple sat in the shade of the majestic oaks enjoying a glass of wine, listening to the Vero Beach High School Band, they debated over which piece of art to purchase. In the end, they decided they had to have both.
No matter the medium, the artists' skills and perspective gave art-lovers pause as they contemplated each exhibit and the meaning behind the work. Pablo Picasso once said, "The purpose of art is washing the dust of daily life off our souls." Under the Oaks was an opportunity for anyone taking the time to visit to do just that.
Photos by: Denise Ritchie and Stephanie LaBaff
Click HERE to see more or buy photos