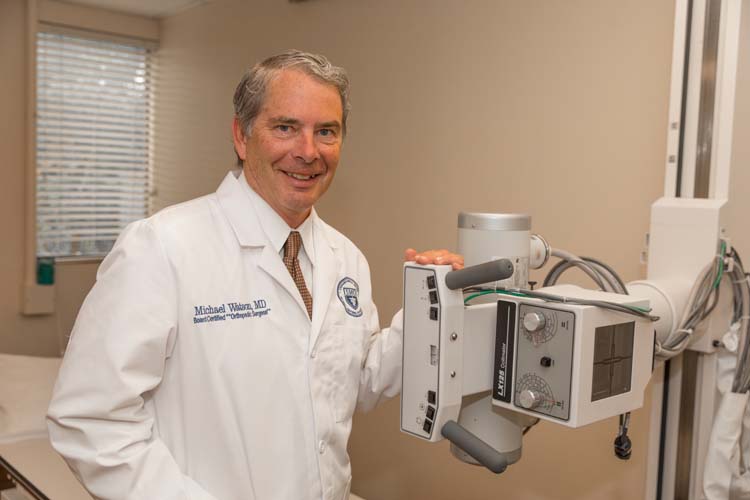 When orthopedic surgeon Dr. Michael Watson was recruited by the Steward Medical Group to move his practice here to the Treasure Coast, he admits he made one mistake.
Leaving Illinois in late January, where U.S. Climate Data says the average temperature is about 28 degrees, Watson forgot to get his car's air-conditioning system checked.
He quickly found out it can be hot in Florida, even in the winter, and that a shot of Freon can make a world of difference while driving here in the Sunshine state.
A two-time Academic All-American defensive back at Illinois Wesleyan University and former college track sprinter and district long jump champion, orthopedic surgeon Dr. Michael Watson says when he began his 26-year practice, he "was very focused on sports medicine.
"I was coaching [and] covered maybe six or seven high schools on the field [taking care of players] . . . . So, I spent a lot of time on the fields and with kids that were playing and high schoolers and so on, but as I aged, so did my patients.
"What once was a busy sports medicine practice has kind of grown up with me and now a lot of those people need their joints replaced. So, it's morphed over time. The practice went from youth and sports to joint replacement and hand surgery."
It could well be that hand, wrist and elbow problems will – at least initially – be what drives many locals to Watson's door.
Longtime hand surgeon, Dr. Paul Dell, used to drive down to the Sebastian River Medical Center weekly from his home base at the University of Florida's Shands Hospital in Gainesville to surgically repair age-related disorders of the hand, but Dell retired in December of 2017.
Watson is ready to step into the void he left behind.
He says people constantly ask him what types of orthopedic procedures he performs most often. His reply: "What I do mostly is what there's mostly of…which a lot of hand surgery is."
That said, according to Watson, he has "done over 2,700 joint replacements [and] . . . sort of pioneered some of the minimally invasive knee replacement [procedures now in use] with four inch incisions."
In fact, when it comes to knee and hip replacements, Watson has his own personal and professional mantra.
"Do what you do best," he says. "Not what's in the news this week, not this particular prosthesis because it's brand new and patients are bringing information from commercials. Do what you know how to do and do it well."
There are advertisements and commercials everywhere promising amazing results but Watson takes a more measured path. "What I tell the patient to do is just to bring the information [they've seen] into my office and we'll talk about it. I'll give them the facts based on the American Academy of Orthopedic Surgery and solid research, rather than testimonials with somebody you're going see on a commercial."
"I keep manuals from the AAOS right in my office," Watson continues, "When a patient brings up something [they have seen on TV] . . . I'll open the book to that particular section," and show the patient the research those commercials never mention. Both good and bad.
All that said, the athletically-inclined Watson says he has in no way turned his back on his sports medicine background.
"I enjoy taking care of kids," he says, "and I will do so here. I don't have an age limit. In fact, I've seen quite a few already because not a whole lot of people are seeing them."
With a practice that includes hand surgeries, hip and knee replacements, shoulder procedures, osteoarthritis, carpal tunnel and rheumatoid arthritis as well as sports medicine it's only reasonable to ask where he derives his greatest satisfaction.
Watson has a ready answer.
"The biggest satisfaction – if you've been practicing medicine for a long amount of time – really comes from seeing someone come back to the office, walking, without pain," says Watson. "Or from having someone with a pinched nerve in their hand who has missed months and months of work and they're coming back for their final follow-up and they're back working. They're back to normal again."
Dr. Michael Watson is with the Steward Medical Group. His office is at 1715 37th Place, Suite 101 in Vero Beach. The phone number is 772-778-0600.