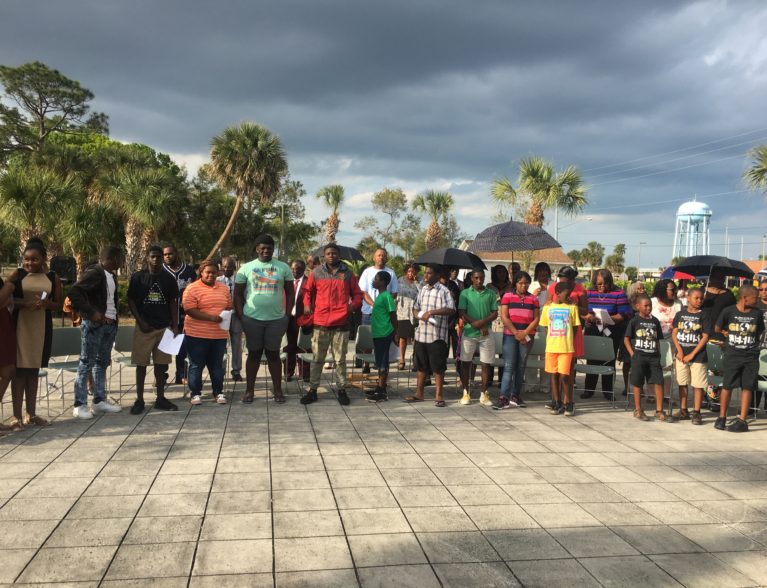 Gifford youth read 17 scriptures from the Bible – each passage symbolizing a victim in the Parkland mass school shooting that happened nearly a month ago – during a prayer vigil at a local church.
"We need to pray for our children before they go to school, while they're in school and for the teachers," said retired educator Margaret Ingram, wavering with emotion. "We pray for the parents, teachers, administrators, law enforcement, for the whole city of Parkland, for Florida."
Nearly 30 to 40 people attended the prayer vigil held from 5 p.m. to 6 p.m. Sunday just outside of the Historic Macedonia Church, 28th Court and 45th Street. The event was organized by the Pastors Association of Indian River County.
As survivors of the mass shooting at Marjory Stoneman Douglass High School continue to recover, local residents remain aware that a "Parkland school shooting" could happen anywhere, even here.
The vigil was one of a number that have taken place across the nation as students, parents, community leaders and law makers debate the issue of gun reform and discuss ways of preventing another massacre from taking place. The Feb. 14 shooting left 17 dead and was one of the worst mass shootings in the state.
"It was very important for the youth to be here," said Freddie Woolfork, Director of Public Relations & Facilities Operations for the Gifford Youth Achievement Center. "They need an opportunity to vent."
Retired Educator Margaret Ingram speaks during a prayer vigil held Sunday March 11, 2018, in Gifford.
*Note for videos – Click the audio icon in the lower right hand corner for sound. If that doesn't work, try refreshing the page.
Retired educator Margaret Ingram speaks during a prayer vigil held Sunday in #Gifford for the Parkland school shooting victims.

Posted by Nick Samuel on Sunday, March 11, 2018
Six people spoke to the crowd at the event, including Pastor Benny Rhyant, Pastor William Bradley, Elder Donald Brown and Pastor Terry Robinson, all of which are part of the local Pastors Association. The other two speakers were Ingram and GYAC teacher's assistant Vera Smith.
"Give those in that community the spirit to overcome," said Rhyant during a prayer. "We pray for the parents that lost their children."
Law enforcement increased patrol units at local schools because of an increase in threats since the deadly massacre. Community members and students have held vigils, rallies and walkouts to protest gun violence and push for more sensible gun laws. 
Photos by Nick Samuel and Freddie Woolfork