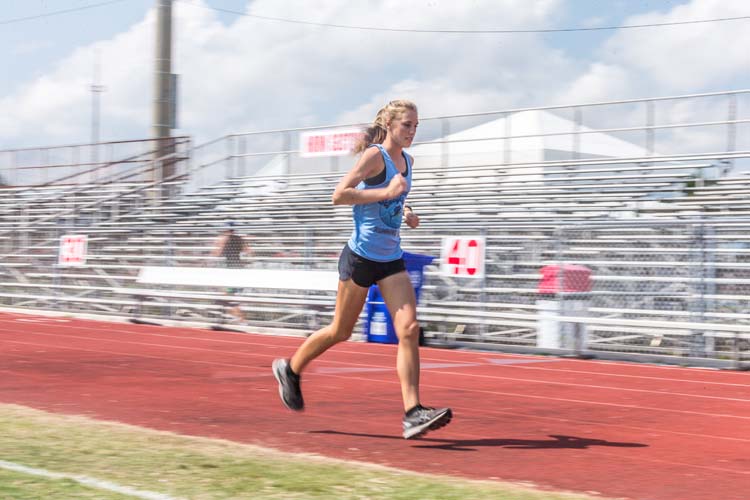 Vero Beach High School senior Grace Gumpel has a clear vision of what lies ahead when she graduates and begins her college career. It will be a matter of continuing to build upon pursuits for which a solid foundation has been constructed over the past four years.
She has emerged as a decorated distance runner on the cross country and track & field teams for the Fighting Indians. Her accomplishments were noticed by the University of North Florida, where she received an athletic scholarship to become a member of the Ospreys' running programs.
Gumpel will enter a nursing curriculum in college for which she will also be well prepared. By all accounts this soon-to-be college freshman will hit the ground running at UNF in both academics and athletics.
"I have been communicating with them (UNF) continuously since July of last year," said Gumpel. "It's a D1 school and they wanted me on their teams, so I decided to sign in November.
"In the fall I will be running 5Ks – and 6Ks too. In the spring they do indoor track. It's actually a smaller track, 200m instead of 400m, and I will run the 1,600m, 3,200m and 5,000m. So I will be running year round."
That's very similar to her events with the VBHS teams. In the cross country postseason last fall, Gumpel finished second in the district meet and established her personal best 5K time of 19:26 in the FHSAA state meet.
In current track & field competition she will run distances of 800m, 1 mile and 2 miles. For anyone conversion bewildered, 1,600m is equal to .99419390758 of a mile. We will just call it a mile. Runners often switch back and forth using both systems.
"The mile is actually my favorite event and the one that I'm best at," Gumpel told us. "Personal times are definitely big. Every time out I want to beat my previous best time. I beat my best record for the 1,600 (on Feb. 24) and it was awesome. My previous record was 5:17 and I just ran a 5:16."
This all got started for Gumpel before she even reached high school. Her parents produced and directed an episode that would evolve into a long-running series for six successful seasons.
"My sister actually hated running and she really didn't want to do it," Gumpel explained. "Then my parents pushed her to do cross country in 10th grade. I always admired by sister so I started doing it when I was in seventh grade. Even though she was a lot older than me, we started training together and we were both on the same private school team.
"I've been on the cross country and track & field teams at VBHS since freshman year. We basically have practice every weekday, so I really don't do that much running on my own. On Saturdays we mostly have meets and on Sundays I normally get up and run in the morning. So I run every single day.
"I just love running. It makes me smile every time I get to run. I just love it, it's so much fun. The team dynamic is just awesome. We run together and we tell stories while we are running. We have awesome coaches. Everything about being with other runners is wonderful."
As adept as Gumpel is when racing around the track, she is equally keen when navigating around the classroom.
"I will specialize in nursing because I want to help people. I'm in the HOSA (Health Occupations Students of America) class and this past semester was just for seniors to qualify to be a CNA (Certified Nursing Assistant). I went through the classes and did the clinicals. I passed the certification and I am now a CNA."
Gumpel is geared up and anxious to move forward. The end of high school is near, but not quite there just yet.
As one of two finalists, she awaits to hear if she will be chosen All-Area Girls Cross Country Runner of the Year.
"It's sad that I'm leaving, but I'm very ready. Four years in high school feels like a long time. I'm excited to finish, graduate and get on to college. I'm ready to move on to the next step."