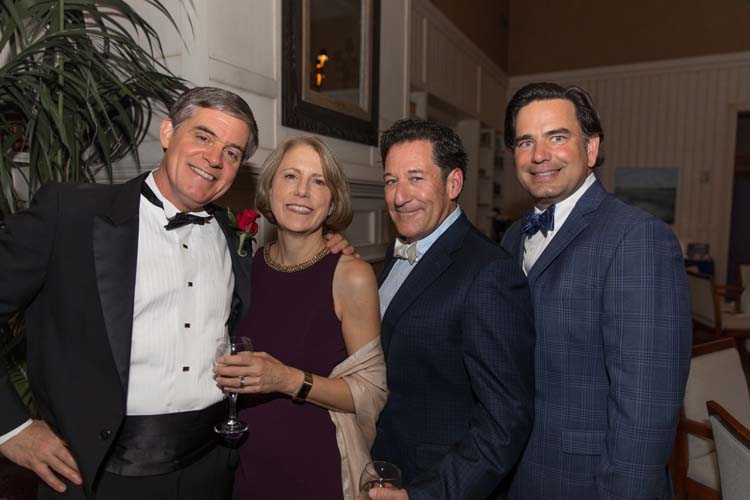 In the spirit of hope, BG Polo Vero Beach hosted the second annual Polo with a Purpose Charity Ball last Saturday evening at the Quail Valley River Club to benefit the Leukemia & Lymphoma Society. LLS is working to fund research to combat leukemia, lymphoma, Hodgkin's disease and myeloma, and to improve the quality of life of patients and their families.
Guests enjoyed the music of the Gypsy Lane Band while sipping cocktails and perusing enticing silent-auction items before settling down for a lovely gourmet dinner.
Before introducing this year's honorees, Drs. James and Katherine Grichnik, event chair and leukemia survivor Luke Webb remarked that cancer is the leading cause of death in Indian River County.
Dr. James Grichnik, a melanoma expert, serves as director of the Scully-Welsh Cancer Center at Indian River Medical Center, and Dr. Katherine Grichnik, a cardiovascular anesthesiologist, is the chief quality officer at IRMC. They have devoted their careers to healing and spoke of the programs, facilities and access to highly qualified medical professionals available today.
"You don't want to ever have cancer, but I can tell you that it's certainly a better time to have cancer," said Dr. James Grichnik. "The advancements are happening at a very rapid pace right now. The treatment options are incredible."
To help enable those developments, the Leukemia & Lymphoma Society has allocated $46 million toward research in 2018.
Stressing the importance of that research, Dr. Charles and Michele Mackett shared how cancer changed their lives, recalling the journey which eventually led to their precocious son Kyle losing his battle with Burkitt's lymphoma before his fourth birthday.
But their message was ultimately one of hope, citing breakthroughs in treatment that have doubled the survival rate to nearly 80 percent for those suffering from this rare form of blood cancer.
"How are these advances possible?" asked Dr. Mackett. "They were possible with help from people like you. Your generosity touches so many lives."
Emcee John Moore primed guests for the spirited live auction, noting, "What a story. It's a story of family and it's a story of a challenge. It's a story of generosity over time. The advances that Chuck spoke about are possible because of millions of little steps like we're doing tonight."
Encouraging guests to bid generously, Moore added, "the disease is big and scary and out there and untenable, but the reality is that the disease hits home at times with families like the Macketts and that's what tonight's about. It's about the people."
For more information, visit lls.org.    
Photos by: Denise Ritchie
Click HERE to see more or buy photos