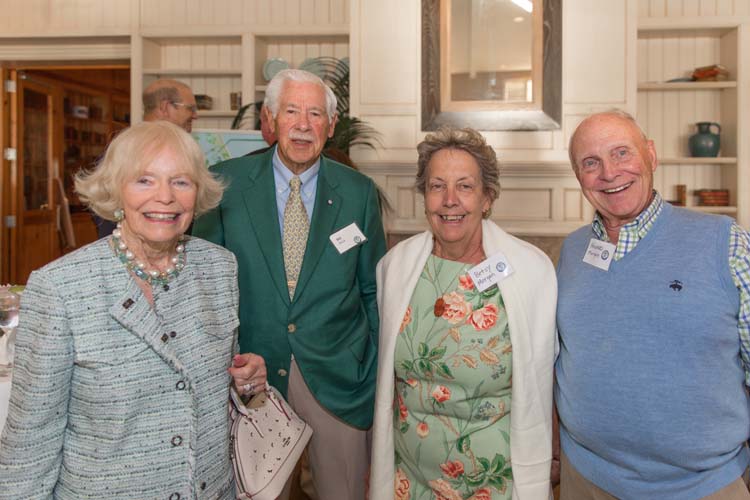 Indian River Land Trust benefactors gathered at the Quail Valley River Club last Thursday evening for the nonprofit's annual Conservators' Reception, hosted by Laura and Bill Buck and Sally and Dick Brickman, in support of the Land Trust's quest to "protect the land that protects the lagoon."
As the setting sun made its descent and illuminated the room in a show of spectacular color over the water, guests enjoyed cocktails and perused placards detailing coastal oak habitat characterization, mosquito populations and the water quality research being conducted through collaborations with the Harbor Branch Oceanographic Institute and Junior Scientists Program.
As if Mother Nature herself were weighing in with an appreciation of their efforts, the hues of red, yellow and orange were a fitting reminder of the natural beauty the Land Trust has sought to protect since it was first established in 1990.
"As you know, our mission is to preserve and protect the lands and the water," said Bill Buck, reflecting on the IRLT goal of preserving our extraordinary lagoon for future generations. "The variety of fish and birds here in this lagoon is as great as any other body of water in the whole country. That's impressive."
Over the years the IRLT has protected 1,000 acres and 10 miles of lagoon shoreline, preserving environmentally significant land, water resources and scenic waterfront areas, and providing access for public recreation and education.
"What makes Vero Beach really special is that we have such incredible natural resources in this community that are unmatched in Florida and the East Coast. We've got this incredible ocean, the beaches, turtles, oaks, world-famous citrus right at our fingertips, and we've got the Indian River Lagoon," said Ken Grudens, IRLT executive director, thanking guests for their support. "Without you, we wouldn't be here."
Grudens went on to outline the nonprofit's past successes, recent collaborations and future plans. "The lagoon is really a special place. It's our economic and ecological backbone in this community. We have some properties in our sights that are key properties in the puzzle along the lagoon."
The Land Trust targets properties that are ecologically important to the health of the lagoon, and they are partnering with universities, government agencies, nonprofit organizations and the Indian River County School District to work on ways to preserve water quality, improve habitats and educate youth about the importance of these ecosystems.
Quoting Ansel Adams, Grudens added, "'Once destroyed, nature's beauty cannot be repurchased at any price.' We've had great success, but our work is not done. We're here to make a difference."
For more information, visit irlt.org.    
Photos by: Denise Ritchie
Click HERE to see more or buy photos