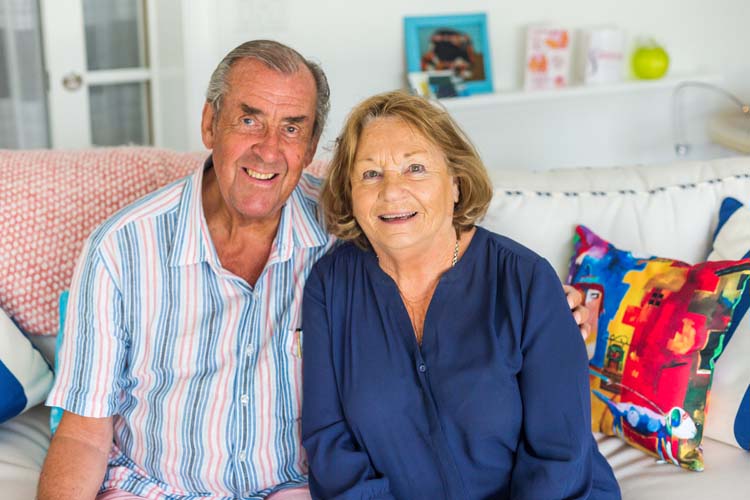 Margaret "Mags" Hobbs enjoys spending time painting in her Vero Beach studio, taking full advantage of the natural light. It's only fitting that the artist, whose infectious personality and sunny disposition make her hard to resist, would end up in a town listed by "Coastal Living" as being among the top 10 Happiest Seaside Towns.
After all, her journey as an artist began on the other side of the pond in Royal Leamington Spa, named last year as the happiest place to live in the UK.
She and husband David moved to Vero Beach several years ago to escape the brutal winters in Milwaukee, having fallen in love with the area while visiting friends during their jaunts to Daytona Beach for David's careers – first as a race car driver and later as a sports commentator.
The couple met when just 14 years old, dated through college and married just as his racing career took off. Not long after graduating from the Royal Leamington Spa College of Art, where she had focused on calligraphy, lithography and textiles, she gave birth to their first child.
"I took a 30-year sabbatical to raise our children," Hobbs says with a laugh. "David was racing like a madman all over the place and I just stopped painting."
To fill the creative void while her children were growing up, she pursued other interests, explaining, "I had a couple of little companies and took off on a big trekking experience."
While in California for one of David's races, she says she discovered macramé and thought, "Blimey, that's marvelous, I've never seen it in England before."
After purchasing three "how-to" books, she went home, put hooks in the beams in her kitchen and taught herself how to macramé. Setting up a co-op with a friend for stay-at-home mothers, they sold their creations by the thousands all over England; Harvey Nichols was at the top of their client list.
After a while, she says, "I ended up feeling like I was feeding the rest and starving myself, as they say. I felt, this is not enough for me, and that's when I turned to my textiles." For that venture, she organized a crew of women from nearby villages to do piece work to make quilts.
Hobbs' next creative endeavor came at age 45, the result of a chat in the pub with several friends. "After holding up the ladder for the rest of our families, it was time to see what was at the top," she explains. And by the top, they meant all the way. Once the idea took root, while husband David raced around the world, she intermittently trekked to Himalayan mountain tops with several friends.
Initially more of a physical challenge, Hobbs eventually wrote the book "Better to Journey: Travels Across the Roof of the World," which chronicles three of the seven treks she made with her friends, focusing on events during trips to the Everest Base Camp in Nepal, K2 in Pakistan's Karakoram range, and an expedition to Makalu in Nepal.
"My friends started this business – 'You've got to write a book, Mags. You keep that diary.' It is true I did keep a very scrap of a diary," she recalls. "It was actually very marvelous of them to be so supportive."
Hobbs takes readers to the mountaintops, where she and her companions overcame the physical and emotional challenges of their arduous journeys, dealing with monsoons, leeches, earthquakes and the death of a young porter traveling with them.
Eventually, with David spending most of his time in the U.S. because of his involvement in the racing industry, he opened a car dealership in Milwaukee where they relocated.
Looking back over the years devoid of painting, Hobbs says she has no regrets. "You don't choose what you do in life; life has got you by the short and curlies, largely. It dictates pretty much what you do. I don't think a lot of us have much choice that way."
That said, after eventually settling in to "life as an American," Hobbs decided she was ready to get paint under her nails again. "I never stopped thinking about painting. It never left me. I had to make that big break myself and say, I am going to start painting again."
Hobbs readily admits that, for her, writing the book was much easier than painting. "That book is not fiction. So I was really just rewriting my diary; there's nothing clever about it. My art is absolute fiction. I find painting an endless puzzle. It requires enormous amounts of thinking in my head all the time."
Fear was her biggest roadblock and nerves initially caused her to overwork the pieces. "We always want to produce a picture that people love. I think that's a mistake. It takes a long time and thick skin to get over that," she explains. "I didn't know how to get started. I was afraid of the blank canvas. One day I said, For Christ's sakes it's only a bit of canvas. It's only a bit of paper. If it doesn't work, do another. And then I was all right."
She says her work in those early days was technically correct but felt cold.
"My style has evolved a lot. I think abstract expressionism is a term that has been tagged onto me. It's a very loose and abstract approach to the subject. I'm not looking for photographic images. That's not me. I need to use my imagination a great deal more. I like something that grabs my imagination and excites me. In my book, abstract expression means you can do anything."
Hobbs says she has gone to numerous classes at the Vero Beach Museum of Art, adding, "It was great for me because I really enjoyed doing the classes and studios and then in no time at all made friends."
As a member of the Vero Beach Art Club, Hobbs entered her "Abstract Art Class" piece in the recent Art on the Island 3-Dimensional Fine Art Exhibition at the Marsh Island Clubhouse where it took First Place in the 2-D with Pizzazz category.
"The one comment I get all the time is, 'Why is it [her paintings] all so different?' Until people said those things to me, I never thought about it. I'd just paint whatever I wanted to paint. The subject matter is not my main interest; it's the technique, the painting style."
Dawn Miller, VBMA instructor and fellow artist says, "If I were to describe the way Mags approaches her paintings, it would be fearless. She is just so willing to throw in unique, bold colors and marks and wash it out and try again. I love watching her paint. She is just fearless and has fun with it; she's very playful. She's not uptight at all about what she's doing and she's willing to go big. Mags is happy when she's painting and that shows in her work."
Standing in her study, it's hard not to feel the joy in Hobbs' paintings, where farm animals frolic on canvases and poppies burst with color.
Hobbs always has several pieces going at once and is currently juggling nine commissions. Among them are roosters, horses and poppies. There is also a portrait of her husband which she will be donating for auction at the 2018 Amelia Island Concours d'Elegance, where David's autobiography, "Hobbo, Motor Racer, Motor Mouth," will be launched on March 9.
Photos by: Gordon Radford
Click HERE to see more or buy photos