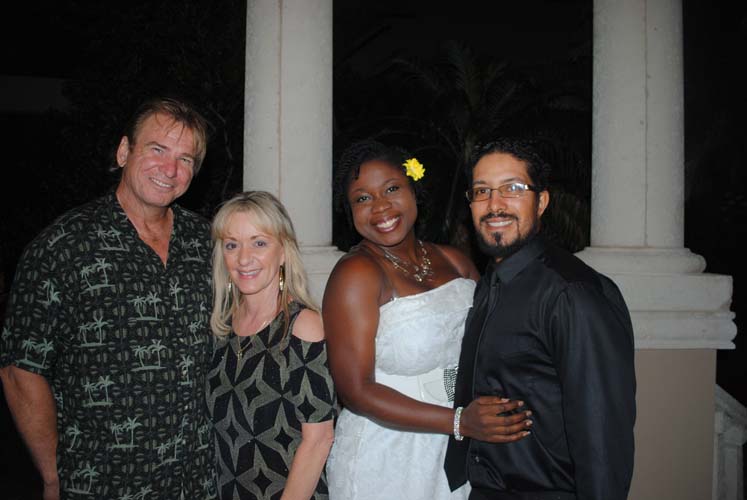 A brilliant full moon illuminated the sparkling Indian River Lagoon, creating the perfect setting for Opera on the River, hosted by Kurt and Marilyn Wallach at their waterfront home. Roughly 60 guests arrived in their finest cocktail attire for an elegant evening to benefit CASTLE Child Abuse Prevention.
Guests meandered past a gleaming Rolls-Royce before lingering by the outdoor pagoda with its panoramic view of the water, sipping cocktails, listening to live jazz and taking in the crimson light show painted by the sunset on the horizon. As the sky darkened, couples ventured inside, where an elegant spread of hors d'oeuvres and champagne fountains spanned three rooms.
The living room of the palatial home was transformed into a mini concert hall for a performance featuring opera divas Janet Rabe Meyer and Shirley Wang, whose breathtakingly beautiful voices filled the home with melodic joy, evoking a sense of hope and optimism to all who attended the annual event.
Kyle and Kristin Upwood said they had never attended an opera before, so this was a new and exciting experience for them.
"We came with a group of friends knowing we'd be supporting a good cause and looking forward to an elegant evening in an elegant home. It's more than we ever expected," said Kyle Upwood. "It's like stepping into a movie set."
"I'm pleased to open my home to such a worthy cause as CASTLE," said Kurt Wallach, who greeted and welcomed each and every guest as they arrived. "All the proceeds from this evening go to the prevention of child abuse. In Florida alone there were 126 children killed by boyfriends or family members. It's horrific, and CASTLE is working to prevent these deaths from ever occurring again."
CASTLE was founded in 1981 as a way to teach better parenting skills and has since expanded to 27 states. Locally, Treasure Coast and Okeechobee parents who are at risk of or who have had reported incidences of child abuse or neglect are offered programs of support and education.
Recognizing that incidences of stressful life circumstances such as divorce or financial problems can quickly escalate into abuse, CASTLE seeks to circumvent that action through parent counseling and teaching non-violent discipline. Representatives said that their studies have proven that children with a stable home environment will perform better in school and be less likely to become involved with drugs and crime.
"The Castle family of professionals, volunteers and supporters are so passionate about the cause," said Jeffrey Rollins, current president of the governing board. "Keeping children safe is the ultimate goal. Events like this not only raise money for our organization but raise awareness about our mission. Hopefully, some of the patrons tonight who came for the opera will also answer a call to help children."
For more information, visit castletc.org.
Article by: Kerry Firth, Correspondent
Photos by: Gordon Radford
Click HERE to see more or buy photos