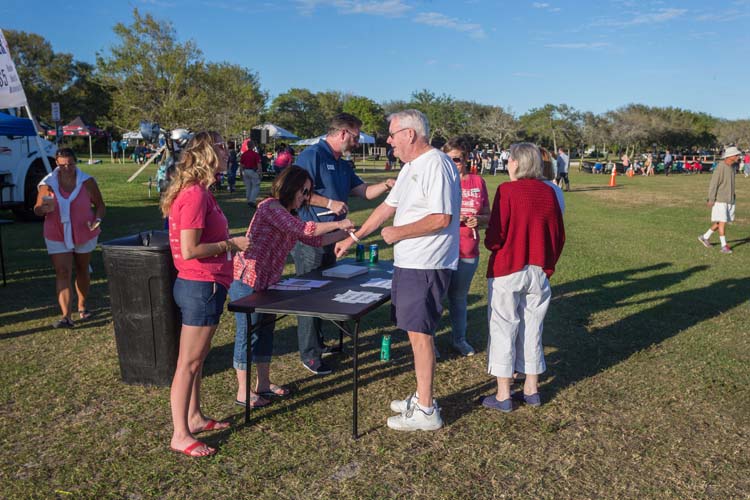 Vero Beach residents headed for Riverside Park last Friday night to greet the Budweiser Clydesdales as they hitched up their wagon to help kick off the United Against Poverty of Indian River County Burgers & Brews campaign.
The crowds began to gather several hours before the spectacular steeds were scheduled to make their appearance, with families taking full advantage of the crisp nip in the air while chowing down on offerings from food trucks and watching children bounce off excess energy in the kids' zone.
Geoff Moore kept the crowd engaged throughout the evening, peppering a playlist with beer-centric songs as Southern Eagle Distributing kept the beer flowing.
"It's a community-happy four hours," explained Annabel Robertson, UP executive director, noting that Southern Eagle was donating proceeds from beer and soda sales to the nonprofit.
Over the next few months, UP will be working to pair up restaurants and businesses for the upcoming June 30 Burgers & Brews burger contest. Robertson said they expect that more than 20 restaurants will sell sliders on the street, all vying for both Judges' and People's Choice Awards.
"The kick-off party opens the season for us to find people to participate," she explained. "We're just really excited about tonight. People come from all over. It's amazing what an institution the Clydesdales are."
As the horses were made ready for their grand entrance, the excitement was palpable. People clustered around, lining up six-deep for the length of the field from the Grand Pavilion to the Vero Beach Museum of Art.
While many bragged of having seen the exalted equines before, others eagerly anticipated their first sighting. Weights and heights were debated, ages and pull load too, but the one thing everyone seemed to agree upon was the majestic beauty of the gentle creatures.
Right before the team of draught horses was ready to take off on the parade route, the Busch Family Foundation donated $2,500 to United Against Poverty to help further its vision.
UP board members, volunteers and program participants welcomed the opportunity to raise awareness about the programs and services they offer to ensure that every family has access to basic needs, nutritional food, crisis care, education and employment training.
"A lot of people don't know what we do in the community, and that's either people who may be in need or people who have a heart for the mission that we've undertaken," added Robertson.
They have had major achievements with the Success Training for Employment Program (STEP), which focuses on enhancing job-readiness skills for job placement and long-term job retention.
"We had 109 people graduate from STEP in 2017 and we currently have 258 employed STEP participants, which is about $5.7 million in annualized wage impact," shared Robertson.
For more information, visit upirc.org. 
Photos by: Gordon Radford
Click HERE to see more or buy photos