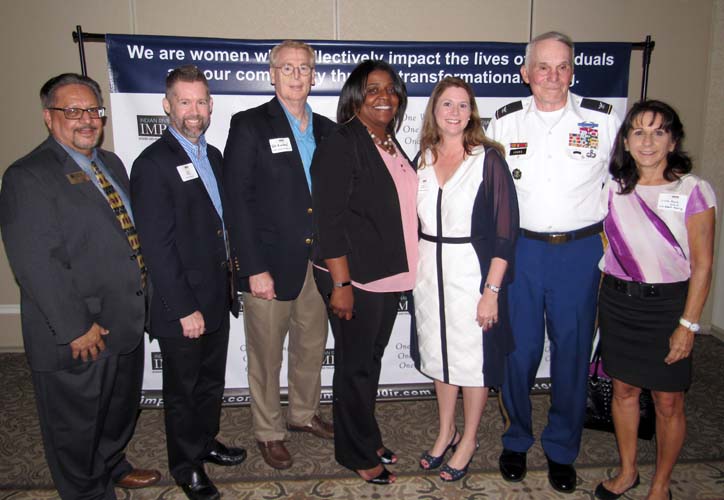 Representatives of seven nonprofit organizations were introduced as the latest Impact 100 finalists at a Meet the Finalists Reception last Friday afternoon at the Vero Beach Country Club.
"We are women who collectively impact the lives of individuals in our community through transformational giving," said Suzanne Carter, board president of the all-volunteer funding group.
Brenda Cetrulo chaired a Grant Committee that extensively vetted the applications of nonprofits vying for the coveted $100,000 grants toward programs that would be impactful, sustainable and transformative.
The finalists will make their case at the April 18 Annual Meeting, where a record-breaking 460-plus membership will vote to determine which four will become $100,000 grant recipients. The three other finalists will equally split the remainder, as every $1,000 member contribution is distributed.
"When Impact started 10 years ago, we were idea people, community leaders and community businesses who wanted to make our Vero Beach a better place for those less fortunate," said Dace Stubbs, 10th Anniversary sponsor. "It was energizing to see our mission unfold right under our very eyes. Impact has contributed $3.7 million to the community; over 450 women have made our town a better place to live."
"I get the best part. It is an honor to be part of Impact 100, chair of the Grant Committee and announce today's Impact 100 finalists," said Cetrulo. Recognizing all the hardworking volunteers, she added, "they are the heart and soul and I thank you all."
2018 Indian River Impact 100 Grant Finalists:
The Buggy Bunch: PlayFULL Education Groups. Funding would support growth and development of free groups to teach math and literacy skills to high-needs children ages 0 through 5, while integrating evidenced-based parent education and family support.
Economic Opportunities Council of IRC: Early Bird Program Expansion to Dodgertown Elementary in Gifford. The program seeks to close the gap in quality 3-year-old care for children of low-income, high-risk homes through a holistic educational program by providing food, support and education.
Indian River State College Foundation: IRSC Pioneer Tech Camp. Funds would help purchase equipment and staff to teach underprivileged third- to eighth-grade students about robotics, video-game design and computer coding at the Vero IRSC campus in the summer, and at Gifford Youth Achievement Center during the school year.
Tykes & Teens: Little TYKES (Teaching Young Kids Emotionally & Socially). Funding would pay for two infant mental health therapists to train childcare center staff and families to recognize and respond appropriately to problem behavior in the preschool classroom.
Vero Beach Rowing: Creating a Community of Caring; Vero Beach Rowing Serving Breast Cancer Survivors. Funding would purchase lighter, more stable rowing shells and dragon boats to improve access for the breast cancer survivors' Row After Diagnosis program and other nonprofits.
Veterans Council of Indian River County: Veterans Helping Veterans Program; Safety, Accessibility and Home Improvements. Funding would enable the hiring of home improvement contractors to fix, upgrade and increase handicap accessibility for impoverished veterans living in sub-standard housing at no cost to them.
Youth Guidance Mentoring and Activities Program: Youth Guidance Mentoring Academy S.T.E.A.M. Magnet Program. Funds would develop and staff an innovative learning lab focused around Science, Technology, Engineering, Arts and Math for academic enrichment and tutoring services for underprivileged youth.
Photos by: Mary Schenkel
Click HERE to see more or buy photos