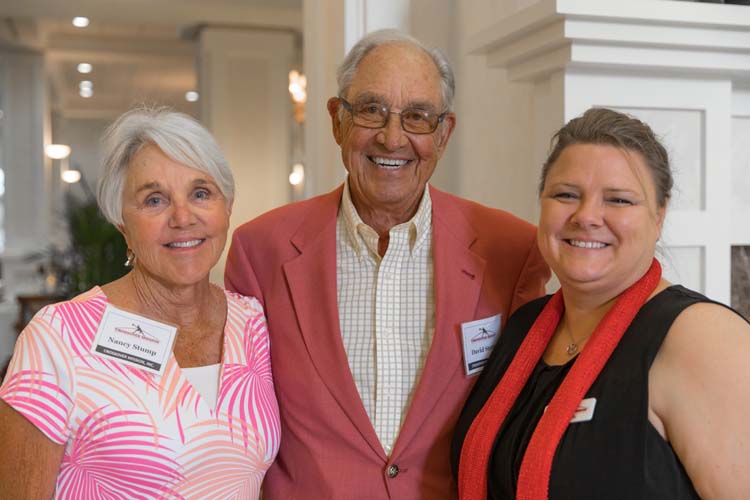 Two young friends eloquently welcomed guests to an inspiring 'Building our Future Together' luncheon last Monday at the Oak Harbor Club to benefit Crossover Mission. The event's keynote speaker was Jack Kemp, who shared his emotional story of surviving the horrific 9/11 World Trade Center attacks.
The nonprofit, founded in 2014 by Antoine Jennings and Cathy De Schouwer, combines a Crossover Basketball Training Program with an Academic Mentoring Program for at-risk middle and high school students.
It was only fitting that Antoine Jennings Jr. (AJ), a ninth-grader at the Freshman Learning Center, and Louis De Schouwer, an eighth-grader at Gifford Middle School, should start the program, as it was their shared love of basketball which first brought their parents together.
While looking for a basketball coach, Louis shared that he noticed that AJ, coached by Jennings, was already a standout player. Despite Jennings' then intimidating appearance, Louis and his mother knew he was the right man for the job.
"We not only love the sport of basketball, we love that our parents have built this organization," said AJ.  "So, that also makes us very proud sons."
Later in the program, AJ was honored as the first student player to graduate from the Crossover Academy Pro, an eight-course web-based program, and as the first inductee into the Crossover Mission Hall of Fame.
Jennings Sr. shared that his life began a downward spiral at age 11 when his father was sentenced to 31 years in prison for drug dealing. His own violent lifestyle ended – almost permanently – when, as a gun was pressed to his head, Jennings reflected on past bad choices and missed opportunities. When the gunman let him go, he vowed to turn his life around.
"Who would imagine that God would use my greatest pain to be my greatest victory," said Jennings.  "God has put me in a place and given me an opportunity to go back and talk to the kids in the community who made bad decisions just like I had; who put athletics ahead of academics. We've got to try to reverse that mindset."
Jennings thanked everyone who has supported the goals of Crossover Mission to give vulnerable youth the structure and stability missing from their lives and provide them with positive life skills.
"I think that this is the hardest work that I've ever done in my life, but it's also the most valuable," said Jennings, introducing some of the young men who are now stellar examples of the fruits of their labor.
"It's been my great pleasure and honor to work with Antoine Jennings these last four years, learning, giving and living the Crossover that is Antoine's vision for uplift in the community through our young people," said De Schouwer. "Rather than feeling like recipients of charities, participants of Crossover Mission feel like they're an elite group of basketball players who are being trained and invested in to become successful players on the court and in life."
De Schouwer said that in January, 72 percent of their students achieved a 2.0 or higher GPA; 56 percent are on the A/B Honor Roll. Nineteen of the 22 high school and middle school students who tried out for their school teams made those teams; five students, who had never done so before, passed their SATs, and they have seen positive results from a new Crossover Academy Prep Program for a targeted population of high-risk students.
"These are good kids; they have unlimited potential," said Brad Lorimier, board president.
Photos by: Denise Ritchie
Click HERE to see more or buy photos