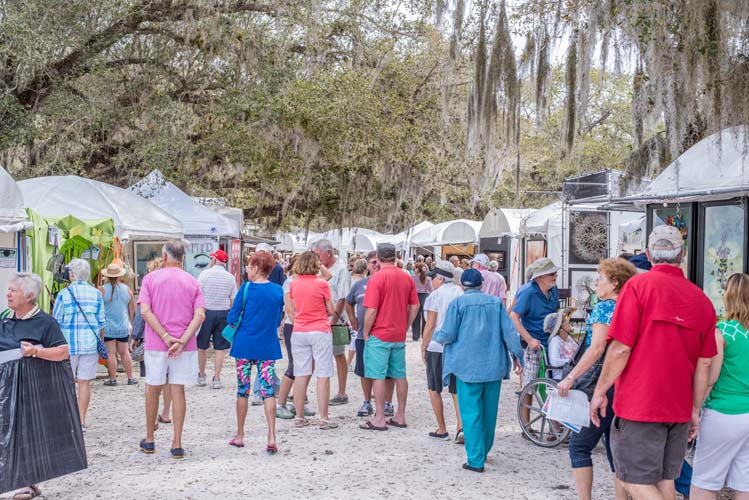 Say "Under the Oaks" and most everyone knows you're referring to one of the most highly anticipated, best-attended events of the season, the Vero Beach Art Club's Under the Oaks Fine Arts and Crafts Show, now celebrating its 67th year. Be sure to carve out time this weekend to fully enjoy the carefully juried, absolutely excellent works from more than 220 in- and out-of-state artists – all displayed in one of Vero's most beautiful outdoor venues. You'll stroll along sunlight-dappled paths under oaks that are, themselves, works of art. In the food court, you'll find all sorts of tempting foodstuffs and beverages, from some of Vero's most popular restaurants. More than 36,000 people typically attend this popular show. The parking is ample and free, and admission is also free. Show hours are this Friday, Saturday and Sunday, 9 a.m. to 4 p.m.
"To Kill a Mockingbird," based on Harper Lee's ground-breaking, Pulitzer Prize-winning 1960 novel of the same name, opens this Thursday, March 8, at the Vero Beach Theatre Guild. Lee's classic work is known for its warmth and even humor, in spite of its subject – rape and racial inequality. The book is loosely based on Lee's experiences with her family, neighbors and events that occurred near her hometown of Monroeville, Alabama in 1936, according to Wikipedia. The plot revolves around a young girl, Scout, and her attorney father, Atticus Finch, who agrees to defend a young black man falsely accused of rape. As one critic explained the book's impact in the 20th Century: "'To Kill a Mockingbird' is probably the most widely read book dealing with race in America, and … Atticus Finch, the most enduring fictional image of racial heroism." In the hands of long-time director, actor and current Guild president Jon Putzke, this show should be a powerful and moving production. "To Kill a Mockingbird" runs through March 25. Tickets: $13 to $26. Box office: 772-562-8300.
The University of Notre Dame Glee Club is without doubt one of the top all-male collegiate choral groups anywhere, a century-old brotherhood that numbers more than 2,000 members since is first performance in December 1915. We'll have the opportunity to enjoy this heralded 60-voice group Monday, March 12, at the VBHS Performing Arts Center, as they make a one-night stop on their Spring-Break Tour. Over the years, according to Wikipedia, the Glee Club has toured nationally and internationally, performing with headliners such as Dave Bubeck, Vince Gill, Ronan Tynan and the South Bend Symphony Orchestra. You Notre Dame alumni will have heard this group before home football games and at Mass in the Basilica of the Sacred Heart on the Feast of the Immaculate Conception. Notre Dame student Samuel Ward Perrott formed the University of Notre Dame Glee Club after singing in a glee club at Harvard (where he also studied), and saw how such a group should be run. The Monday evening performance will benefit the Women's Care Center, the Hope for Families Center and the Notre Dame Club of Vero Beach Endowed Scholarship Fund. Tickets are $10 for students, $25 for adults. The music starts at 7 p.m. Box office, 772-564-5537.
The Yale Spizzwinks(?) are coming to town next Thursday. Whether you're thinking "say what?" or "Terrific! I'll be there!" you'll totally enjoy this free, unique evening of music at St. John of the Cross Catholic Church March 15. The Spizzwinks(?) are said to be America's oldest underclassman a cappella group, having been a cappella-ing since 1914. And their story is a good one. Back in 1913, four Yale frosh were hanging out at Mory's trying to decide on a name for their new (a cappella) singing group, which they were launching as a light-hearted alternative to the Whiffenpoofs, Yale's older, all-senior a cappella group, which Wikipedia describes as "known as much for their stodginess as for their musical excellence." One of the four, a young man from Iowa, suggested they name themselves after a mysterious, invisible creature which, according to legend, was responsible for the Great Iowa Corn Blight of 1906 – The Spizzwink. The editor of the school paper wasn't sure of the spelling, so, in the article about the new group, he included (?) after the name. The newly minted Spizzwinks liked the way it looked and made it an official part of their name henceforth. The Spizzwinks(?), usually in tie-and-tails, perform over 100 concerts a year, nationally and internationally, including performances in Madison Square Garden, Carnegie Hall, the U.S. State Department, Disney World, the White House, professional sports events and numerous other venues. Being entirely self-funded, they sell lots of CDs and other merch. With their balanced blend of great harmony and tongue-in-cheek humor, the Spizzwinks(?) sing their own arrangements of music from Gershwin to Bernstein to the Beatles to Adele. Show time is 7 p.m. Tickets are free and required. 855-252-7276 or 321-536-8580.
The rock band from Boulder, Colorado –  Firefall – has scored gold and platinum with their music, from country to rock, for some four decades, and they're bringing those signature rich harmonies to the Emerson Center next Thursday, March 15, as the next in the Live! From Vero Beach concert series. We'll likely hear such Firefall biggies as "You Are the Woman," "Just Remember I Love You" and "Headed for a Fall." Ticket are $25 to $65. Show time is 7 p.m.