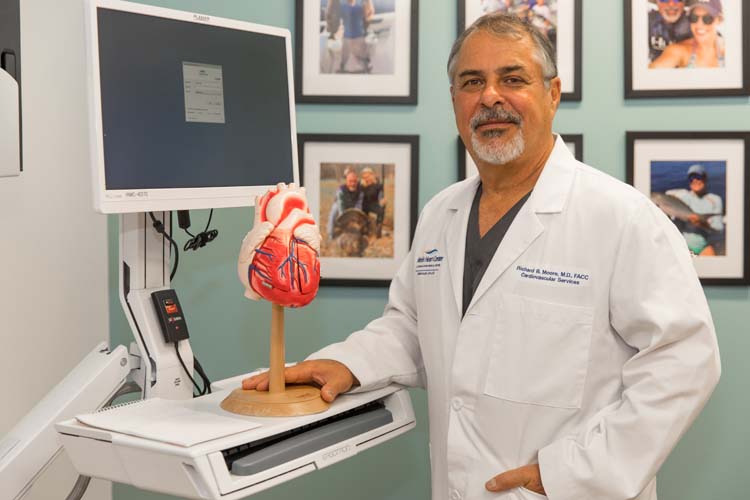 If you had taken a snapshot of heart failure in America just a couple of years ago, it wouldn't have been a pretty picture.
But according to Indian River Medical Center cardiologist Dr. Richard Moore, a snapshot taken today would offer a much brighter image.
He cites a new "blockbuster" heart drug, a new emphasis on early prevention, a less-than-one-month-old discovery of a previously unrecognized cause-and-effect relationship between heart disease and certain cancer treatments, and – here in Vero Beach – a "team" approach to treating heart failure.
The Centers for Disease Control says 5.2 million U.S. adults have congestive heart failure resulting in more than 610,000 deaths annually. Another 500,000 new cases are diagnosed each year. It is the leading cause of hospitalization in people over 65 nationwide.
"One in every nine deaths in this country," the CDC continues, "includes heart failure as a contributing cause," and the financial burden is estimated to exceed $31 billion annually.
But those figures represent the past and Moore is barely able to contain his enthusiasm about the present – and the future – as he talks first about the pharmaceutical good news for those at risk for heart failure.
"In terms of treatment," Moore says excitedly, "there has been the development of one drug – which I would call a blockbuster – called Entresto."
According to Moore, Entresto reduces the need for hospitalization due to heart failure and, as he puts it, "will actually improve overall survival."
The gregarious Moore then stops himself before getting too technical about "neprilysin inhibitors" and "the renin-angiotensin system," and points, instead, to what he sees as perhaps the sole drawback to Entresto. "The only thing that has slowed its penetration into the market is that it's not generic, so it does have a [high] cost."
Skipping ahead to that previously unrecognized cause-and-effect relationship between heart disease and certain cancer treatments, Moore cites a study released in February by the American Heart Association.
In summary, the study found that lifesaving therapies for breast and other cancers – including chemotherapy and radiation – can cause heart failure and other serious cardiac problems long after the initial cancer treatments are completed.
The report says breast cancer survivors age 65 and older are now far more likely to die from cardiovascular disease than from cancer, and it urges cancer patients to "discuss the potential effects on the heart of any cancer treatments they're considering."
Moore understands the dilemma this information presents to patients.
"If I told you I had something for breast cancer but it had side effects, [most people] wouldn't care. There's something about cancer that gets people's attention that cardiovascular disease does not," yet the AHA report points out that radiation treatments can narrow a patient's arteries, leading to blockages later in life, while some cancer drugs can lead to abnormal heart rhythms and artery spasms which can induce heart attacks.
That's where the new, innovative team approach comes into play.
Moore is now heading a new IRMC cardio-oncology group. "Cardiologists," he explains, "have to learn to understand the mechanisms of these various [cancer] drugs and understand how the heart is affected or damaged and we have to learn how to collaborate with the oncologists to allow patients to get their treatment – which is lifesaving – and yet work through these issues to try to protect the heart as best we can."
And while the cardio-oncology group is new, for Moore, collaboration is not.
For his "several hundred" patients Moore might enlist an electrophysiologist to deal with arrhythmias, a surgeon to implant a defibrillator, a nephrologist to deal with kidney function, a pharmacist to guide the patient through drug interactions and side effects, an endocrinologist if diabetes is a problem, and even a dietician to help the patient better understand "what food stuffs to stay away from."
Finally, Moore calls the treatment of unrecognized hypertension the biggest "bang for our buck" possible in today's cardio care.
Better detecting and properly treating hypertension in "30-, 40- and 50-year olds," says Moore, "would make the greatest impact in dealing with heart failure in later years."
In a brief flash of frustration, Moore bemoans a phenomenon today that's most easily explained as "statin-bashing" on various online blogs and web posts.
Moore insists those claims are false. "History," he says, "will prove that statins are much like penicillin in terms of how they can change the progression of coronary disease."
Still, Moore's enthusiasm returns as he concludes by saying, "I want to see us transform the treatment of heart failure. I want to bring a more contemporary approach. I think we're seeing that this is where medicine is evolving.
"To be honest, we want to be on the front end of this. We want this sleepy little Vero Beach community to be offered the absolutely latest in cardiac care."
Dr. Richard Moore is with Indian River Medical Center Cardiology. His offices are at 3450 11th Court in Vero Beach. The phone number is 772-778-8687.