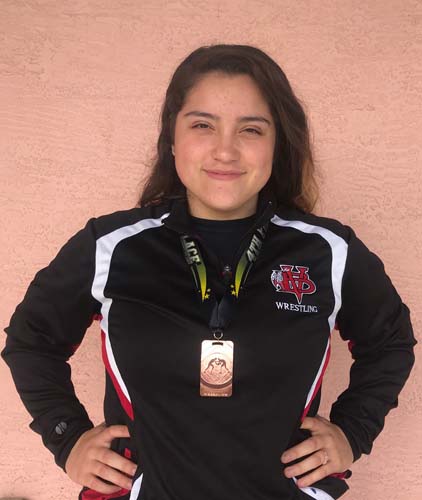 Vero Beach High School senior Janet Toscano contributed mightily this year to the growing body of evidence that the culture of sports is changing in ways that once seemed unimaginable. Choosing to become the only female member of the varsity wrestling team was something that few if any of her peers would even consider, however this 18-year-old had the personality and grit to pull it off with unburdened ease.
After dabbling in junior varsity lacrosse and shifting over to weightlifting up to and through the 10th grade, Toscano dedicated her junior year to academics because she didn't want to disappoint someone very close to her. That same year wrestling grabbed her interest when she participated in conditioning workouts with the team. She considered giving that sport a try, but there was no team for girls. And in the back of her head was the omnipresent vision of her mom's concern for academics.
"My senior year came and my grades were great, so I decided to try out for wrestling," Toscano said. "I got really strong from weightlifting – and from my earlier conditioning with the team it looked like wrestling might be fun. But when I tried out this year we did so much running and my conditioning was horrible.
"Sometimes I felt like I wanted to hide. I was so tired my legs cramped up. But I said I am going to be the girl who actually stays with it on the boys wrestling team for the whole season. And I did."
Toscano started out by wrestling with the guys in the practice room. She would always be motivated by something assistant coach Jacob Pryor Sr. emphasized to her repeatedly: "Pain is temporary, Pride is forever."
"So I would wrestle the guys and I would lose some, but I would also win some. I put my heart into it. I really wanted this. Throughout the whole season I would just not give up. It was so tough. There were times when I was so angry to the point where I didn't want to come back.
"But the guys on the team would not treat me like a girl, even though I thought they might be a little soft on me in practice. They told me you're on the boys team and we're going to treat you like a boy. If you want to wrestle, then wrestle.
"I was basically one of the guys. I never felt uncomfortable wrestling with them. They were really respectful to the point that if there was a move (they thought might be considered anatomically inappropriate), they would apologize and say they were sorry. I told them no, I am part of the team and I have to get used to it. I understand that this is a boys sport and  moves like that may happen in a tournament."
She went to tournaments and readily brushed aside any snide comments about the presence of a girl on the VBHS team.
"When it came to the meets I was completely scared. At the beginning of the season I started out at the 220-pound weight class. It was horrible wrestling those big dudes, but I literally stood my ground and said I am not going to go down. I'm not going to get pinned. I hated getting pinned. Getting pinned by a guy made me mad. It made me want to practice even more and work harder to try to win."
The first time she pinned a guy it made her so happy she "smacked the mat" when it was over. By her own count she pinned three guys during the season. She was able to use what she learned from those experiences when she was fast tracked into the Florida High School Women's State Wrestling Championship meet in early February. Wrestling with guys taught her to go for the legs first instead of the head.
"The first time I wrestled a girl was at the Disney Duals in December. I could only get into exhibition matches and on the first day I pinned three girls in less than 60 seconds. I thought this is so easy. The second day I wrestled some of the state contenders from Dr. Phillips High School and they were pretty tough.
"There were no districts or regionals, it was way different than the guys. I automatically went straight to states because I was the only girl on the team.
"My experience at the state tournament was horrible. I dropped so much weight from all of the cardio that I had to compete at 195. If I had stayed at 220 I know I would have placed first or second because I was so much quicker than those girls. But by dropping weight I got fourth place at 195.
"At least I got a medal, but I was so furious that I only got fourth place. After wrestling with guys I knew I could win this. But Dr. Phillips had an amazing group of girls there.
"In my first year of wrestling I beat some boys and I went to states. So those are my accomplishments. I placed at states and my picture is going up on the Wall of Fame (in the VBHS wrestling room) forever."