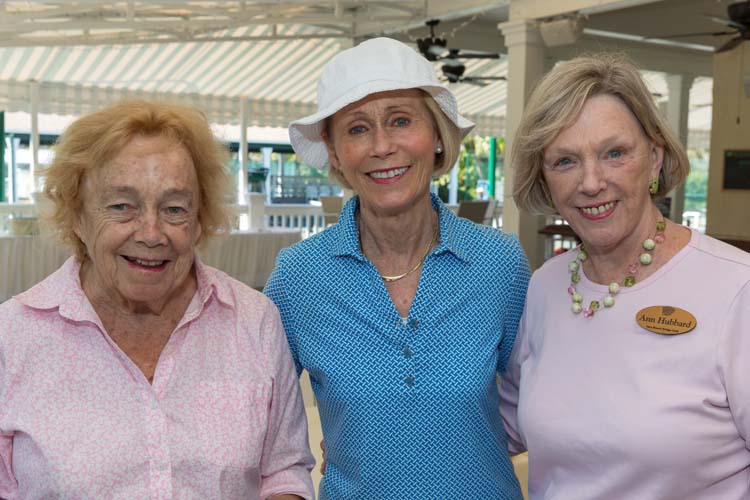 Golfers and bridge players teamed up Feb. 24 in a redesigned Sea Oaks Charity Day to benefit the Mardy Fish Children's Foundation. For the past 14 years, the community has hosted the Dick Knoll Tournament in memory of one of its former residents. Past nonprofit beneficiaries have included Indian River Habitat for Humanity, the Hope for Families Center and the We Care Foundation.
This year, in addition to a golf tournament at Sandridge Golf Club, a duplicate bridge tournament was added to the mix, with everyone coming together for an awards luncheon on the Tennis Center's wraparound porch. In addition to its reputation as a tennis community, Bela Nagy, director of golf at Sandridge, said there are so many Sea Oaks golfers, "we actually have a Sea Oaks Golf Club."
Paul Delaney, event organizer with Don Moyle, Deb Benjamin and Karolyn Smith, said he got involved in the Mardy Fish Children's Foundation through his friend Joe Pappalardo, a MFCF board member.
Local children, who would otherwise have little or no access to fitness, nutritional and enrichment opportunities, are learning to play tennis through the MFCF Kids on Court and After School Tennis programs through a partnership with the Lozano Osorio Tennis Academy at Grand Harbor.
A life-long tennis player, Delaney has been helping the pros instruct the children. "I enjoy it so much and could see what a wonderful thing that the Mardy Fish Foundation was doing for these little kids."
"He's raised more than $50,000 over the last few years for the foundation, between this and the 80-and-over tournament," said Pappalardo of Delaney.
Sea Oaks members saw the value of the program first-hand while watching a recent exhibition match that included three seasoned female professionals and 12-year-old Gracie Levelston, currently ranked No. 1 in Florida and No. 12 on the USTA National Girls' 12s singles ranking.
"She played great and then they discovered that she was a product of the Mardy Fish Children's Foundation," said Delaney.
"The amount of money raised will help to tackle the complex safety, health and fitness challenges faced by children and families in our community," said Tom Fish, MFCF board chairman, adding that because of their streamlined structure, 90 percent of funds raised will directly benefit the children. "Our foundation exists precisely because of the vision, daring and understanding of people such as you."
Reiterating thanks on behalf of MFCF, he added, "Nothing is more important than helping children in need."
Photos by: Denise Ritchie
Click HERE to see more or buy photos