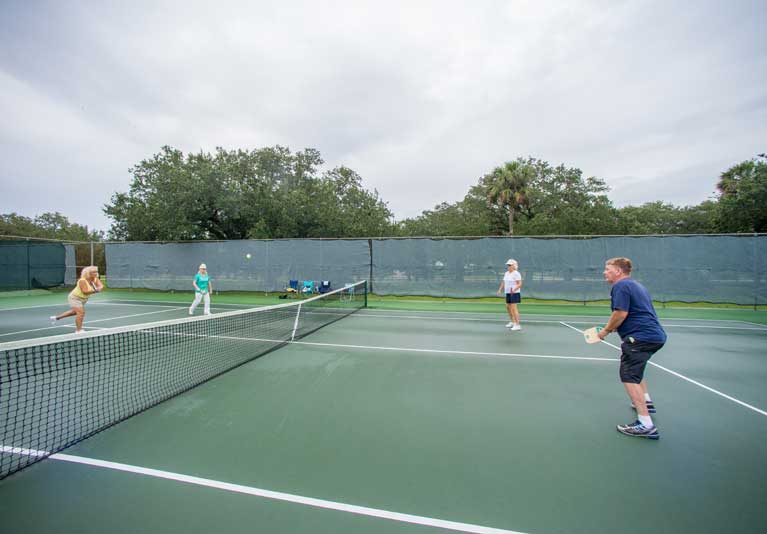 A percolating, Riverside Park court battle between tennis players and pickleball players has ended.
There's no longer any reason for local, public-parks tennis players to be snarky about the game, despite its silly name, which actually comes from a playful dog and has nothing to do with pickles.
There's no need to make snide remarks about "the kitchen," which, in pickleball, has nothing to do with food preparation, or to condescendingly refer to the fast-growing sport – one that is wildly popular with seniors, especially in Florida – as "tennis for non-athletes."
The battle is over and both sides won – or so it would appear, anyway.
For the second time, Riverside Park's tennis players successfully fended off a push from Pickleball University – a privately funded, Vero Beach-based club with 375 paddle-wielding members – to convert at least two of the city-owned complex's 10 tennis courts into pickleball courts.
And Pickleball University, which currently makes its home at Pocahontas Park, already is working with Vero Beach officials on a plan to gain more playing space by leasing a three-acre parcel at the north end of the old Dodgertown Golf Club property, which is owned by the city.
Though the plan isn't close to being finalized, Pickleball University representatives have been engaged in serious discussions with City Manager Jim O'Connor and Recreation Director Rob Slezak to rent the property on a long-term basis for $25 per year, allowing for the construction of an 18-court complex and use of the former golf-course clubhouse.
"They've given us an initial plan and we're hoping we can work something out," Slezak said, "but we're very early in the process and there are a lot of details to work out."
Pickleball University President Ken Roberts estimates it would cost $250,000 to build the complex and restore the clubhouse, which maintenance crews have been using as a storage facility since the city purchased the 35-acre property for $9.9 million in 2005, at the height of the real estate boom, paying far more than the land is worth today.
Roberts said the club would rely on membership dues, fundraisers and donations to cover the construction costs, as well as accepting hands-on contributions of skills and services.
"No city funds will be used, so they need to raise some pretty serious money," Slezak said. "But I believe they can do it, and I believe they will do it."
Roberts said he's scheduled to meet with Slezak, O'Connor and city engineers Monday. He hopes the City Council will approve the project this summer and that construction can begin before the end of the year.
"We want to address all the issues up front and avoid any unnecessary delays, so we've already begun talking to the city officials," Roberts said. "Once we get the city's critique of our plan, then we'll go to the Recreation Commission, which we hope will give us their approval and make a recommendation to the City Council.
"Then it's up to the City Council."
The city, however, also is exploring other options for the golf-club property. Among them are an inquiry from an entity looking to lease the land and build a volleyball facility, and another group's $1.65 million bid to purchase the entire tract for what O'Connor called a "recreational training facility" that would "blend into Dodgertown itself."
That offer, though, is almost certainly too low to be seriously considered: Last March, the City Council rejected a $2.7 million offer from a developer who wanted to build 280 homes on the property, which, at that time, had been appraised at $3.5 million.
So the pickleball people, who want only a small piece of the property, have more than a puncher's chance. Not only have they proven that participation in the sport continues to soar locally, but, as Slezak put it, "they've already proven to be good partners."
Shortly after Pickleball University was founded three years ago with 60-plus members, the fledgling organization entered into a public-private agreement with the city to convert the tennis courts at Pocahontas Park in downtown Vero Beach into a 12-court pickleball complex.
The city contributed $5,800 to the project, then followed up with $3,000 for repairs, while the club invested $14,500. In addition, the club pays $2,400 per year to lease the property – from 8 a.m. to 2 p.m. Monday through Saturday – and covers the cost of maintenance.
Roberts said the club's membership this past year has fluctuated between 350 and 480, depending on the season, but that its year-end numbers have steadily risen. New members pay $84 for the first year. Annual dues for existing members are $48.
Non-members and visitors who "drop in" pay $3 per day, according to Pickleball University Director of Operations Mari Colacino, who said the club also offers lessons and clinics.
Roberts said the membership's average age is between 60 and 65. Many of the club's members previously played tennis and recently switched to pickleball because they no longer can move well enough to cover the larger court, even in doubles.
"For some tennis players," he said, "the move to pickleball is a natural transition."
Maybe so, but there were few signs of kinship or camaraderie at last month's Recreation Commission meeting, where Riverside Park tennis players showed up and spoke strongly against Pickleball University's request to allow pickleball to be played on two of the 10 courts at the park tennis center.
The tennis players argued that they couldn't spare any courts because all are often occupied, especially during the morning hours and particularly during the busy winter season.
They also drew a line in the sand when confronted with the suggestion that pickleball lines could be painted on a couple of the park's tennis courts to allow them to be used for both sports, citing the confusion that would be created by all the different lines.
That's a legitimate complaint.
So is this: Pickleball is noisy.
Some of the tennis players rightly expressed concerns about the distractions emanating from adjacent pickleball courts – specifically, the repeated, ping-pong-like, popping sounds of paddles hitting a plastic ball.
"When that ball hits that paddle, it makes a loud noise," one of the tennis players told the gathering at City Hall. "And it hits it a lot. That's disruptive."
Apparently, the commissioners agreed, because Pickleball University's pitch went nowhere. There was no vote and, even with two pickleball players on the panel, there seemed to be little interest in pursuing the matter further.
Nor should there be.
Adding pickleball lines to tennis courts is a bad idea. Putting pickleball courts next to tennis courts, without some sort of barrier to muffle the noise, is worse. And the pickleball people know it.
That's why they've already moved on to another plan that offers a more permanent solution to their court-shortage problem.
It's a plan tennis players, pickleball players and the community at large should embrace.
That golf-club land is just sitting there. Nobody wants to pay what the city thinks it is worth. Nobody running the city has come up with a better alternative.
So why not lease a small patch of the property to the folks at Pickleball University and let them do some good with it?
The city has little to lose, and a bustling, new pickleball complex can only help attract newcomers to town.
John's Island has converted a section of its tennis club into a lighted, six-court pickleball complex, complete with a fire pit. The Moorings recently announced its plan to add four lighted pickleball courts adjacent to its tennis complex.
And Harmony Reserve, a 55-and-over community under construction northwest of Vero Beach, touts its lighted, eight-court pickleball complex among its amenities.
There's a reason for that.
"More and more people are playing," Colacino said. "We have open play on Tuesday, Thursday and Saturday, and we typically have more than 100 people cued up to play each day.
"Even on Sunday, the courts are busy," she added. "I can tell you: A lot of people are going to church at Pocahontas Park."
There's no denying the game's growing popularity, especially as more Baby Boomers move into their retirement years. And with more retirees finding their way to Vero Beach each year, we can expect the local pickleball-playing population to increase.
"Provided the city approves our plan and we raise the funds we need," Roberts said, "this is going happen."
Let's hope so.
Because then everyone wins.