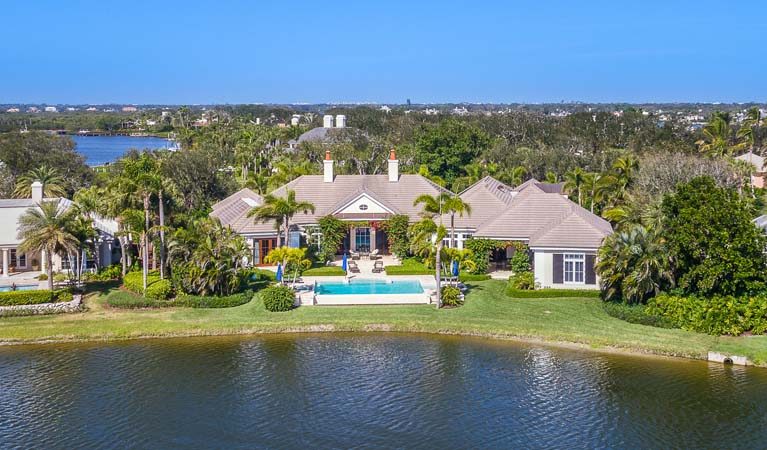 The big, beautiful home at 205 Waxmyrtle Way, on one of John's Island's most coveted lakefront lots, was visualized by its current owners, Jackie and Tom Danis, as a spacious, light-filled retreat for their multi-generational family.
In close collaboration with the Danises, architect John Brennar and builder Paul Parent brought the 8,480-square-foot residence to life with positive energy that flows through every room. Finishing touches were added by Jackie Danis, a gifted decorator, detail-oriented, with a spot-on eye for color and an appreciation of whimsy.
The home is precisely positioned on its lakeside lot so that each room has lovely views. Handsome, floor-to-ceiling windows and double French doors ensure plentiful natural light throughout. Pocket screens add to the home's versatility, and high, wide, arched entryways between living spaces, coupled with soaring ceilings, impart a feeling of endless space.
As you step from the covered entry onto the creamy Satunia marble floor, pause and take in the view through a columned archway, past the elegant living room and covered logia to the infinity pool, which appears to flow right into the shimmering Lake Laroche.
One of the home's many dramatic features is a pair of 7-foot-wide gallery hallways which have been featured in Architectural Digest. From the foyer, the gallery sweeps to the east and west wings.
Jackie Danis says, "I particularly love the wide hallway gallery," which is perfect for her art collection – or yours. Smiling, she shares that the couple's 10 grandchildren love to the zoom back and forth along its length on their vehicles of choice.
Making the front gallery even more eye-catching are floor-to-ceiling windows on either end, offering views of the lush landscaping.
Exceptional millwork extends throughout the home and each room boasts a different, ceiling design, all elegant, for which the Danises give much credit to Parent.
Anchoring the living room is a handsome fireplace with custom stone surround, and, after dark, the room is enchantingly illuminated by a pair of candle-bulb chandeliers.
On either side of the fireplace, a pair of wide double doors lead into the den/office, which channels a British gentlemen's club vibe with its dark wooden beam ceiling and polished dark wood floor.  If privacy is required, its cleverly constructed doors can shut the den off from the living room, or simple "disappear" – folded neatly and completely into special wall "mini-closets," another Paul Parent feature, says Jackie.
The living room opens into a beautiful dining room, with soaring, white, coffered ceiling, pale buttercup walls and sumptuous gold metal and candle bulb chandelier.
The den, living room and dining room all open to the second gallery, which leads to the master suite on one end, and the family room on the other. The family room is large enough to accommodate a second dining table, if desired, and the glowing hardwood floor here and in the kitchen, ties the spaces together. Double French doors from the family room let out to a "secret" garden courtyard and fountain.
Even constructing a basic PB&J will be a culinary experience in this well-equipped chef's kitchen. You'll be inspired to create with the 6-burner-plus-grill Wolf stove and double oven with a pot-filler faucet above. There is a side-by-side Subzero fridge set into a wall-to-wall display and storage cabinet unit;  four additional, separate fridge drawers;  a Bosch wine cooler;  a two-level island, two farmhouse sinks tons of custom cabinet storage with pull-outs and a pantry.
Across the breezeway, sharing a covered porch with the family room is the attached cabana, with two charming end suite guest bedrooms with a comfy living room in between.
Tim Danis says the home's position on its lot, with the back loggia and pool area facing southwest, "is perfect" for enjoying Florida's magnificent sunsets. Additionally, because this area is protected from the chilly north wind, outdoor activities and entertaining can continue, even when the weather turns chilly.
Off the west front gallery is the master suite, a place that offers peace and privacy, ambient light from windows on three sides, and an exceptionally lovely bathroom.  The star of this indulgent room is the gleaming claw foot bathtub, sitting, in all its Victorian glory, in an alcove, with a pair of sconces and marble splash.
Across the gallery, in the same wing, is an en suite guest bedroom.
Above the garage is a wonderful space kids will love – the bunkroom.  It is the perfect hideaway. Jackie painted it a cheery salmon pink, exuberant against the white woodwork. There are two custom-built, white bunk beds, and plenty of room for a comfy couch and a couple of easy chairs. The bunkroom bath is another under-the-rafters charmer: it features a pair of vanities, each with a long trough sink; and two water closets, one designated with a large, bright pink G on the door, and the other with a B.  The G-designated water closet sports pink wallpaper with white polka dots; and the B side has friendly sea creatures.
The Danises love the home they built and have filled with nine years' worth of happy memories. But it is time, they have decided, to downsize.
Residents of John's Island are only a few minutes' drive from the boutiques, pubs and restaurants of Vero's quaint beachside village. Also on the island are the renowned Riverside Theatre (Equity), and the acclaimed Vero Museum of Art, and a plethora of other activities.
Vital Statistics
Address: 205 Waxmyrtle Way
Neighborhood: John' Island Club
Year built: 2009
Lot size: .73 acre
Home size: 8,480 square feet
Bedrooms: 6
Bathrooms: 8 full baths; 2 half-baths
Additional features: Infinity pool w/spa and kiddie pool; 3-bay, air-conditioned garage; covered loggias; hardwood floors; ceiling fans; premium appliances; fireplace; two washer/dryer sets; custom volume ceilings throughout; second level bunkroom;  lavish landscaping; marble countertops in all bathrooms
Listing agency:  John's Island Real Estate Company
Listing agent:  Bob Gibb and Kristen Yoshitani, 772-231-0900
Listing price: $5,750,000