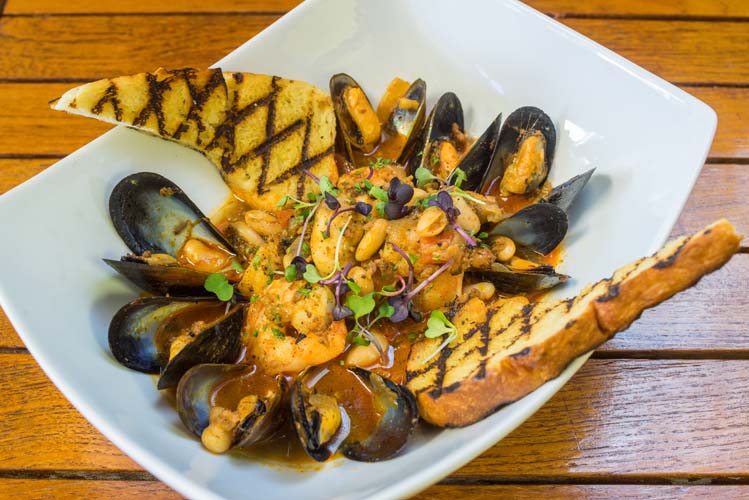 An amazing number of island residents have been venturing into uncharted territory this winter, crossing the bridge and heading south on U.S. 1 in search of a new restaurant in the Winn-Dixie strip mall on Oslo Road.
When they finally drive into the supermarket parking lot, the first clue the goal is near is a sign that says "Diner" on the shopping plaza wall.
While that space, between a nail salon and a pizza joint, once housed the Oslo Diner, last summer the interior was totally transformed into a white-table-cloth bistro that is now home to Fire & Wine. The word "Oslo" has disappeared from the exterior wall, but  "Diner" remains and a "Fire & Wine" sign still hasn't made it.
The reason so many people are making the pilgrimage to South Vero, however, is that Fire & Wine has emerged as the best new restaurant to open in Vero Beach in years.
Launched by Chuck Arnold, the very talented chef who a few years ago was wowing diners at Bijou in Vero's Old Downtown, and another familiar Vero restaurant face, Roger Lord, the smallish bistro is now packed night after night.
You don't want to even think about going there as a walk-in; reservations are best made a couple days in advance.
On our most recent visit last Friday, our party of four was warmly greeted by Roger – who presides over the front of the house.  And after quickly bringing our wine order, veteran server Mike returned with some house-made rosemary rolls and briefed us on the evening's specials.
On this visit, I decided to start with the soup of the day, a luscious sweet corn and dill soup with lump crabmeat ($7). My husband went for one of his favorites, the fried oysters ($11). Great as always. And our companions decided to try an unusual appetizer, the pecan crusted crab cheesecake topped off with a tabasco remoulade ($10).  The cheesecake, savory instead of sweet, was a definite hit.
Then for entrées, I chose one of the specials of the day, the pan-seared and pistachio encrusted corvina ($32). My husband decided to have the pan-seared Faroe Island salmon ($25). One of our companions opted for the red wine braised beef short ribs with ravioli ($26), and the other went for the duck and waffles ($27).
My corvina was an absolutely beautiful piece of fish, finished off in the oven and served over a ricotta pancake with fire grilled asparagus as well as some marinated locally grown cherry tomatoes. A wonderful feast.
My husband's salmon was also gorgeous, perfectly cooked, and served with fire grilled asparagus. The braised beef short ribs, served with pimento cheese ravioli and balsamic collard greens, drew raves. And the pan-seared duck breast was very tasty, served over a savory waffle with cherry compote, drizzled with a tabasco maple syrup.
For dessert, one member of our party went for the white chocolate crème brulee ($7) while the rest of us enjoyed Chef Chuck's riff on a key lime pie – a graham cracker crust topped with a key lime mousse and whipped cream, finished off with a white chocolate candy bar ($8).
When we first visited Fire & Wine last summer, we were apprehensive about how an upscale restaurant – even a very good and very moderately priced one – would fare so far from most of Vero's other fine-dining establishments.
We need not have worried. From the number of 32963 diners we have recognized on our visits here, the bigger concern is that islanders may be crowding out South Vero residents from this great new bistro.
I welcome your comments, and encourage you to send feedback to me at tina@verobeach32963.com.
The reviewer dines anonymously at restaurants at the expense of Vero Beach 32963.  
Fire & Wine
Hours: Tues. – Sun., 5 pm to 9 pm
Beverages: Beer & Wine
Address: 2950 9th St SW
Phone: (772) 794-7587
Photos by: Gordon Radford
Click HERE to see more or buy photos