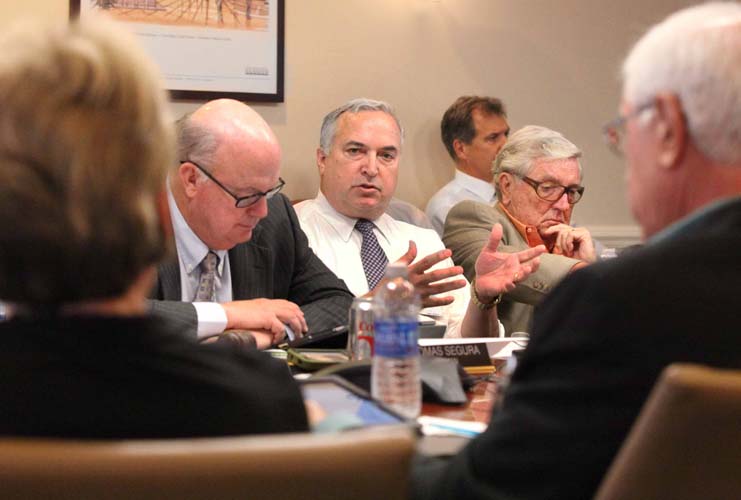 Two months after retiring as CEO of Indian River Medical Center, Jeff Susi last week spoke out publicly for the first time about the decision by the IRMC board and the Hospital District to partner with Cleveland Clinic, terming the prospect of a Cleveland takeover "the best thing that could happen" for the Vero Beach community.
"Cleveland Clinic really wants to develop a major medical center here.  I think they'll just take it to a new level," Susi said in a wide-ranging interview with Vero Beach 32963. (Excerpts from the interview on other subjects, HERE.)
While Susi termed all four of the health systems that sought to take over IRMC potentially "good partners," he said the difference "is that for some of them, we could have been a feeder to another hospital nearby." Two of the finalists have a huge presence in Orlando, and HCA, the nation's largest health system, owns Lawnwood in neighboring Fort Pierce.
"I think that Cleveland Clinic is going to expand our footprint, draw from a broader area and grow the medical staff, grow the employment base," Susi said.
"When I look at IRMC and I hear people talking about, you know, who's willing to pay how much for the medical center here, or how much a (for-profit system) would pay in taxes – $2.5 million, I think – the more important impact is the jobs that are created."
Susi said during his 19 years as CEO of IRMC, the hospital staff grew to 1,700 and the payroll to more than "$150 million last year, and I think Cleveland Clinic will take that to $200 million or more in the next three years.
"That is a tremendous impact on the local economy. They'll end up growing the medical staff. Those people live here, they shop here, they buy cars here, they bank here, they buy real estate. All those things are going to look very promising with a Cleveland Clinic.
"The value of this transaction is what it does for the economy and what it does for patient care – not the check somebody's going to write. That's a one-time thing. It's this ongoing impact of a major medical center."
Susi said that in his meetings with the four finalists, he told all of them that the IRMC Health and Wellness Center "is full – it needs to be expanded – and we need an ambulatory surgery center.
"Those are two significant projects that I would expect to come along very quickly because they'll be recruiting more people to the community. They're going to need places for those physicians.
"And I think there's a lot of places around the hospital, medical buildings and whatever, that will benefit from this, because when you start to attract more physicians and more specialties, you're going to attract more patients and there's going to be the spin-off to all the physicians that practice here, private as well as (hospital) employed," he said.
Susi was also optimistic that the arrival of Cleveland Clinic would finally address one major thing that did not happen on his watch – bringing graduate medical education to IRMC.
"We've had two task forces that at different times have recommended moving forward with residency programs in medicine and surgery and emergency medicine, and we just did not have the support at the time given healthcare reform and the nervousness about what does this mean going forward," Susi said.  "But I think Cleveland Clinic can take that, and move that to a whole new level."
Article by: Milton Benjamin, Publisher