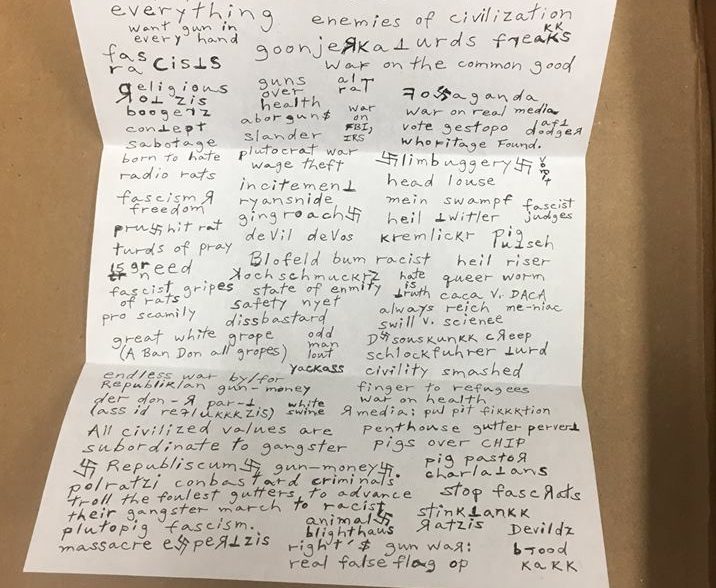 INDIAN RIVER COUNTY — Deputies continue to investigate an incident where a School District employee felt sick after opening a letter that contained disturbing words and swastikas written on the front and back page, authorities said.
"We believe this letter originated from outside of the county, but want our community to take a look at the letter to determine if they recognize anything of value," said Sheriff Deryl Loar in a statement. "We always take every threat to our schools as credible until we can prove otherwise and this is no exception."
The incident follows a series of threats recently made to local schools, but no connections or arrests have been made. There has been heightened awareness in the community with rallies and walkouts since a mass high school shooting Feb. 14 in Parkland that claimed 17 lives.
Fire Rescue and deputies responded to a suspicious letter sent to the district office about 5 p.m. Tuesday at the School District of Indian River County, 6500 57th Street. The incoherent letter, which was addressed to the superintendent and did not have a return address, had phrases such as "born to hate" and "curse the darkness…enemies of civilization."
A few images of what appear to be swastikas, an emblem commonly referred to the German Nazi Party, can be seen in tiny writing in the letter.
Fire Rescue crews determined no chemicals were found and the letter was turned over to detectives, deputies said. The employee recovered and has returned back to work.
School District spokeswoman Cristen McMillan declined to comment.
Anyone with information about the letter or other school-related incidents should contact the sheriff's tip-line at 772-978-6116 or [email protected]. Anyone who needs immediate help should call 911.
Photos provided by Indian River County Sheriff's Office
This story will be updated.