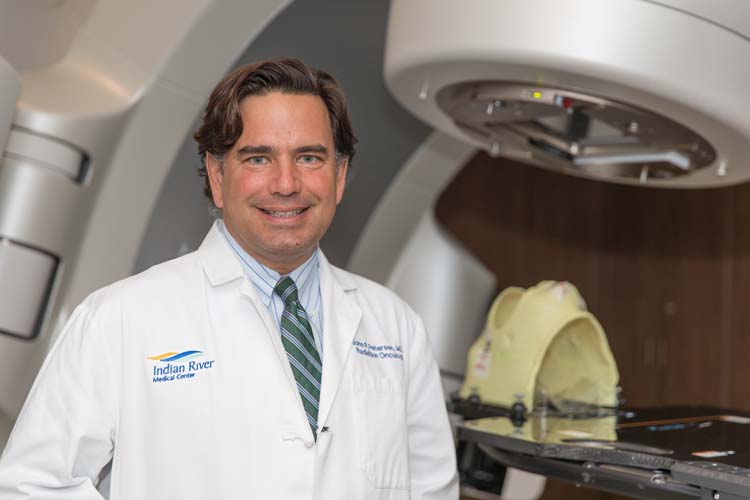 Newly arrived radiation oncologist Dr. Paul Pagnini of the Scully-Welsh cancer center is up for a knife fight.
Sort of.
That might seem wildly out of character for this personable graduate of the Tufts University School of Medicine, but there is method to Pagnini's madness.
Back in 2014, before the Vero Beach cancer center's doors had even opened, one of the most impressive pieces of high-tech cancer-fighting equipment ever developed, the TrueBeam STx stereotactic radio-surgery system, was being set up at the Indian River Medical Center in a special room with walls, ceilings and floors encased in 50 tons worth of lead.
Today, that TrueBeam system, according to the Norton Cancer Institute, remains "the latest and most advanced technology in the world for treating cancer."
Like other forms of radiation therapy, stereotactic radio-surgery works by damaging the DNA of the targeted tumor cells, says the Mayo Clinic, adding that it "causes tumors to shrink and blood vessels to close-off, robbing the tumor of its blood supply," effectively killing the cancer.
So what about that knife fight?
Well, the idea of treating cancers through radiation isn't exactly a new one.
In the 1950s two Swedish professors first conceived the idea of combining radiation with stereotactic guidance or 3-D imaging to pinpoint and attack tumors within the brain, but the complexity and cost of the effort put the project on hold.
Years later, in 1967, the first radiation tool for treating brain tumors – called a "Gamma Knife" – was finally developed and put into use.
Two decades after that, in the 1980s, Dr. John R. Adler, a professor of neurosurgery and radiation oncology at Stanford University Medical Center, developed the "CyberKnife" system, which allowed radiation oncologists to treat tumors anywhere in the body.
The TrueBeam system in use at Scully Welsh today is even more advanced than Dr. Adler's system. And faster.
According to Pagnini, with the TrueBeam system "you can do radio-surgery in 10 minutes. The same treatment with the CyberKnife could take up to an hour."
Part of why Pagnini was recruited from the University of Southern California in Los Angeles was to help build what he calls "a very strong radiation oncology and neurosurgery team and a great radio-surgery program" here in Vero Beach, and helping to educate the public about the capability of the TrueBeam technology goes hand in glove with that task.
One issue Pagnini faces is that both the Gamma Knife and CyberKnife tools are decades older than the TrueBeam and so are more familiar to some people.
In his brief time here, Pagnini says, he's already heard people say, "I'm gonna drive down to Jupiter to the CyberKnife or to Palm beach to the Gamma Knife, or up to Melbourne," even though a faster, more accurate option is available right here in Vero Beach.
At the same time, Pagnini is quick to note TrueBeam treatment is not the best therapy in all cases.
"Let me tell you something," Pagnini says. "Cancer is complicated and any center that treats cancer has to be multidisciplinary in nature. A lung cancer patient might be suitable for the TrueBeam and get a cure with that, or they may have a diffuse, distant or refractory disease that you can't target. There's just too much of it for the TrueBeam."
"If we put them on Keytruda or OPDIVO [instead of doing radiologic surgery], these immunotherapies or targeted therapies based on their molecular genetics, we might hit a home run and cure them.
"So what we want to focus on is having options and a multidisciplinary approach. If a patient is a suitable candidate for a [different] technology, we can give that to them, too. And that's what we're trying to do here."
In the meantime, Dr. Abraham Wu, director of the radiation oncology residency training program at Memorial Sloan Kettering, says that while there are "a lot of different machines and a lot of different marketing terms thrown around," he relies on the TrueBeam option and that certainly appears to put Pagnini and the rapidly developing Scully-Welsh program into some very good company.
Dr. Paul Pagnini is now with the Scully-Welsh cancer center at 3355 10th Court in Vero Beach. His phone number is 772-226-4810.