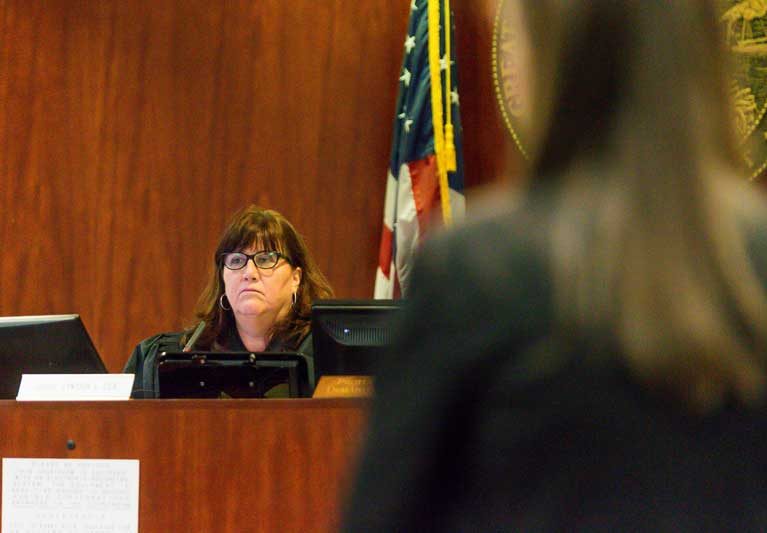 Indian River County Circuit Court Judge Cynthia Cox worries more Floridians are watching "Game of Thrones" and checking Facebook, than are familiar with state's constitution.
In remarks she is delivering in a series of talks along the Treasure Coast, the felony court judge makes a case that now is the time for that to change.  Floridian's rights are at risk, she says. "Revise the constitution with care."
Every 20 years, Florida's constitution calls for a 37-member revision commission to propose changes to the state's charter document, letting the voters decide its fate.
Their proposals go directly to the November 2018 General Election ballot – no chance of a governor veto, a congressional override or a judicial review.
This year religious freedom, veteran's affairs and civic literacy in public education are some of the topics being discussed by the Constitution Revision Commission. The CRC sets its priorities after a year of research. Members, including Indian River County Commissioner Bob Solari, are traveling the state to talk with voters and identify issues that need to be addressed.
"The only ones who will decide whether their proposals are worthy of the Florida Constitution is us – the voters for Florida," Cox writes in prepared remarks she shared with 32963 Media. The judge will be speaking at various private social club events in February and March.
"A lot has changed since the last time a (Constitution Revision Commission) did its work – 5.4 million more people have become Floridians since then. That's more than the entire population of 29 individual states," she says.
"In fact, there are 1.5 million new Floridians in the last five years alone – that means a lot of people who haven't necessarily been here for very long, who aren't familiar with how we historically have chosen to govern ourselves. These new neighbors will be helping to recraft our state's fundamental governing document so you should participate, too."
Florida's constitution affords residents equal access to the courts, ensures a right to quality education and guarantees individual privacy. It also prohibits state-level personal income tax, allows property owners certain tax exemptions and aims to keep government accountable with its Sunshine Laws, measures intended to make the workings of the state transparent.
"Understand, when the constitution is opened up for revision, anything – literally anything can happen," Cox warns.
Previously, Florida voters approved an amendment requiring the construction of a high-speed rail system without knowing the true cost, she explains. The $25 billion requirement was promptly repealed.
Another amendment: The Florida Animal Cruelty Amendment, or as it is sometimes called, the "pregnant pig rule," prohibits confining a pregnant pig in any enclosure that keeps the animal from turning around freely.
"Good idea or bad idea, it's hard to argue that it's a matter that rises to the level of constitutional significance," she says.
Cox encourages people to think about whether proposed amendments will withstand the passage of time. She says to consider the amount of people a particular amendment would impact and if it keeps governmental checks and balances in place.
"We must pay particular attention to make sure judicial independence is fully protected," the judge says. "For without a truly fair and impartial judiciary, the rights and freedoms that are now enjoyed by all could be reduced to the privileges of a few."
The American experiment works because of the separation of powers, she adds. Tyranny doesn't happen overnight. Rather, it is a series of innocuous steps often taken in times of great upheaval. "I believe there is a strong case to be made that the one branch least able to defend itself – the judiciary – is the one that truly secures the freedoms we hold so dear."