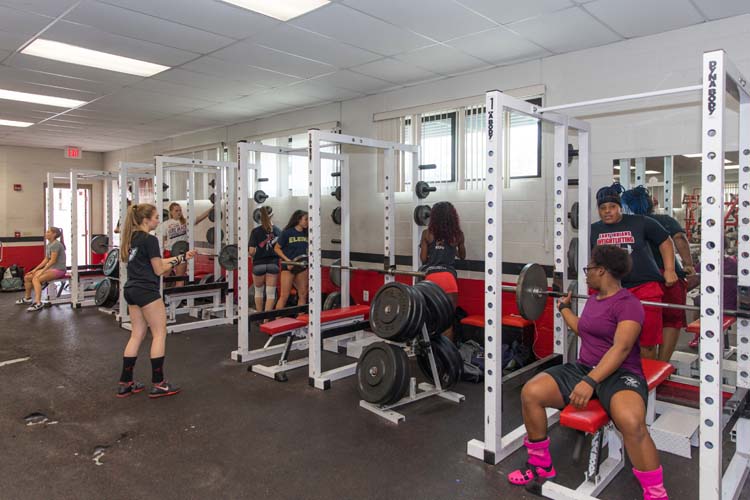 The season is over and the final stats have been archived for the 2017-18 Vero Beach High girls weightlifting team. On the heels of an undefeated regular season plus district and regional championships, 10 girls traveled to Panama City for the FHSAA Class 2A state championship tournament on Feb. 3.
It turned out to be a history-making journey for the Fighting Indians under head coach Pete DeLuke. Eight personal records were smashed. The team claimed second place at the meet with 20 total points, five behind champion Navarre and three ahead of third-place New Smyrna Beach.
To give you an idea how close the competition really was, the order of points awarded to the top six lifters in each weight class is 7-5-4-3-2-1. Vero had six lifters earn points: Verlecia Scarlett was second at 199; Jadis Thompkins third at unlimited; Sarah Kehoe third at 169; Chloe Holland fourth at 129; Jayda Jenkins fourth at 119; and Tijah McGriff sixth at unlimited. Kehoe and McGriff lost tiebreakers.
Also competing for VBHS were Alyssa Depalo at 101, Elizabeth Case at 110, Kiiya Housing at 119, and Audra Teske at 183. Depalo and Case finished eighth.
Last year seven girls represented Vero at the state meet with Scarlett and Kehoe collecting points. That team finished eighth. Five of the state qualifiers this year will return for another shot at a title in 2019. The program is making steady strides in that direction.
Weightlifting is obviously a non-traditional sport for girls in high school. DeLuke started from the ground floor a decade ago to build this into a state championship contender. Not surprisingly, the camaraderie among the athletes is second to no other team sport.
We caught up with seniors Sarah Kehoe and Jadis Thompkins when the entire weightlifting team gathered for photos in the Witt Gym after the successful trip to states. Both got right back into action for the high school track and field season. They will throw the shot put and discus under the tutelage of their favorite weightlifting and track coach, Pete DeLuke. The pair reflected on a state meet that was memorable for much more than results of a bench press or clean and jerk.
"The travel there to me was pretty crazy," Thompkins said of the eight-hour ride to the Panhandle. "I'm not a morning person so to get up that early, I was kind of a grouch. Around 10 in the morning I woke up and my mood just changed. The music was playing and we were singing along and having a good time.
"When we got there we went downtown and walked around a little bit. We went to different stores and then we went to the beaches. The beaches are beautiful. I've never seen sandy white beaches like that before.
"Honestly, I went to the state championships thinking that I would get maybe fifth or sixth place. But my coaches were telling me that I've just got to keep pushing and don't let any negativity get into my head.
"When I got there I wasn't nervous at all because this was my third year, so I knew what to expect. I knew that there would be girls there that were a lot stronger than I am. I knew I had to go out there and do my best.
"To get second place was great. We just made history. We went there with 10 girls and we all did a very good job. It turned out to be a really nice experience."
"This was my second trip to states, so yeah I guess I was kind of used to it," Kehoe told us. "We took two vans and spent two nights in Panama City. It was a great experience. I had a lot of fun bonding with all of my friends. We sang songs in the van and got to eat every meal together. We explored the beach. The white sands of Panama City are a little different than Vero.
"The night before we went to the venue and you could just imagine all of the people in the stands the next day. So it was wonderful just being there, and so were our achievements in the meet.
"I started weightlifting as a sophomore to get stronger for the track season. Then I fell in love with it and started training year-round. For me this is the end of high school weightlifting, but I have made some awesome friends, lifelong friends. Joining the weightlifting team was one of the best decisions I've ever made."