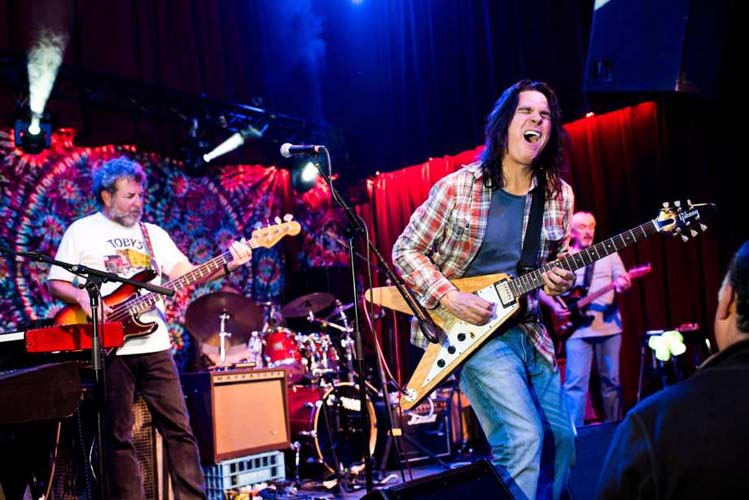 If the electric rock and steel-centic sounds of Buffalo Springfield and Crosby, Stills, Nash and Young are your jam, "Heart of Gold," "Only Love Can Break Your Heart," "Southern Man," and others, join the crowd at the Emerson Center Thursday, Feb. 1, for "Broken Arrow – A Tribute to Neil Young." Broken Arrow remains faithful to the music of the Canadian singer-songwriter, producer, director, screenwriter, of whom Wikipedia says, "Young's often-distorted electric guitar work, deeply personal lyrics, and signature tenor transcend his long career," and you'll get to hear both Young's Crazy Horse sound and the pedal-pounding country-rock of the band he joined in 1969, Crosby, Stills and Nash. From the Broken Arrow website: Joe Mass (vocals, guitar, piano, harmonica) is a "veteran virtuoso Philly guitar player," true to the original, but putting his own stamp on the music with "incendiary playing and some cool segues and arrangements." Danny Gold (bass, vocals) has been a back-up artist on Philly's live music scene since the '80s. He owns a guitar shop and hosts a TV show. On drums and vocal harmonies is Larry Freedman, another Philly band veteran. He owns a recording studio and has played back-up for Daryl Hall and many others. Marty Cohl's soulful country rock/bluegrass-informed electric and pedal steel guitar style is the band's "secret sauce, bringing his twang-a-delic flavor to these classic tunes."  So look forward to faithfully delivered Neil Young classics, as well as Broken Arrow's occasional "jamming excursions and tastefully tweakage." Come early and grab a drink and appetizers from Emerson's café. Show time is 7 p.m.
Bonjour, Trieste. From Italy to Vero Beach come a pair of classically trained masters of their art to present the intriguingly titled "Music Becomes Elixir," a free concert on piano and recorder sponsored by the Space Coast Symphony Orchestra, this Saturday, at First Presbyterian Church. A native of Trieste, Italy, recorder virtuoso Stefano Casaccia studied Ancient Musical Instruments in Venice, and was honored with the coveted Italian Society of Recorder Award in 1991. He has toured extensively, according to the Orchestra website, "logging more than 1,000 concerts in Europe and the U.S. since 1971." For the Indialantic concert, Casaccia will charm the audience with a program of opera and operetta's most popular works. Joining Casaccia will be fellow Trieste native Roberta Bortolin, a similarly well-traveled, musically respected musician, pianist and piano professor. Bortolin comes from generations of musicians, and began her own musical journey at age 4, studying at the same school attended by Franz Liszt. From their rich repertoire, Casaccia and Bortolin have chosen works by Offenbach, Bard, Lehar, Rossini, Verdi and more. This magical musical elixir will certainly conjure a thoroughly delightful evening. Curtain is 7 p.m.
Here's a trio of classical concerts for you: At Community Church this Sunday will be your (probably first) opportunity to hear, live, an orchestra with a truly noble history, Germany's Staatskapelle Weimar Orchestra, in their first North American tour. According to the orchestra's website, the twin institutions, Deutsche Nationaltheater and Staatskapelle Weimar, make up the most important musical and theatrical venue in Weimar, Germany, a focal point of the German Enlightenment in the 18th century. Founded in 1491, the world renowned Staatskapelle Weimar Orchestra is the oldest in Germany, and enjoyed close associations with Bach, Liszt and Strauss. For its inaugural North American tour, the orchestra will be under the baton of Ukrainian conductor Kiril Karabits. The program will include "Death and Transfiguration Op.24," a tone poem by Strauss, dedicated to the composer's friend Friedrich Rosch and depicting the death of an artist. Also a tone poem by Strauss, "Till Eulenspiegel lustige Streiche," Op. 28 ("Till Eulenspiegel's lusty pranks"), chronicles the misadventures and pranks of the German peasant folk hero. Two works by Wagner are the overture to Wagner's opera, "The Flying Dutchman," the tale of a ghost ship, and of love and redemption; and Wagner's "Wesendonck Songs", for female voice and piano, features English soprano Catherine Foster, who, according to Wikipedia, has appeared internationally, mostly in European opera houses, performing a repertoire focused on  dramatic roles in stage works by Strauss and Wagner. Doors open at 6:30 p.m. Curtain is 7:30 p.m. Tickets are $80.
Join the Vero Beach Chamber Orchestra at the first concert of its 10th Anniversary Celebration this Sunday afternoon at the VBHS Performing Arts Center. Directed by Maestro Colbert Page Howell Jr., the orchestra will present Beethoven's Overture of "Fidelio" (his only opera); Schumann's Symphony No. 1, "Spring" (his first symphonic work); and Hue's "Fantaisie for Flute and Orchestra," featuring flute soloist Judi Lampert. Lampert has performed at Carnegie Hall, Lincoln Center, Chicago's Orchestra Hall, and internationally with the Metropolitan Flute Orchestra and the International Flute Orchestra. As a fundraiser for the Vero Beach Chamber Orchestra and the VBHS Orchestra, a one-of-a-kind-art work will be auctioned off during the concert. Well-known artist (and bagpipe band member) Sheila Lougheed has created a 3-dimensional 19th century Industrialist-inspired art piece, featuring a violin. A very cool violin. The concert is free.