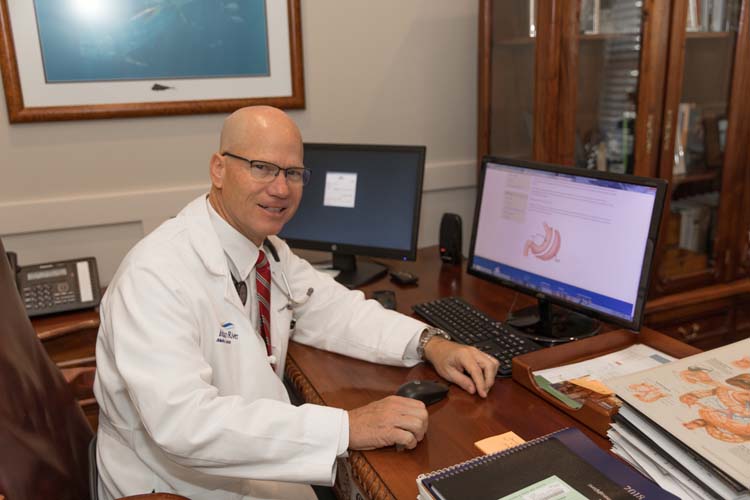 As a general surgeon with Indian River Medical Center, Dr. Theodore (Ted) Perry's catalogue raisonné includes appendectomies, bladder surgeries, colon and rectal surgeries, gallbladder removals, head and neck surgeries, hernia repairs, lung surgery, lymph node excisions, mastectomies, Mohs surgery and dozens of other procedures.
"What I enjoy the most," says this Healthgrades.com 4-star-rated surgeon, "is the diversity of the things that I do, rather than just strictly one thing."
"That's part of what I find rewarding and kind of keeps me refreshed. So on any given day, I might do a bariatric surgery to start the day, and then a colon resection and then a mastectomy and a gallbladder and a hernia and a thyroid all in one day. Which is kind of nice."
Despite the satisfaction Perry derives from his wide-ranging practice, he puts bariatric weight-loss procedures at the top of his workday wish list.
Pointing to the myriad health dangers America's national obesity epidemic poses – including diabetes, hypertension, sleep apnea, fatty infiltrations of the liver and other parts of the body, osteoporosis and the ever-growing need for knee and hip replacements – Perry is working hard to add "fence-builder" to his resume.
Wait a minute. A fence-building surgeon?
The current situation, Perry explains, "is like having a fleet of ambulances at the bottom of the cliff … as opposed to putting up a fence at the top.
"Weight-loss surgery," he said, "is the equivalent of that fence at the top of the cliff. It stops everything else."
That "everything else" includes the health dangers mentioned above as well as heart disease, stroke, kidney damage and nerve damage.
In Perry's eyes, weight-loss surgery is the very essence of preventive medicine.
The American Heart Association reports "nearly 70 percent of American adults are either overweight or obese," and dealing with all those excess pounds – and the problems they cause – is one of the nation's greatest health challenges.
The good news? There are several well-proven and minimally-invasive laparoscopic surgical options available to aid in weight loss.
"We do mostly gastric sleeves," Perry says, "and I've have been doing them a long time."
The Cleveland Clinic where – incidentally – Perry served as chief resident 25 years ago, describes the gastric sleeve as "a laparoscopic procedure that involves making five or six small incisions in the abdomen and performing the procedure using a video camera (a laparoscope) and long instruments that are placed through these small incisions."
During the procedure a large portion of the patient's stomach is removed, leaving only a narrow gastric tube or "sleeve."
WebMD puts it even more simply. "In this operation," it says, "surgeons remove part of your stomach and join the remaining portions together to make a new banana-sized stomach or sleeve. You won't be able to eat as much as you used to, which helps you lose weight. Plus, the surgery removes the part of your stomach that makes a hormone that boosts your appetite."
By greatly reducing the size of the stomach and suppressing the appetite, the procedure limits the amount of food that can be eaten at one time. Patients simply feel fuller faster and therefore eat less.
And, before you ask, there simply isn't a pill for that.
"I hear that question at every patient information seminar: 'Isn't there a new pill coming up that will do the same thing?'" Perry says. "The answer," he flatly states, "is no."
"The average weight-loss pill," he continues, "is considered a success if it has a 10 percent effect. Our [sleeve] patients are losing 75-to-85 percent of their excess body weight routinely. Not 10 percent. And the problem with these pills is that they only work as long as you stay on them; as soon as you come off them, then they stop."
And then there are the side-effects. The drug fen-phen was at one time considered something of a "wonder drug" for weight loss but was later ordered off the market by the Food and Drug Administration when studies showed it also caused serious heart valve problems in those who took it.
Perry is eager to put his years of experience to work explaining the entire process to those who seek a safer, faster solution to their own individual weight problems.
Dr. Theodore Perry's office is at 920 37th Place, Suite 104 in Vero Beach. The phone number is 772-562-9899.