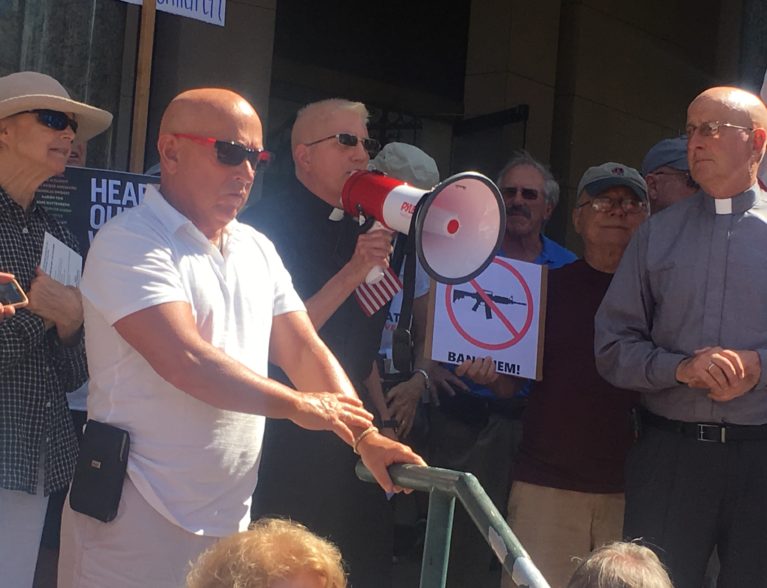 Enough is Enough.
That was the message community members who gathered at a rally Wednesday at the courthouse want to send to state and federal lawmakers in an effort to change gun laws to ban assault weapons. The rally comes a week after one of the worst mass shootings in Florida history, which happened at a high school.
Community members' message to legislators – ban assault weapons to prevent innocent loss of lives in mass shootings. The rally was one of a number of protests to take place across the state – and in particular Tallahassee – as students from the high school where the massacre took place and hundreds of other protesters called on state legislators to discuss banning certain weapons and passing stricter gun control measures.
"Civilians don't need assault weapons. They were designed for war," said former Marine and retired Army veteran Barbara Kilgore, 54, of Cocoa. "I've seen what they can do to the human body. The round enters the body and tears you up inside before it exits."
Kilgore said she served in the Marines from 1980 to 1985 and in the Army from 1995 to 2011. She served in overseas missions in countries such as Afghanistan and Iraq.
Kilgore is one of about 200 to 300 people who gathered at the rally from noon to 1 p.m. at the Indian River County Courthouse, 2000 16th Avenue, Vero Beach, to demand gun reform. She spoke to the crowd, along with Rev. Scott Alexander of Unitarian Universalist Fellowship of Vero Beach and retired minister John Brown.
Some people in attendance held signs that read, "How many shots is enough," "No More Parklands," "Ban Assault Guns" and "Save Our Kids, Change Gun Laws Now." Community members marched peacefully around the building holding their signs in the air.
Local law enforcement officials from the Indian River County Sheriff's Office and Vero Beach Police Department also were at the event.
Rev. Alexander, who organized the rally, said people need to speak up and that legislators pay attention to crowds when voters are concerned.
"What's happening in this country with mass shootings is literally insane," Alexander said. "The fact that there are millions of guns in this country and hundreds of thousands of assault weapons in ordinary citizens' hands is insane. The culture is gun crazy."
Note for viewing videos on desktop: Click the audio icon in the lower right hand corner for sound. If that doesn't work, try refreshing the page.
Rev Scott Alexander speaks at a rally Wednesday at the IRC Courthouse demanding legislators to pass sensible gun control laws in Florida and America.

Posted by Nick Samuel on Wednesday, February 21, 2018
Alexander said community members are not demanding for guns to be taken away from citizens who use them for self-protection or hunting. Rather, he said, they are demanding for sensible gun control laws to keep assault weapons and murderous military weapons out of people's hands.
Alexander said he plans to call and write local elected officials regarding the matter. Officials with the Democrats of Indian River County passed out postcards for community members to write their message and send to law makers.
Photos by Nick Samuel
School Walk-outs
Students at Vero Beach High School and Sebastian River High School walked out of their school buildings about noon Wednesday in solidarity with other protests and school walkouts held across the state in an effort to demand stricter gun laws and protest school violence.
About 100 students at Vero Beach High School and nearly 200 students at Sebastian River High School participated in the walkouts, said School District spokeswoman Cristen McMillan. The majority of students at both schools who walked out stayed on the school campus.
Students, staff and community members honored the victims of the Parkland high school mass shooting at a vigil held on Monday at the Citrus Bowl at Vero Beach High School.
No further information was immediately available.