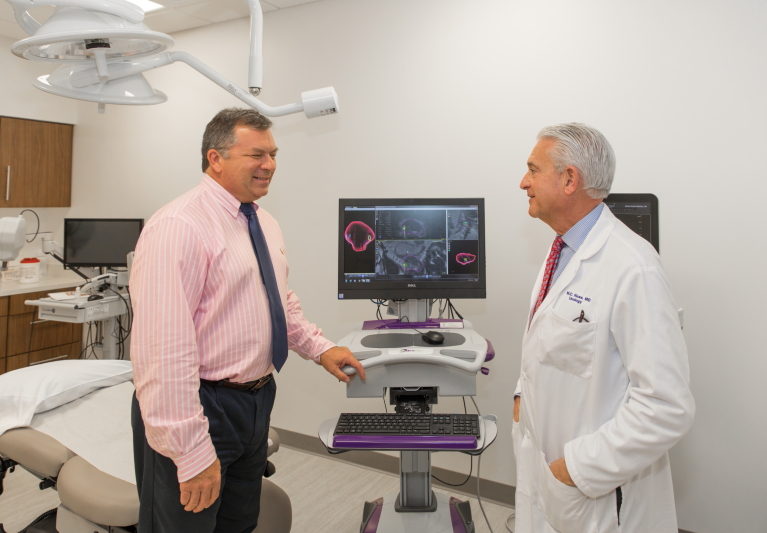 Medicine is such a fast-changing field, with so many important advances happening all the time, that it is hard for doctors and patients to keep up with the latest best techniques and treatments.
For example, less than two years ago, Biomedical Engineering and Computational Biology, a highly-respected source of clinical health data, wrote on the National Institutes of Health website that "the only definitive way to confirm prostate cancer is through a prostate biopsy, wherein a physician samples prostate tissue from a few locations within the gland using a spring-loaded biopsy gun," using ultrasound imaging for guidance.
But that has changed, and there is now, according to Drs. Marc Rose and Chris Tardif at Indian River Medical Center Urology, a better way.
That better way, says Rose, is the UroNav Fusion Biopsy System, a procedure that uses magnetic resonance imaging, or MRIs, in addition to ultrasound imaging to give physicians a far superior way to see inside the prostate and collect tissue samples from clearly targeted areas of the gland.
"I went to a meeting about it in Baltimore," Rose explains, "at the headquarters of the AUA, the American Urological Association. That was in early 2017. And I came back and said to my wife, 'I haven't been this excited about anything in urology in years.'
"I think it's going to just revolutionize things. It's still early, but I think it's great."
That's a rare outburst of enthusiasm for the normally stoic Rose – enthusiasm that is understandable considering that prostate cancer is the second most common cancer in men in this country and that this potentially deadly disease is often missed in routine examinations.
That in no small part is because the prostate is not an easily accessible gland. Located inside the pelvic area and surrounded by the rectum and the bladder, the gland itself surrounds part of the urethral sphincter. It's not easy to see.
For decades, PSA or "prostate-specific antigen" tests – basically a simple blood test – had been one of primary diagnostic tools used by urologists to detect prostate cancer. But in more recent studies, PSA tests were shown to yield far too many false-positive results which, in turn, led to unnecessary prostatectomies or surgeries to remove the prostate gland.
So while Biomedical Engineering and Computational Biology's reference to ultrasound guidance as the "only definitive way" to confirm prostate cancer was correct two years ago, researchers, clinicians and medical equipment manufacturers – including Gainesville-based Invivo Corporation, creator of the UroNav Fusion technology – were busily looking for a better way.
By combining ultrasound and MRI imaging, Invivo's system gives urologists a far more accurate roadmap to follow.
As Rose explains, "What happens now is the person has the MRI done. The radiologist reads it and, using software called Dynacad, they mark the areas of the prostate that may be in question. Then the person comes here to Scully-Welsh where we have the newest ultrasound equipment.
"The MRI picture is sent over the Internet and it goes to the fusion equipment, which takes the MRI pictures with the markings of where any questionable areas might be and makes them show up on the screen."
Then the ultrasound images are added to the digital mix and the fusion equipment takes the two pictures and molds them into one and, as Rose puts it, "the worrisome or questionable area [of the prostate] that was marked on the MRI shows up in the proper spot on the ultrasound, so you have a much better target and then you do the biopsy," using these ultrasound/MRI hybrid computer-generated images.
There is, however, a caveat. The FDA does warn that the powerful magnetic fields generated by a 3.0 Tesla MRI could cause serious problems for those with various implantable medical devices such as pacemakers, some types of stents and even certain hip or knee replacements, so be sure to let your physician know about any such implants.
Dr. Marc Rose and Dr. Chris Tardif are with Indian River Medical Center Urology with offices at the Health and Wellness Center located at 3450 11th Court, suite 303 in Vero Beach. Tardif's phone number is 772-794-9771. Rose's phone number is 772-567-3003.