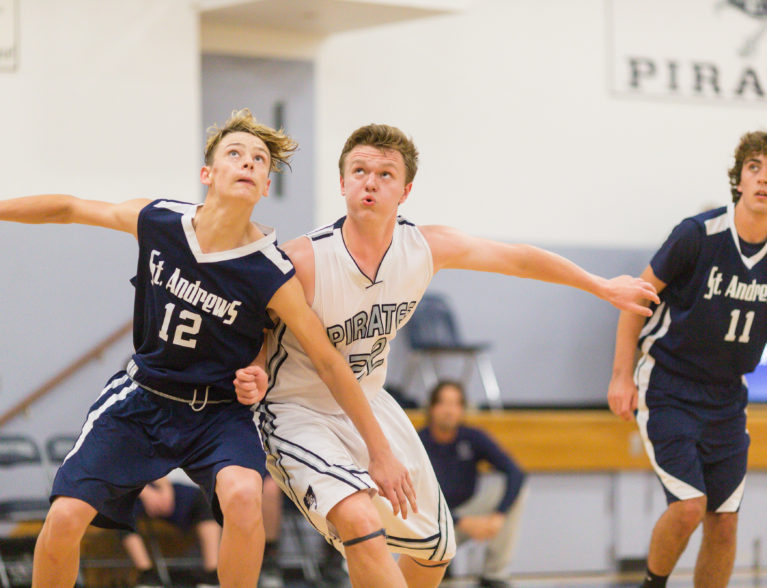 When the playoffs finally arrive and the second season tips off across any athletic landscape, everyone has an identical 0-0 record. The slate is clean and the history of sports is cluttered with strange and unpredictable examples of "anything is possible."
St. Ed's varsity boys basketball team went into the first round of the District 7-3A tournament this past Tuesday with precisely that in mind. Lower-seeded St. Ed's drew Jupiter Christian in the opener. The metrics pointed to an enormous upset if the bus ride to Jupiter was destined to end well for the Pirates.
Head coach Greg Zugrave realized that his team was established as an underdog the size of a Great Dane. With a 7-16 record overall – 3-5 in the district – combined with a regular-season 74-39 loss to Jupiter Christian, the pressure was off the road team and the burden of expectations on the other guys. The game plan was to just go out and give it your all.
St. Ed's season was highlighted by hosting the D5 Alive Holiday Tournament in December. Cincinnati Country Day School came down to Vero and claimed the title over an eight-team field in a three day event. The Pirates edged Community Christian Academy, 59-47, in their side of the bracket before dropping two straight and settling for fourth place.
Senior Night on Jan. 26 was an opportunity to bid farewell to Jackson Jennings, Spencer Lindenthal, Andrew MacIntyre and Brandon Succes. Zugrave speculated from the beginning that Succes and MacIntyre would be one-two on the scoresheet. He couldn't have been more correct. The pair accounted for 58 percent of the offensive output this year.
Those four players combined will leave behind nearly two decades of experience in the basketball program at St. Ed's. Coaches appreciate that type of dedication from everyone, but especially from the players who tend to create more personal memories than headlines.
Jennings was second on the team in assists and steals. Lindenthal got into only nine games but always brought a cerebral element to practices and in the locker room.
"Jackson always gave us a maximum effort every time he set foot on the floor," Zugrave said. "He guarded the other team's best player every game and often did a very good job of containing him.
"It has been such a pleasure having Spencer as part of the program (going all the way back to the sixth grade team in middle school). His intelligence and insight did not go unnoticed by the coaching staff."
Succes averaged 17.2 ppg while MacIntyre chipped in with a dozen more. They were all over the stat sheet in other categories as well. MacIntyre was second in rebounding. Succes cemented his stature as a complete player by leading his team in assists and steals.
The pair also led the team by far in three-point production. MacIntyre shot 32 percent from beyond the arc, Succes was right behind at 28 percent.
"Andrew added much-needed outside shooting and scoring," Zugrave told us. "He was a great teammate and always willing to lend a helping hand.
"Brandon has worked his way into an elite class of players in Saint Edward's basketball history. His hard work and determination to succeed will serve well for him in the future."
All things being equal, the team left behind will feature another group of four seniors next season. T.J. Kenney, J.P. Scott and Anand Chundi all got plenty of playing time and experience this year as juniors. On the other hand Trace Della Porta saw limited time on the floor.
Three middle school teams were a combined 22-6, the most prominent among them the 12-0 sixth-grade squad. It's an indication that help may be coming down the road, however it may take a little time before reaching the varsity.