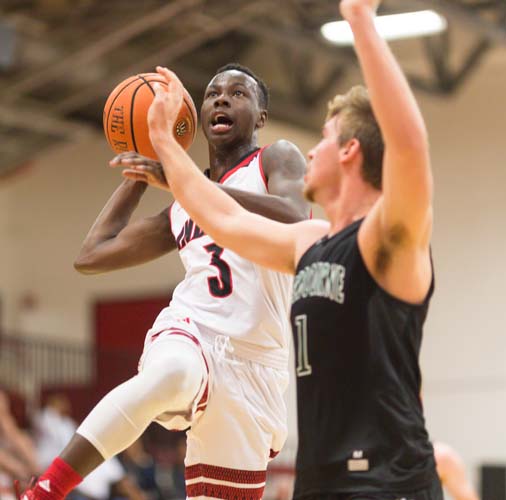 The Vero Beach High varsity boys basketball team roared into the District 8-9A postseason tournament this past Wednesday with a full head of steam. The Fighting Indians – 20-6 overall, 5-3 in the district – drew Martin County for the semifinal opener at Treasure Coast High in what they hope will be the beginning of a deep run into the regionals.
Last week began with a forfeit when a half dozen players from Sebastian River High came down with the flu. Two days later Vero fended off a tough challenge from Melbourne High by a score of 68-65 on Senior Night in the regular-season finale. Since Dec. 28, first-year head coach Damion Whitsett's squad is 15-2.
Those two defeats were administered by 23-1 Treasure Coast, which is the top-seeded favorite in the district tournament. The key for VBHS is to get past MCHS for a possible championship date with the hosts. One of Vero's losses to TCHS was a one-pointer in early January. The only TCHS defeat was in the district to last-place Centennial, so strange things can and do occur.
This has been a banner season for Whitsett as he took on the unenviable task of succeeding the legendary Chuck Loewendick. The new coach has a deep, well-rounded group prepared to dictate the pace of any game.
"We are pretty athletic and my philosophy on defense is to pressure the ball for 94 feet," Whitsett explained. "We want to get up and down the floor, set some traps, get some steals, and cause the other team to speed up and force them into turnovers.
"Off a defensive rebound I want my guys flying up the court so we can get the ball to somebody for an easy layup. So my style is pressure, pressure, pressure, and push the ball up and down the court as fast as we can."
That's a pretty sound coaching paradigm if you have the athletes to pull it off. What happens if the other guys also have speed to burn and decide to get back on defense?
"If we can run set plays in the half-court and get good looks, that's even better," the coach elaborated. "You still have to execute that in games, especially in late-game situations when you are trying to hold on to a lead. You have to learn how to play like that.
"I believe we have a good half-court team. The main thing with that is just having patience. Recently we have shown some pretty good patience. When a team goes man against us late, we have gotten some easy layups out of it. You have to have ball reversals and open up some gaps. The defense can't keep up with you when you have some good passes going."
Whitsett's team can also attack a half-court zone by bringing a forward to the top of the key and spreading the floor. That creates space for dribble-drives and open outside shots off good ball movement. The pieces appear to be in place to do all of that very well, however seeing the shots fall is always a different issue entirely.
For scoring punch Whitsett relies on 3-point shooting guards. Juniors Tommie Lewis (16.2 ppg), Javian Cuff (12.9 ppg) and Riley Minix (8.9 ppg) spearhead a versatile offensive. They can put up those numbers from anywhere on the floor.
Seniors Alan Glanville and Devin Williams formed the starting five earlier in the season, but Williams, a 6-foot-6 center, has not practiced for about three weeks. His status for Martin County is uncertain. Minix and Glanville have stepped up down low and lead the team in rebounding.
"Tommie is a tremendous talent," said Whitsett. "He's got all the ability in the world to be a great player. He shoots a high percentage (55 percent from two, 43 percent from three) and leads our team in assists, steals and deflections. He's a big part of what we are doing.
"Javian can get hot real quick. He's like The Microwave, Vinnie Johnson (formerly) of the Detroit Pistons. Vinnie could get hot and light it up pretty quick, and Javian can do the same thing.
"Riley has an all-around game. He's a very efficient player for us and his basketball IQ is off the charts. He and Tommie are right there, even in IQ on the basketball court.
"Alan is a hustle player. He will take a bunch of charges and has bought into the concept of sacrificing his body for the team. I wish everybody had the type of effort that he brings. He rebounds, gets steals and makes assists. He does it all."