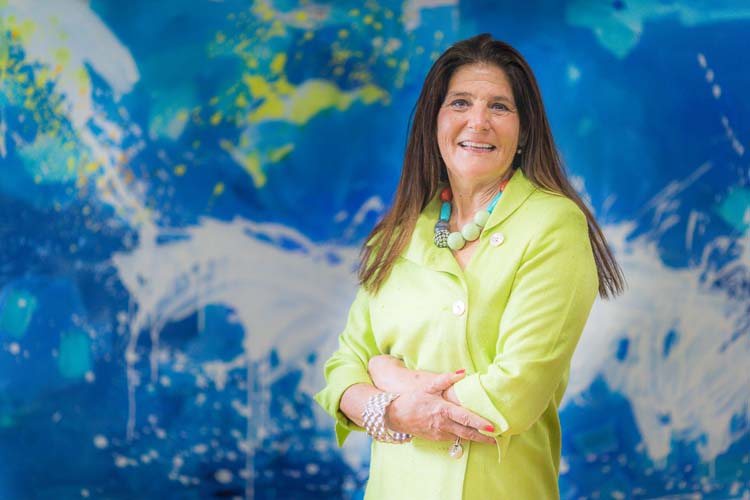 On view through Feb. 26, a solo show by Shotsi Cain LaJoie at Center for Spiritual Care features her recent abstract paintings along with some of her cell phone snapshots of scenes on the Indian River Lagoon.
The inclusion of colorful photos, enlarged and printed on glossy aluminum panels, has to do with LaJoie being an avid member of Vero Beach Rowing Club, an organization she helped found in 2010. All of the photos in the exhibition—of sunrises, foggy mornings and the Merrill Barber Bridge—were taken from the vantage point of her seat in a rowing shell.
Despite their being hung cheek by jowl with the canvases on display, LaJoie insists that the photos are not in the same category as her paintings.
"I don't consider myself a photographer," she says.
Some people might therefore assume that these photos inspired her paintings' color themes or compositions.
Not so, says LaJoie, who explains that the photos are distinct creations. She notes that many of them were taken after the completion of the paintings with which they have been paired.
"I don't paint images. I don't start off with images. I don't think, Oh, I'm going to do a water painting today, or, I'm going to do a rowing painting."
The photographs are for sale, however, and at least two that feature orange-hued skies have been purchased since the show's opening.
More than what she sees when out on the water, LaJoie wants to show visitors how she feels while rowing.
"What you do to open yourself in one area of life will penetrate to every other part of your life," she says.
The large paintings in the show are some of her brightest yet. Although none of the works in the show are dated, LaJoie says that with one exception, none was created before 2017.  The larger paintings are executed in acrylic and acrylic with oil on unprimed canvas; the smaller works are in acrylic on cradled panels.
A painting that greets your eye upon entering the Center is the impressive "Latitude or Longitude."  The six-foot-square painting combines areas of stained raw canvas with pools of poured paint, which LaJoie spread into fluid shapes using sponges, brushes and her hands. Dripped and flung paint make a splashy appearance throughout the canvas, as do delicate loops of paint – some as fine as pencil lines – that flowed from the pointy nozzle of a plastic squeeze bottle.
"This is like a Helen Frankenthaler–Jackson Pollock–Cy Twombly collaboration," LaJoie teases, referring to three significant American abstract painters whose work she admires.
LaJoie says that "Latitude and Longitude" is an experiment in unifying large color areas by connecting them with circuitous lines of the same hues.
A multi-layered painting like that takes months to complete, she says.
"Each layer asks for resolution, and sometimes I don't know how I'm going to resolve it."
LaJoie marvels that her friend and mentor, Tim Sanchez, can work continuously on one painting until it is finished.
She, on the other hand, will stop and reflect on the work she has done, work on other in-progress paintings, or just stop and "absorb other pieces of art" before returning to the next bout with a particular canvas.
On the wall to the left of "Latitude or Longitude" is a 96-inch wide artwork that LaJoie created by putting two 48-inch-square canvases side by side and painting them to create a contiguous composition.
The painting is titled "The Catch." That's a rowing term for the moment when an oar dips into, or 'catches," the water to propel the boat.
Painted primarily in blue acrylic pigments that LaJoie allowed to soak into the unprimed canvas, the painting bears a long splash of white paint through which, while still wet, the artist slewed her fingers. The marks she left behind give translucence, and the appearance of three-dimensional form, to what would otherwise be an opaque shape.
"It's kind of scary (to do something like that), because sometimes you ruin your painting. You don't get a lot of tries. People don't realize that sometimes you've got to do this a few times before it is spatially correct; all the elements are hitting just right.  You've got to be brave enough to allow it to be that fluid."
An intriguing painting in the exhibition is, in relation to the bright and bold paintings on display, inscrutable.  "Fog in the Morning" is a 40-inch-square acrylic and oil pastel painting composed of a foggy gray application of semi-opaque paint over stained-in blues in the top half of the composition and a pooled area of cool red at the bottom, with many a painterly drip, dribble and splotch in between.
Looking at this painting close up is a pleasure akin to gazing upon a condensation-fogged window pane. You know that there is something beyond that translucent top layer.  Allow yourself to be mesmerized by the conundrum of a painting seen, but not seen, beneath its mottled veil.
According to LaJoie, that is what her art is about.
"Think about your creative soul. How deep is it—where does it go?" she asks.
LaJoie's life has taken many directions.  A graduate in business administration from Saint Mary's College in Notre Dame, Ind., she got her feet wet in rowing as a member of Notre Dame University's women's rowing team.  Her professional career in financial accounting began in Chicago. She moved to Miami in 1978 to manage the southeastern office of the title insurance company for which she then worked and transferred to Vero Beach in 1981.
Building on her training and experience in the psychology of business, LaJoie received an MA in counseling from Webster University in 2001. As a Licensed Mental Health Counselor, she continues her current career as a psychotherapist and counseling coach. Following her artistic inclinations, she joined Tiger Lily Art Studios and Gallery in 2007, where she continues to create and exhibit her work.
Volunteering is an important part of LaJoie's life.  As an advisory board member for the Palm Beach Diocese of Catholic Charities, she helped found The Samaritan Center, a shelter for homeless families in Vero Beach. That was 25 years ago. She has been point person and cheerleader for The Samaritan Center's annual Soup Bowl fundraiser for just as long.
It seems only natural for her to be on the board of directors of the Center for Spiritual Care, too.
"This place is about igniting your soul and finding who you are in the process," she says.
The artist will be present at a reception at the Center for Spiritual Care, 1550 24th Street in Vero Beach, from 4 p.m. to 7 p.m. on Friday, Feb. 16.