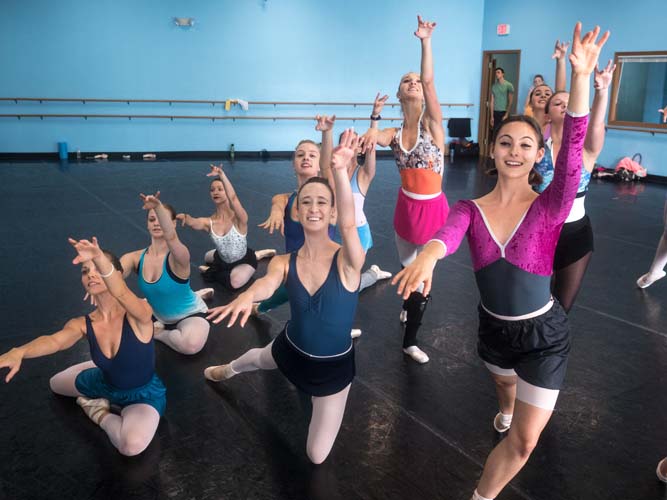 Ballet has taken Katerina Schweitzer away from home for much of her young life, including spending her high school years training in New York with Gelsey Kirkland. Now 18 and dancing with Ballet Nebraska, she returns to Vero Beach Friday, Feb. 16, to perform at the Vero Beach Museum of Art.
Schweitzer will appear as part of Nebraska's sister company, Ballet Vero Beach. And watching from the wings – such as they are, in the museum's intimate Leonhardt Auditorium – will be two of her childhood instructors: Adam Schnell and Camilo Rodriguez, artistic director and ballet master of Ballet Vero Beach.
Both were there last February when Schweitzer flew to Omaha to audition with the company. The move came after a year of "cattle call" auditions in New York, where companies gather to watch some 300 dancers at every audition, she says. "There are so many cuts," she says. "The chances of being seen were extremely slim."
Accepted as a trainee at Nebraska, she joins a growing number of aspiring dancers whose talent and training have led them to the threshold of professional companies. With more dancers than openings these days, becoming a trainee lets dancers perform in lesser roles while gaining the polish, expressiveness and acting skills needed for more prominent roles.
Schweitzer has a significant leg up on those skills. Mime, acting and music were all supplemental courses at the Gelsey Kirkland Academy of Classical Ballet, which the famed Balanchine ballerina formed in 2010 with husband Michael Chernov. There, Katerina studied the Vaganova method, a Russian-based style taught at the Kirov Ballet. It is the same method Schweitzer studied in Florida at Melbourne's Space Coast Ballet and later, in Miami.
At 14, she auditioned for a spot in Kirkland's summer program. While there, she was accepted into the full year's program. On the drive back to Florida with her family, they decided she would accept. "I had to pack up my life and move," she says.
Two years later, in 2016 she was invited to dance in the premiere of "Stealing Time," choreographed by Chernov and the focus of a New York Times feature article on the couple.
"He was working on that ballet for four years – longer than I had been there. It was an honor to be in the performance because it was mostly the company and people in the top level of the school," she says. "It was amazing to work with the company and to work with him, watching him teach us this choreography that came from his mind. It was brilliant."
Thrilling though it was, living in New York was difficult; it included a long commute into Tribeca from her paternal grandmother's home on Staten Island. After a full day of dance classes, she would get home and start studying, taking online dual enrollment high school and college classes. Saturdays were often spent taking exams at a central testing center.
Six months into her stay, life in Omaha is far more relaxed than in New York. "I was ready to leave," she says. "The commute had worn me down, I was tired and stressed out. It was a lot of late nights and I never had a resting period."
Now, Ballet Nebraska's rehearsal studio is within walking distance of her apartment, which looks out over a golf course – these days, covered in snow. Three days a week, she teaches ballet at a Jewish Community Center. She is making friends, cooking a lot, and dating someone; they and another couple just got a puppy together.
Best of all, Ballet Nebraska has taken her in like family. "I love the environment. Everyone is very genuinely nice here. And there's so much joy when we're dancing. It's not very competitive and I like that," she says.
And coming home to Vero is a real treat, she says. "It's been such a great place to come back to," she says. "I wasn't able to appreciate it when I was younger. I was always traveling for ballet."
Katerina was still at Beachland Elementary when she started commuting to Melbourne for ballet lessons to supplement her training with various teachers here, including Schnell and Rodriguez.
"My dad would have my dinner ready and I'd do my homework in the car. I'd dance until 7 o'clock at night."
That travel time with her "ballet dad" as she calls her father, Larry Schweitzer, became a defining element of her childhood. At the same time her mother, Tara, lent her 100 percent support. She too pursued a career in dance, a former Rockette now teaching dance at Riverside Theatre. Tara Schweitzer clearly passed on her genes to her daughter, as did Katerina's grandmother; she owned a dance studio on Staten Island.
Larry, who has known Tara since high school, may have already had appreciation of dance through his wife.
But in watching young Katerina's intensive training, the surfer and mixed martial artist developed a real love for ballet, his daughter says.
"He studied it a lot while I was growing up so he could help me with the mentality," she says. "He loved how disciplined you had to be.
At first, the commutes to Melbourne were three days a week, then four, more when she started performing in Space Coast's "The Nutcracker," which rehearsed on Sundays. When the studio's owners moved to Miami and Katerina began studying with them there, the travel became overwhelming, particularly with out-of-town auditions and competitions. So, like many aspiring young dancers, she stopped going to school and began taking virtual courses from home.
"The thing that has always been apparent with Katerina is that she would make it as a professional," says Schnell, who cast Schweitzer as a Snowflake in his new "Nutcracker on the Indian River" in December.
"Some kids you aren't sure about, but just looking at Katerina, you just knew. She dances with every cell in her body and has always had the ability to make even the most pedestrian movements look amazing."
Her first teacher in Vero was Hedi Khursandi, ballet instructor at Indian River Charter High School, who holds classes on Saturdays for adults and children.
It was Khursandi who mentored Katerina in early childhood, singling her out for her talent as early as age 5, when she showed up for his beginner's class at a Vero ballet studio.
"I knew from that day she's got something very special, her eyes popping out, the excitement in her face and how attentive she was. It was incredible – you could say it was spiritual – she had it straightaway," recalls Khursandi.
Schweitzer remembers that first day. Her mother had intuitively packed ballet slippers in her bag. "I had on my normal clothes, and five minutes into the class I told my mom, 'I need my shoes right now!' In my jeans, I joined the class with everyone."
At one point, as other students quit the class and only Katerina remained, Khursandi continued to teach her, and that one-on-one focus continued for years.
"He's the one who made me really love ballet."
Friday at 7 p.m., Schweitzer will take the stage at the Leonhardt with two other dancers in a new work by company dancer Chloe Watson.
In the audience will be her parents, Tara and Larry Schweitzer. "It's so great. They don't have to fly anywhere. They can just drive a few minutes and see me dance."