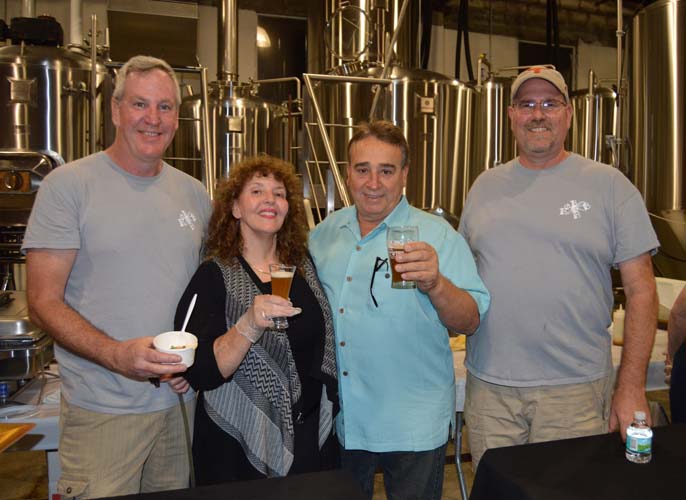 Sunrise Rotary served up a brewtastic evening of brewskis and bites at the fourth annual VIP Red White & Brew Party last Friday night at Walking Tree Brewery. The event was created to tempt taste buds ahead of the upcoming Florida Craft Brew and Wingfest this Saturday, Feb. 17, on Royal Palm Pointe.
The Red, White & Brew theme was meant to bring people together, said Mandy Hooker, event co-chair with Linda Scott, sharing that, like the Olympics, they wished to show a unified, homegrown and home-brewed community.
Nearly 300 attendees sampled their way through pairings of craft brews with tapas-style dishes from local restaurants. Red Buoy Brewers, Treasure Coast Brewmasters, Boil Over Boys and Mash Monkeys Brewery were on hand with brews running the gamut from dark ales to American IPAs, sporting unique names such as Squid Ink, Sandy Bottom, Watching the Tropics and We Were Promised Galaxies.
Gourmands enjoyed the sounds of the Jacks Band while savoring shrimp appetizers, crawfish jambalaya, shrimp and grits, beef empanadas, snapper or shrimp ceviche, mango chipotle barbecue shrimp on a sweet potato pancake, Fra Diavolo rigatoni, smoky black bean dip with Cotija cheese, smoked brisket, shrimp rolls, Chunky Monkey banana bread, and fried sea salt caramel cheesecake.
Tommy T's BBQ and the Boil Over Boys were awarded the People's Choice title, pairing pecan smoked baby back ribs and slow smoked pulled pork with Soul Stealing Ginger Saison, a fruity, spicy pale ale.
Taking the palate in a different direction Varietals offered a 1000 Stories red wine, paired with a sampling of coastal cheddar, Napoli salami and smoky blue cheese.
Proceeds benefit Sunrise Rotary community projects and scholarships. For more information, visit sunriserotaryverobeach.org.    
Photos by: Stephanie LaBaff
Click HERE to see more or buy photos