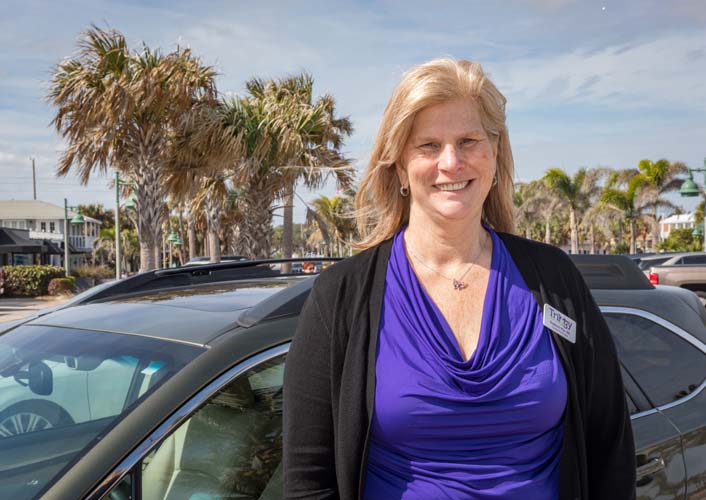 Kim Weir may be a self-professed "small-town girl from Michigan," but as the executive vice president for Trilogy Home Healthcare, she's currently smack dab in the middle of a booming, multibillion-dollar industry.
Founded in 2016, Trilogy has already opened offices in Port St. Lucie, Coral Springs, Fort Myers, Palm Beach, Okeechobee, Jacksonville, Daytona, Sarasota and St. Augustine, and plans to open an office in Vero.
"We are a growing agency," says Weir. "We have between 80 and 100 active patients in Indian River, including Vero, Sebastian and Fellsmere."
Until the Vero office goes online, care for patients in Indian River County is managed from the company's St. Lucie office.
The Centers for Medicare and Medicaid Services estimates there are now well over 8,000 licensed home healthcare agencies providing care for elderly and disabled Americans, and many times that number of unlicensed providers.
According to AARP, "nearly 10 million adults age 65 and older receive care at home or in residential care settings other than nursing homes" – many of them in Florida, the grayest state in the nation – and that number is projected to skyrocket in the next decade, according to U.S. Census Bureau figures.
With rapid growth in the home healthcare industry, consumers have to be careful about who they hire. Rules, regulations and licensing requirements vary wildly from state to state.
The Medicare Rights Center warns, "Before you sign up with any home health agency, make sure you know what kind of services your loved one needs," and how those agencies can cover them.
AARP offers this checklist: Is the agency licensed by the state? What services does it provide? Are services available 24 hours a day, seven days a week? Would services begin immediately? If not, how long is the wait? How does the agency decide what services will be needed over time? Is the agency familiar with the area? And perhaps most importantly, what's its reputation with local physicians?
Sitting in the Trilogy office near I-95 in Port St. Lucie, Weir explains that her own home healthcare career got started in Vero. "I spent many years working in home healthcare in Indian River County."
Apparently she made a good impression on the Vero Beach healthcare community – from head to toe.
For example, plastic surgeon, Dr. Ralph Rosato of Vero Beach's Rosato Plastic Surgery Center says, "I know most people don't immediately connect home healthcare with plastic surgery, but I've known and worked with Trilogy for [some time] … and I trust their top-notch people to help my patients during their recoveries."
Dr. Michael Hansen, a WebMD five-star-rated podiatric surgeon at Foot & Ankle Total Care in Vero Beach and Sebastian, adds, "I order home care for a lot of reasons: for things like helping patients with the healing process; [because I trust] in a nursing staff that follows orders and has the foresight to reach out to me when they see changes in a patient that needs addressed. That is why I am a firm believer in the services that Trilogy provides and trust their care to help my patients after a procedure."
"We're a very community-focused company, and much more high-tech than most people understand," says Weir. "We do chemotherapy in the home. We do hydration and antibiotic therapy in the home. I've even pushed Lasiks to treat CHF patients.
"We also do something called ZOE monitor, which is technology that's built into the pacemakers that are inserted nowadays."
Trilogy-trained nurses are among the first in the state to employ the "Prometheus" bladder biofeedback device, which, Weir says, "has made an amazing difference," in the lives of people suffering from frequent urination and incontinence.
For more information on home healthcare, consult your physician and be sure to research any company you consider hiring to care for you or a family member.
Trilogy Home Healthcare is located at 549 NW Lake Whitney Place, Suite 204 in Port St. Lucie. The phone number is 772-621-2701. The website is www.trilogyhomehealthcare.com.