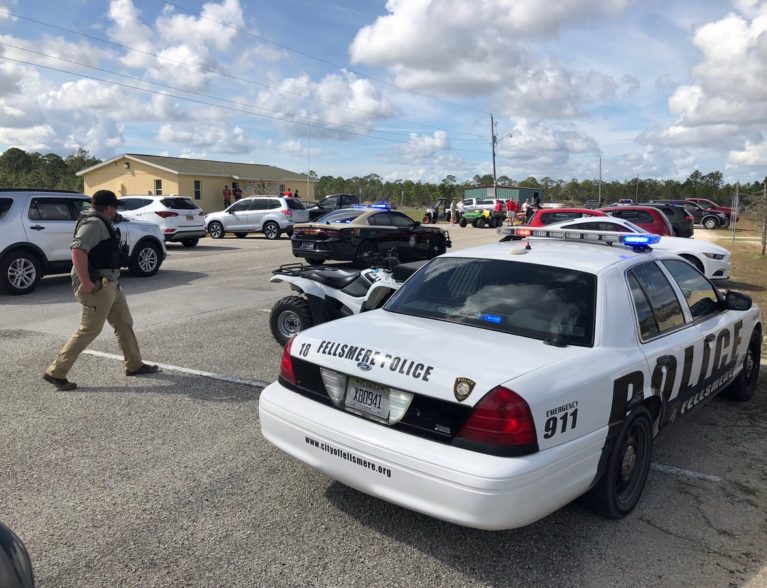 INDIAN RIVER COUNTY – The Florida Highway Patrol has identified the man they arrested with help from local law enforcement at the North County gun range on County Road 512 Friday afternoon.
The man is Andrew Peter Kleopa, 33, of Palm Beach. He was taken into custody without further incident, though he had threatened law enforcement during the pursuit. He made "numerous irrational statements by phone and said he was not going to cooperate with law enforcement," according to the FHP report.
FHP said the incident began shortly before 9 a.m. when the agency began receiving calls from drivers on I-95 about a reckless driver.
The driver, according to callers, was driving at extremely high rates of speed and changing lanes aggressively and erratically, near other motorists.
An FHP trooper responded and attempted to pull over the driver, later identified as Kleopa. Instead of stopping, however, Kleopa fled and eluded the trooper while approaching the active construction zone near mile marker 150.
The trooper backed off due to safety concerns, FHP said.
Shortly before 11:22 a.m., another be-on-the-look-out was issued near mile marker 159 on southbound I-95 for the same white Land Rover SUV, again for reckless driving.
FHP again responded and made contact with Kleopa's mother, who told them her son was mentally unstable and extremely depressed. She also told them she was unsure he had taken his medication.
How FHP and Kleopa's mother made contact was not made clear in the report.
What medication he should have been taking was not listed in the report.
At 12:20 p.m., Kleopa's SUV was found in the parking lot at the County Road 512/I-95 McDonald's.
Kleopa took off on foot, entering a nearby large wooded area.
The Indian River County Sheriff's Office, Fellsmere Police and Sebastian Police were called in for support, helping to establish a perimeter as well as offer K-9 assistance.
The Sheriff's Office helicopter was also dispatched.
Kleopa told FHP by phone that he had a gun and would shoot the helicopter.
At about 1:35 p.m., Kleopa made his way to the county gun range and, according to FHP, asked employees if it were a military base.
Authorities responded to the gun range and took Kleopa into custody without further incident.
FHP did not note in its report whether Kleopa had a gun in his possession.
Kleopa is being held in the county jail without bond. He faces charges that include felony flee and elude, reckless driving, misdemeanor threaten life or to assault, misdemeanor resist arrest without violence, and misdemeanor trespass on a posted construction site, according to the Sheriff's Office website.
---
Previous coverage
Update 2 p.m., Feb. 9 – A manhunt for a suspect accused of driving recklessly and threatening to harm law enforcement officers ended after the man was caught at a gun range in northern county.
Florida Highway Patrol troopers, Fellsmere Police officers and Indian River County deputies searched for the man after receiving calls about a reckless driver on Interstate 95. At some point, the man, whose name was not available, stopped his vehicle and fled on foot, said FHP spokesman Alvaro Feola.
Details on if law enforcement officials were chasing the man while he was driving recklessly were not available. Preliminary reports show the man ran into a wooded area behind the McDonalds on 108th Avenue, near Fellsmere Road, Feola said.
Feola said troopers believe the man made threats to harm law enforcement officers. Further details on the threats were not immediately available.
Details on if the man was armed when he was captured at the shooting range also were not available. More information is expected to be released later today, Feola said.
Earlier story
Authorities are searching on foot for a man in the area of County Road 512 and Interstate 95 in northern Indian River County. They believe he is dangerous and possibly armed.
The public is warned to stay inside and to not pick up hitchhikers, according to the Fellsmere Police Department Twitter feed.
The man being sought is wearing a white shirt and blue shorts. Further details on the man were not immediately available.
The Florida Highway Patrol, Fellsmere Police Department, and the Indian River County Sheriff's Office is conducting the manhunt.
This story will be updated.