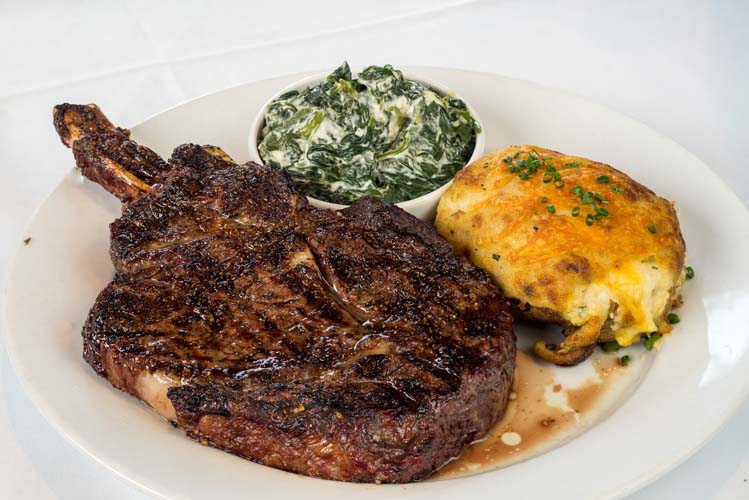 Is Vero Prime getting better and better, or did we just happen to hit it on a magic night?
During the recent chilly weather, we were craving comfort food – which my husband defines as steak – so we headed off to Vero Prime, the chophouse on 21st Street.
Arriving around 7:30, our party of three was shown to a comfortable booth and we quickly ordered a bottle of a medium-priced cabernet.
Vero Prime has the right atmosphere for a steak house – dark and hushed, black ceilings, burnt sienna walls, a lot of brick. Everything about it says steak.  And as we perused the menu, we were thinking steak, steak, steak.
True to form, when it came time to order, my husband went for the bone-in ribeye ($58).
But our server, Heather, talked me into trying the pork osso bucco ($32), and our companion also veered off and ordered the Greek chicken ($24).
First, however, it was time for appetizers. Our companion and I decided to share the fire-grilled Caesar salad ($8), and my husband went for the crock of French onion soup ($7).
The onion soup was right on the mark for a chilly night, and our salad – just like a Caesar, but with the fire grilling adding a touch of smoky flavor to the romaine – was delicious.
Then came the entrées.
How glad I am that I listened to Heather. My pork osso bucco may be the best rendition of this traditional Milanese dish that I have ever had.  Perfectly seasoned, and served with cheesy grits and asparagus, it could not have been better.
Our companion's chicken also exceeded expectations, juicy and flavorful with a lemon oregano sauce and accompanied by potato wedges.
But my husband was still raving two days later about his ribeye – cooked Pittsburgh style, rare and luscious on the inside, but with a charred outside crust. Served with a twice-baked potato and creamed spinach, this is his idea of the quintessential steakhouse dinner.
We were way too full on this most recent visit for dessert, but we previously have enjoyed the bread pudding and the caramel cheesecake.
On previous visits, we also have enjoyed dishes other than steak here.  My husband particularly likes the pan-seared calves liver, and I recently had one of the best pot roasts I have had anywhere.
A big plus for Vero Prime is you get a choice of two steakhouse sides with your entrée at no additional charge.  Check the price of the sides and salads at the big city steakhouses, where a single veggie can run into the teens, and you quickly realize that what you are getting here is quite a bargain.
Dinner for two with a modest bottle of wine could range from $90 to $150 before tip.
While this is not yet Peter Luger – named the best steakhouse in New York City by Zagat for 30 years in a row – this certainly is the best steakhouse in this area, and does seem to be getting better and better.
Whether you are in the mood for steak, or wind up ordering something else, Vero Prime is delivering sumptuous meals at prices that are hard to beat.
I welcome your comments, and encourage you to send feedback to me at tina@verobeach32963.com.
The reviewer dines anonymously at restaurants at the expense of Vero Beach 32963.  
Vero Prime
Hours: Monday through Saturday, 5 pm to late
Beverages: Full bar
Address: 901 21St Street, Vero Beach
Phone:  (772) 226-7870
Photos by: Gordon Radford
Click HERE to see more or buy photos