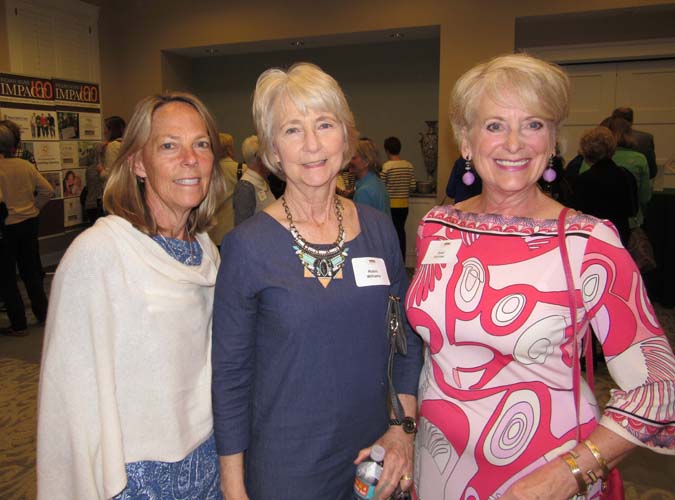 The Northern Trust Bank community room was packed with Impact 100 current and prospective members last Tuesday afternoon, to hear about the accomplishments of the four 2017 Community Partners since being awarded $100,000 transformational grants last April. Impact Day was sponsored by Robin Lloyd & Associates, P.A.
Moderator Carolyn Antenen noted the total amounts granted over the past nine years to programs in their four focus areas: $956,000 to Education, $1.331 million to Health & Wellness, $644,000 to Family, and $445,000 to Enrichment & Environment. She then asked each of the panelists to share what has happened within their organizations in the months since receiving their $100,000 grants.
"It sparked a metamorphosis of sorts, in all of us," said Judy Lemoncelli, Alzheimer & Parkinson Association of IRC Development and Communication director, "because it permeated every single layer of what we do at the Alzheimer & Parkinson Association." They purchased a "rolling classroom" RV to reach out to the community through their Dementia Friendly Community Initiative. Lemoncelli said that businesses, nonprofits and individuals have embraced the concept, and more than 800 people have taken the Virtual Dementia Tour.
"I'm thrilled to tell you, we opened the doors to our new Graphic Design Impact Center," said Paul Sexton, Hibiscus Children's Center president/CEO, noting that their abused, abandoned and neglected 13- to 17-year-old teens have "had a really rough life." They now can learn graphic design skills and receive real-world training experience in a competitive job market and can continue working in the design program even after they leave.
"We graduated our first group of 12 graduates in December," said Shannon McGuire Bowman, Childcare Resources of IRC executive director, speaking of their Credentialing Program for Early Educators.  Despite many of the graduates previously having just GED-level education, all passed the four college classes to earn their Staff Credential and several have since received promotions and raises. "All of them know how special they are to be part of this first cohort."
Over the years, the Oslo Riverfront Conservation Area has received four Impact 100 grants, each one building on the one before said Edie Widder, Ph.D., ORCA CEO and senior scientist. The first grant enabled the creation of a pollution map of the Indian River Lagoon. With the next, Indian River Charter High School students assisted with the process until increasing lagoon pollution made it unsafe for them.  The third created Kilroy Academy, with teachers utilizing videos to demonstrate real-time monitoring in their classrooms. "If you want to talk about impact," said Widder, "one of the videos we produced has had three-quarters of a million views." For the recent Living Lagoon Project, they partnered with Indian River Land Trust and students at various schools are rebuilding waterfront areas by growing and planting a living shoreline. "This has got legs," said Widder, noting the number of businesses who are now getting involved.
Impact 100 membership is open through Feb. 28 to all women who contribute $1,000; the number of transformational grants is dependent on that year's membership. A Meet the Finalists Member Reception will be held March 2 and voting takes place at the Annual Meeting in April.
 For more information, visit www.impact100ir.com.     
Photos by: Mary Schenkel
Click HERE to see more or buy photos