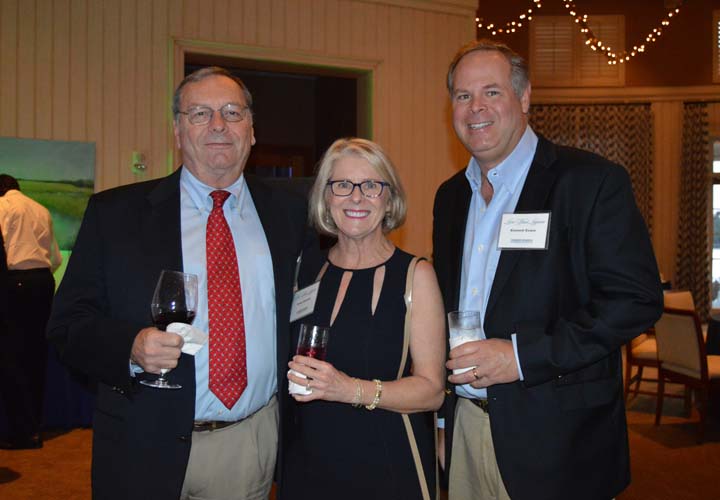 Love was in the air last Friday evening at the seventh annual Love Your Lagoon fundraiser to benefit the Harbor Branch Oceanographic Institute Foundation. The Quail Valley River Club, with its front-row seat along the Indian River Lagoon, provided the perfect backdrop for the eco-centric evening.
Over cocktails and hors d'oeuvres, guests chatted with HBOI Graduate Research Fellows, who typically spend their time knee deep in area waterways, studying the lagoon's unique ecosystem and devising ways to conserve the natural resource flowing through our community.
"We have honored wonderful individuals who have really contributed to the health of the Indian River Lagoon," said Katha Kissman, HBOI Foundation president/CEO, noting that each year the foundation has acknowledged steadfast advocates for their efforts to preserve and protect the lagoon.
Past honorees include: Florida environmentalist pioneer Nathaniel Reed; environmental conservationist Alto "Bud" Adams; Vero's first lady, Alma Lee Loy; Florida Oceanographic Society's Mark Perry; the Smithsonian's early lagoon champion Dr. Mary Rice; and former Florida Institute of Technology professor Diane Barile.
This year the board departed from its selection of a single honoree, according to Michael O'Reilly, HBOIF board chairman, who noted, "We really like to honor somebody that's important to the health of the lagoon. This year it became obvious we should honor all of the principal investigators that provide their scientific knowledge and leadership in making our lagoon cleaner and better."
"Harbor Branch has some amazing faculty, scientists, engineers, researchers and project managers," added Kissman. "It was easy for us to decide that this year that's who we were going to honor. The work they are doing right now on behalf of ocean science, marine science, our ecosystems, our estuary and particularly the Indian River Lagoon is really amazing, and we're very, very proud of them."
The foundation provides funding and support for research, education and outreach efforts in the fields of marine sciences and ocean engineering. Event proceeds will enable the foundation to host the 2018 Annual Indian River Lagoon Symposium: Restoration of the Indian River Lagoon, and to fund 10 new researchers for the 2018 Indian River Lagoon Graduate Student Fellows Program.
The symposium will be hosted at FAU Harbor Branch in Fort Pierce, Feb. 8-9. For more information, visit hboifoundation.org.     
Photos by: Stephanie LaBaff
Click HERE to see more or buy photos