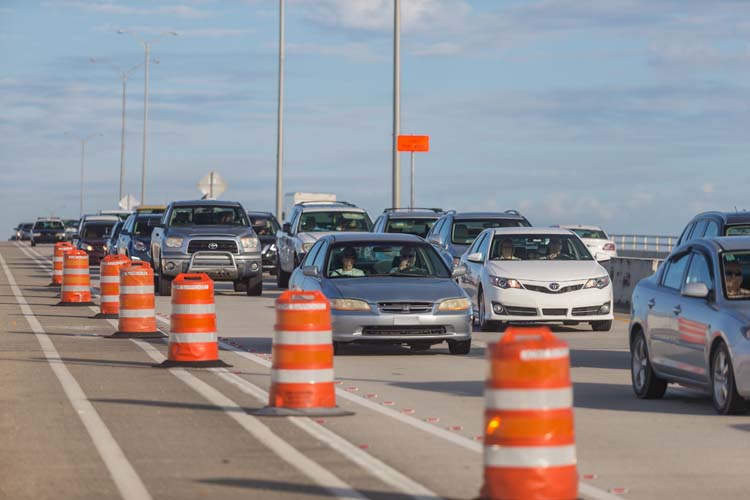 It will long be remembered on the island as The Day Vero Stood Still.
After a fatal accident closed the Merrill Barber Bridge in both directions for hours on a busy Friday at the height of the season – while construction and secondary accidents severely impeded traffic flow on the 17th Street Bridge – A1A, Ocean Drive and other routes turned into parking lots.
Many longtime residents described the backups that lasted from around 1 p.m. until past 6 p.m. as the worst traffic mess in Vero Beach history.
"I've never seen anything like it," island realtor Cliff Norris said, "not in 50 years."
As Seaside Grill owner Dan Culumber aptly put it: "You can't get everyone off the island with one lane."
Not on a Friday afternoon.
Not in February.
Not here.
"It was a perfect storm," Vero Beach Police Chief David Currey said. "We did the best we could, but there was only so much we could do. There are only two ways on and off the island – unless you go up to State Road 510 or down to St. Lucie County – and one of the two ways was [closed while the other was] down to one lane in one direction."
So what were the circumstances that allowed one driver, one bicyclist and one ill-fated turn to create a debacle, snarling traffic along State Road A1A from south of Castaway Cove to SR-510 for more than five hours?
According to police, 58-year-old Christopher Hannon of Melbourne Beach was pedaling south along Indian River Boulevard and was turning left to go east over the Merrill Barber Bridge, attempting to cross the busy boulevard at 12:40 p.m., when he was hit and killed by a northbound car.
To investigate the incident, police closed the bridge and blocked traffic on Indian River Boulevard between Royal Palm Pointe and 37th Street.
"When there's an accident and someone gets killed, you want to do a complete investigation," Currey said. "You have to preserve the crash scene, talk to witnesses, take photographs and record all the necessary measurements.
"You don't know if there are going to be charges, or if there's going to be a lawsuit, but there's always a chance it could end up in court. So we're going to do a thorough job, which is what I'm sure most people want us to do."
Meantime, secondary accidents, including one at the 17th Street Bridge, and construction work on and near the bridge that restricts westbound, off-island traffic to one lane, intensified the problem.
Last summer, the Florida Department of Transportation embarked on a $3 million project to widen the shoulder and install buffered bike lanes in both directions along 17th Street, between the base of the bridge and U.S. 1. To do the work, road crews closed the right lane on the westbound side of the bridge, approaching the Indian River Boulevard intersection.
That impediment to traffic flow has been a hassle for months, but on Friday it turned into a nightmare.
As people struggled to find a way off the island, traffic congestion spread from A1A to other roads and side streets.
Some southbound drivers opted to take Ocean Drive through the island business district to Riomar Drive and then to Club Drive, which created bumper-to-bumper traffic on those roads.
Others stayed on Ocean Drive until the bend onto Bay Oak Lane, with hopes of jumping ahead of the traffic on Club Drive. But those drivers also hit gridlock.
Some mainland-bound motorists gambled on driving north on A1A to SR-510 and the Wabasso Bridge, believing traffic wouldn't be as congested heading away from town.
They were wrong: not only was the northbound A1A jammed, but westbound traffic on the Wabasso Causeway also was at a crawl.
Leaving Central Beach at 5:30 pm, it took an hour to reach CR-510 and another 10 minutes to U.S. 1.
It was just as bad going south.
"It took me 45 minutes to get from my restaurant [at Sexton Plaza] to the PNC Bank by the 17th Street Bridge, then another 30 minutes to get home," said Culumber, a Pebble Bay resident. "A1A was a parking lot, so I tried Club Drive and that was bumper-to-bumper, too.
"Some of my employees said it took them two hours to get of the island," he added. "I've heard a lot of complaints."
Several island merchants, particularly those along Ocean and Cardinal, said there was a noticeable drop-off in their business Friday afternoon.
"Everything stopped," said Tom Hanlon, owner of Hanlon's Men's Shoes & Clothing on Cardinal Drive. "People just stopped coming by. There were empty parking spaces all over the place."
Caesar Mistretta, owner of the JM Stringer Gallery on Ocean Drive, said his business fell off on Friday afternoon but that island restaurants and bars probably benefited from the snarled traffic.
"My parking lot was filled with people who couldn't get home," he said. "They had nowhere to go, so they decided to stay on the island and eat and drink."
More than a few people called the police to complain about the traffic, some asking why there were no police officers directing traffic at major intersections, such as at the 17th Street causeway and A1A. But Currey said there was nothing his officers could've done to help.
"We had officers at the closed intersections to keep people away from the crash scene," Currey said. "As far as the other intersections are concerned . . . Yeah, it was congested, but the lights were operating properly and traffic moved with the light changes.
"If I'm in the middle of the intersection, how can I move you along?" he added. "It's not like I can stop traffic in one direction and let all the backed-up cars go through. There was no place to send you. There was congestion in every direction.
"There was no place to go, so you just had to be patient."
For what it's worth, Currey said he appreciated the patience and courtesy shown by local motorists throughout The Day Vero Stood Still – a long, difficult ordeal that began with tragedy and did not end until after dark.
"In a lot of cases, we're able to clear a lane and keep traffic moving," the chief said. "This time, we couldn't. The crash was right in the intersection."
On a Friday afternoon.
In February.
Here.